Caribbean Sorel Adds A Splash Of Color To Cocktails
Ramin Ganeshram, Zester Daily | Updated: June 27, 2017 17:19 IST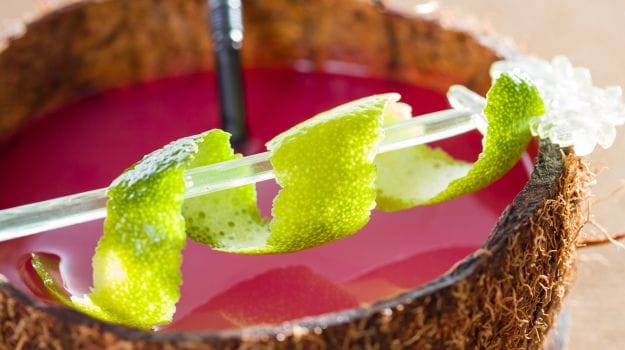 Credit: Dreamstime

My father's home of Trinidad & Tobago is filled with astounding diversity -- its ecology, its people and, not least of all, its food. Featuring a cuisine that is a mix of African, East Indian, Chinese, Native Islander, Spanish and Portuguese influences, holidays in the twin-island nation run the gamut of cultures.

At Christmastime, Spanish pasteles made by the dozens by some families are sold by street vendors, and costumed bands sing parang or, really, paranda -- that is, Spanish ballads -- door to door. A rummy fruitcake descended and evolved from the original made by 18th-century Irish indentures is a must have, as is sorel, a punch made from steeped Roselle hibiscus flowers native to West Africa that came to the Caribbean and Latin America as part of the Atlantic slave trade. Sorel drinks, like peanut punch and a wide canon of Trinidadian recipes, have a strong foundation in the cuisine of West Africans brought as slaves to the island in the 16th, 17th and early 18th centuries.

Sorel can be used in alcoholic, nonalcoholic drinks. Sorel is made from the calyxes of Roselle hibiscuses. Naturally tart, the flower mixture is sweetened with sugar and made aromatic with cinnamon and clove. In Trinidad, where it has become popular year-round, bay leaf is also added, while ginger is a common addition in other island nations such as Jamaica.

Sorel is most often made at home during the holiday season, and then rum or gin can be added as desired. In the United States, Jackie Summers, a former publishing executive from Brooklyn, began bottling Sorel, a premixed alcoholic version of the drink, in 2012.
"My first encounter with sorel was around (at) 5 years old at the annual West Indian Day parade in Brooklyn," said Summers, who often refers to himself as "the Liquortarian." "There was dancing and floats and steel drum music and beef patties and this delicious tart drink that tasted like nothing I'd ever had."

As an adult, Summers tinkered with making Sorel in his home kitchen, eventually bottling an alcoholic version of the drink for family and friends.

"I'd been making Sorel at home for friends and family for almost 20 years with no commercial aspirations," he said. "Then four years ago I had a cancer scare. When I was lucky enough to come out of surgery and found that the tumor on my spine was benign and I found out I was going to live, I knew I couldn't go back to my old life in corporate America."

After a promising start in 2012 and then devastation of his Red Hook facilities during Hurricane Sandy later that year, Summers rebuilt what is now an award-winning brand. You can find where Sorel is sold near you using this locator.

Summers' version of the traditional drink is smooth yet complex, proving itself an ideal mixer for all manner of holiday cocktails. Moroccan Roselle hibiscus is mixed with a pure wheat alcohol that is both certified organic and kosher then spiced with Nigerian ginger, Indonesian nutmeg, cassia and Brazilian clove.

Sorel works particularly well with sparkling wine or in the Crown Heights Negroni (see recipe below), developed by Summers. The liqueur's rich red color adds vibrancy to yuletide or New Year's cocktail gatherings.

Whether making sorel at home with the recipe below or buying Summers' variety, home mixologists will find this sweet-tart ruby elixir an indispensable twist for holiday entertaining.

Homemade Sorel

This traditional version of sorel is nonalcoholic and can be served as a refreshing punch for all or spiked with a little rum, vodka or gin. It is particularly nice mixed in equal parts with sparkling wine. The addition of ginger varies from island to island -- it's always used in Jamaica, for example, but never in Trinidad. Add it or not, according to your tastes. This drink can be stored in an airtight container in the refrigerator for up to one week.

Prep time: 5 minutes

Cook time: About 30 minutes

Total time: About 35 minutes

Yield: 8 servings

Ingredients:

2 cups dried hibiscus flowers (available in Caribbean and Middle Eastern markets) or 4 bags pure hibiscus tea (for example, Yogi)

1 cup sugar

1/2 cinnamon stick

1 whole clove

1 teaspoon grated ginger (optional)

7 cups water, divided

Directions:

1. Combine the hibiscus flowers or tea bags, sugar, cinnamon stick, clove, ginger (if using) and 3 cups of water in a medium saucepan over medium heat. Bring to a simmer and allow to simmer for 20 minutes or until reduced by half.

2. Remove from heat and cover the pan. Allow to steep for 1 hour, then strain. Add remaining 4 cups of cold water and let chill.

Sorel-Coconut Vodka Martini

Coconut is mild and naturally sweet, while the sorel is tangy and bright with a gorgeous ruby-red hue. The two flavors combine beautifully in this drink enhanced by the warm spices in the hibiscus tisane.

Prep time: 10 minutes

Total time: 10 minutes

Yield: 2 cocktails

Ingredients:

1/4 cup coconut palm sugar

2 curls of lime rind, about 3 inches long

2 cinnamon sticks

4 ice cubes

4 ounces coconut vodka (for example, Pearl), plus extra for rimming

1 ounce Rose's lime juice

4 ounces homemade sorel

Directions:

1. Place the coconut palm sugar in a shallow bowl or saucer and set aside.

2. Wet a folded, clean paper towel with some of the coconut vodka and wipe around the rims of two large martini glasses.

3. Holding the glasses by the stems, tip the rims into the sugar, twirling to coat evenly.

4. Curl the lime rind loosely around each cinnamon stick and carefully place the cinnamon sticks in the glasses; set aside.

5. Pour the ice cubes, coconut vodka, Rose's lime juice and sorel into a martini shaker. Shake until the outside of the shaker is cold.

6. Pour the cocktails into the prepared glasses.

Crown Heights Negroni

This gorgeous winter cocktail was created by Jackie Summers, creator and maker of Sorel hibiscus liqueur.

Prep time: 5 minutes

Total time: 5 minutes

Yield: 4 servings

Ingredients:

8 ounces gin (for example, Tanqueray Malacca)

2 ounces Sorel

2 ounces sweet vermouth (for example, Carpano Antica Formula Sweet Vermouth)

2 ounces Campari

1 cup ice (optional)

4 dehydrated orange slices for garnish (fresh may be used, too)

Directions:

1. Combine the gin, Sorel, vermouth and Campari in a pitcher with the ice (if using). Stir.

2. Garnish four martini glasses with an orange slice and divide the mixture evenly among them. Serve.

Hot Buttered Sorel

Brewed with warm spices, sorel is a natural, if surprising, twist on hot buttered rum. This recipe, from Jackie Summers, makes for a cozy drink on a chilly winter's day.

Prep and cook time: 10 minutes

Yield: 4 cocktails

Ingredients:

4 tablespoon butter

8 heaped tablespoons brown sugar

12 ounces Sorel

2 ounces spiced rum

4 thin lemon slices

1/4 teaspoon freshly grated nutmeg

1/4 teaspoon cinnamon

Directions:

1. Melt the butter over low heat in a medium saucepan, then add the brown sugar. Whisk well and continue to whisk until the sugar melts and begins to caramelize, about 2 minutes.

2. Stir the Sorel into the caramel mixture, whisking well.

3. Divide the mixture among 4 mugs and add an equal amount of the spiced rum to each.

4. Garnish each mug with a lemon slice and a pinch of grated nutmeg and cinnamon. Serve warm.

©Thomson Reuters 2015