Simple yet robust, healthy yet delicious - a warm bowl of soup is all we need to feel comforted in cold winter evenings. Soup is a hands-down, top-of-the-charts winner when it comes to healthy eating. Be it for weight loss, or to soothe cold and cough, soup is a saviour on many occasions; even during those times when we are just not in a mood for extensive cooking. A simple bowl of chicken soup is touted as one of the healthiest meals; we have raised its merit by several notches by adding fresh vegetables to it.


Also Read: How To Make Instant Bread Dosa - MasterChef Pankaj Bhadouria Shares Easy Recipe


Chicken soup is the ideal protein-rich dinner one can have as a comforting food or as a tasty meal on their weight loss diet. Add vegetables brimming with various nutrients and flavours, and you have a wholesome dish that will fill you up with warmth on any chilly night. Since it is super easy to make, you'll end up preening yourself for fixing such a wonderful dish with minimal effort.
This chicken vegetable soup is a hearty combination of shredded chicken and vegetables like carrots, peas and corns, cooked in chicken broth. If you wish to, you can pick vegetables of your choice - the ones you feel will go well with the chicken.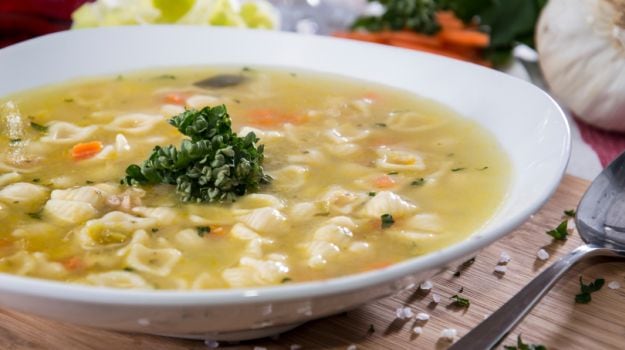 Protein-Rich Chicken Vegetable Soup Recipe: How To Make Chicken Vegetable Soup
Here's the step-by-step recipe of chicken vegetable soup.


To make this veggie-filled chicken soup, boil the chicken first and use the broth to boil carrots, peas and corns. Then add boiled chicken, season with salt, pepper and oregano, and serve with the garnishing of coriander leaves.


Try this soup recipe and we are sure this will become your go-to meal all this season.


About Neha GroverLove for reading roused her writing instincts. Neha is guilty of having a deep-set fixation with anything caffeinated. When she is not pouring out her nest of thoughts onto the screen, you can see her reading while sipping on coffee.