Who doesn't love chicken?! Any occasion is incomplete without a wholesome chicken dish, whether we are eating out in a restaurant with our friends, or chilling at home with our relatives. Chicken is the go-to dish for whenever we feel like celebrating or just partying. While we are used to having the typical desi chicken curry for our menu, one can get bored of repeating the same dish for every party. Why not spice up your meal with a creamy chicken curry? Today, we have found a delicious chicken curry that shall make your guests fight for a third serving! It is called creamy mushroom chicken.


Also Read: Ranveer Singh Just Revealed What He Eats For Breakfast And It Is All About Health


Juicy pieces of grilled chicken bathed in creamy mushroom sauce, this chicken curry is a true delight for chicken and mushroom lovers, alike. The creaminess of the sauce comes from the signature blend of cheese, milk and cream. You can serve this creamy mushroom chicken with steamed rice or bread rolls, depending on your mood.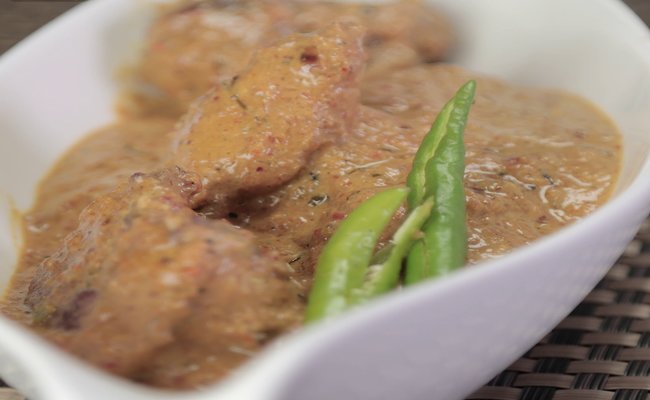 Creamy Mushroom Chicken Recipe: How To Make This Creamy Chicken Curry At Home:
Start by marinating the chicken with herbs, lemon juice, pepper, olive oil and garlic paste. After 20 minutes, grill the chicken in an oven or you can use a grill pan on the stove.


Now, for the mushroom sauce, you'll need to heat olive oil in a wok. Add garlic paste and chopped onions; saute it till it becomes pink in colour. Increase the flame and add the button mushrooms. Once they start sweating, add mustard sauce, and mix well. Add milk, cream, salt and cheese; cook it till the sauce is combined.


In a serving platter, place the grilled chicken and pour the mushroom sauce on top of it. Garnish it with cheese.


Click here for the step-by-step recipe of Creamy Mushroom Chicken.


Sounds delicious, doesn't it?! Make this quick and easy creamy chicken curry at home and surprise your guests with your culinary skills.