People struggling with diabetes have to be extra careful about their diet. Including foods with low glycaemic index values and excluding the ones with high carbohydrate and sugar level is the foremost thing to do. But it is easier said than done. Oftentimes confusion mounts up over what foods one should really eat and how. It is very important to have a balanced diet starting with the most important meal of the day - breakfast. Since mornings are usually hurried for all of us, finding quick recipes may also be a task. Still, it is pertinent to find those recipes to stick to a healthy diet to keep blood sugar levels under control.


Nutrition and wellness consultant Shalini Manglani says, "Those dealing with diabetes should ensure their diet is well balanced. They must include protein-rich foods with good carbohydrates in their breakfast meals to start the day with good energy levels."


So, to help you draft your breakfast menu, here we have some healthy recipes that you can whip up in no time.
(Also Read: Diabetes Diet: 5 Summer Drinks That Will Keep You Cool In The Heat)
Here Are 5 Quick and Easy Breakfast Recipes For Diabetes Diet:
1. Methi Paratha
This is the perfect combination of protein, fibre and good carbs. Methi is a known low GI food so it makes for an ideal ingredient in any diabetes-friendly meal. Make this paratha for a nutrient- and energy-loaded breakfast. Click here for the recipe.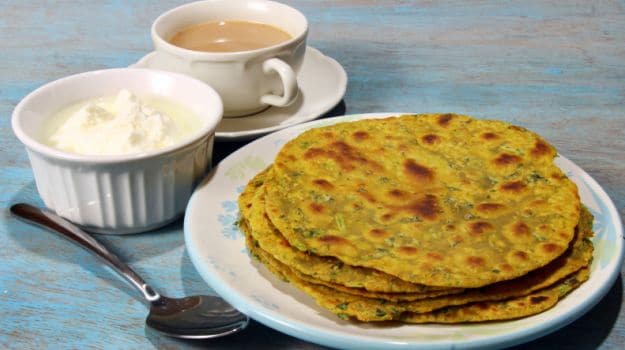 Methi paratha is an excellent option for breakfast.
2. Besan-Methi Cheela
This cheela is made with fibrous and magnesium-rich besan (gram flour) and takes hardly any time to make. This recipe also adds in the goodness of methi leaves and makes this dish a must in diabetes diet. Here's the recipe.


3. Boiled Eggs Stir-Fry
Al those on a weight loss diet or a healthy diet go for boiled eggs instead of omelettes or scrambled eggs to cut down on oil and butter. But if plain boiled eggs don't suit your palate, make this quick stir-fry dish with boiled eggs with just a few drops of oil and fix yourself a delicious meal. Click here for the recipe.


4. Kala Chana Chaat
If you are a diabetic, you would know how kala chana is so beneficial for you. Almost all nutritionists suggest adding this legume to diabetes diet, so it has to be on your breakfast menu as well. You just have to soak the chana overnight and next morning, throw in the pressure cooker and go about your morning chores. Once cooked, add some boiled potatoes and masalas, and dig in. Click here for the recipe.


5. Ragi Dosa
If you just can't forego your love for south Indian food, this recipe is for you. Just mix ragi and wheat flour with buttermilk and let it rest overnight. Next morning all you have to do is pour on a hot pan and make the dosa. Serve with green chutney and enjoy. Click here for the recipe.
Ragi dosa can be easily made in the morning.


Cooking a wholesome breakfast can be a little difficult amid all the rush in the mornings. But having quick and easy recipes handy can help you stick to a healthy routine on diabetes diet.
About Neha GroverLove for reading roused her writing instincts. Neha is guilty of having a deep-set fixation with anything caffeinated. When she is not pouring out her nest of thoughts onto the screen, you can see her reading while sipping on coffee.