Chaats are perhaps the best way to satiate our cravings for all things flavourful and spicy! Picture a plate full of fresh fruits, sauteed potatoes or deep-fried papdis topped with chatpate spices and a dash of lime - there we saw you slurping! But all this might be restricted for someone who is a diabetic. One of the most prevalent health conditions across the world today, diabetes is characterised by high levels of sugar in our blood. It is an irreversible condition that can only be managed with a healthy diet and lifestyle, which might limit many foods that our taste buds might crave! But who said we cannot work around the foods that a diabetes patient can have?! There are plenty of ways to spruce up regular dishes into diabetic-friendly dishes without compromising on the taste.


While sugar is a big no-no for diabetics, there are certain seasonal foods that one can include in a diabetes diet. Since health experts always recommend to have small meals at regular intervals if you are a diabetic, there are some healthy as well as tasty snacks that one can include in their diabetic diet. Come winters and one can find multiple stalls selling the popular shakarkandi ki chaat and guess what shakarkandi or sweet potatoes is one diabetic-friendly food you may add to your diet; even experts suggest to diabetics!


(Also Read: Why Should You Eat More Sweet Potatoes To Manage Blood Sugar)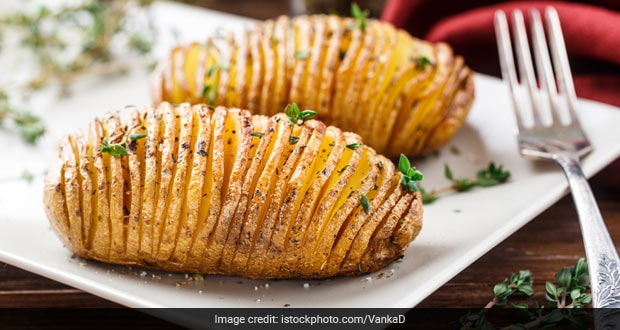 Sweet potatoes may help regulate your blood sugar levels.
While potatoes have a high glycaemic index that gets metabolised quickly and spikes your blood sugar levels, sweet potatoes may actually help regulate your blood sugar levels. The American Diabetes Association actually vouched for its benefits and has even dubbed the nutritional tuber as a superfood for diabetics! Diabetics are advised to load up on foods that are high in fibre and sweet potatoes come brimming with it. Consultant Nutritionist Rupali Datta confirms and states "Sweet potato has a decent amount of fibre and its starchy carbs propel delayed sugar release." She also says that it is a myth that starchy foods should be ruled out from the diets of diabetics completely. Portion control is the key here! According to the Open Nutrition Journal, 2012, Volume 6, a detailed study on the effect of various cooking methods on the GI of sweet potato, it has a low to medium glycaemic index depending on the cooking technique.


One of the best ways to consume sweet potatoes is to make chaat out of it since it requires no cooking at all and allows you to reap in all its goodness!


Find the full recipe of shakarkandi ki chaat here.


Not only it is nutritious and a wholesome mid-day snack but also tingle your taste buds too with the mix of mouth-watering spices.


Try the shakarkandi ki chaat at home and share your experience with us in the comments section below.


Disclaimer: This content including advice provides generic information only. It is in no way a substitute for qualified medical opinion. Always consult a specialist or your own doctor for more information. NDTV does not claim responsibility for this information.

About Aanchal MathurAanchal doesn't share food. A cake in her vicinity is sure to disappear in a record time of 10 seconds. Besides loading up on sugar, she loves bingeing on FRIENDS with a plate of momos. Most likely to find her soulmate on a food app.