Have you ever seen an ice cream that does not melt or drip easily and can be eaten holding the cone upside down, defying the laws of gravity? Meet
Dondurma
, an ice cream that is different from anything else you've tasted before. Dondurma, a name typically given to an ice-cream produced in Turkey and Azerbaijan, has been a rage all over the world for the last few years. The elasticity of the ice-cream lends itself to a rather fun buying experience too. And that's exactly what most Turkish ice-cream vendors do – they have their 'acts' rehearsed to the last T and being at the receiving end of this service can be quite an experience. Its fascinating to watch how these vendors trick and tease people with the ice cream before finally handing it over to them. The vendor tosses the whole mass of ice cream in the air, and then teases the customer with it by handing over just the cone while the customer tries to hastily grab the cone. He also inverts the cone with the contents in it while performing these tricks; however, the ice cream remains does not fall! This happens for a few minutes before you finally get to taste this Turkish delight.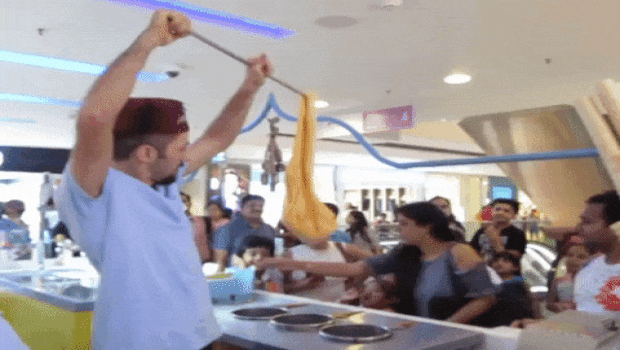 So, what makes this ice-cream resistant to melting? It is said that all this is achieved by using peculiar thickening agents and ingredients such as
Salep
, a flour made from the root of the purple orchid flower and
Mastic
, a resin that gives the ice cream its chewiness. Milk and sugar form the other main ingredients.According to Kaunain Akhtar, one of the people manning a Turkish Ice Cream stall at a Noida mall, "Dondurma was founded in Turkey around the 1850s. The kahramanmaras region in Turkey is famous for this ice cream and we introduced it in Noida a few months ago. We now have 2 stalls here and the response has been very good."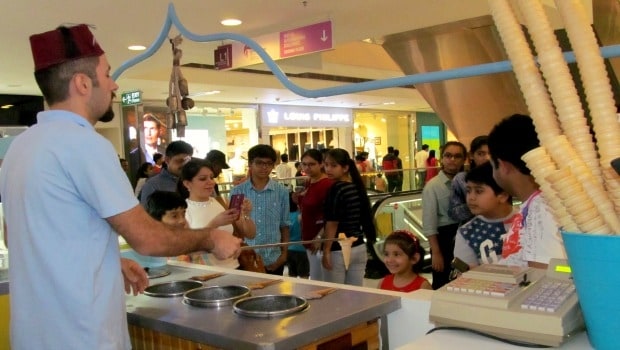 Mikail Bayazit, Turquoise Turkish Ice cream, Noida
Dondurma is a 100% vegetarian ice cream and can be made in many flavors. The orchid flowers would need to be brought to India to make this ice cream locally and to ensure that the taste and consistency of the ice cream is the same as the original one. The only difference would perhaps be the type of milk used. Akhtar says "Back in Turkey goat milk is easily available and that's what we use to make the ice cream; whereas in India, cow milk is used to prepare Dondurma, and this ice cream only contains 0.5% fat."