Eat This to Reduce The Risk of Kidney Cancer
NDTV Cooks | Updated: June 09, 2014 12:11 IST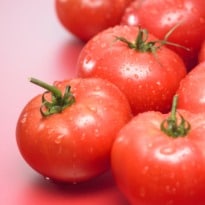 A new study suggests that people who eat tomatoes or other lycopene-rich fruits and vegetables may have a lower risk of developing kidney cancer. These findings were especially true in the case of women.

"The highest amount of lycopene in a woman's daily diet is equivalent to the amount in four tomatoes," said Won Jin Ho, a medical resident at Case Western Reserve University in Ohio, who was quoted in a Live Science report.

Lycopene is an antioxidant that also gives tomato, watermelon, grapefruit and papaya its reddish colour.

In this new study, the researchers examined nearly 92,000 post-menopausal women. The amount of micronutrients including lycopene in the their diet was estimated from the information they provided on questionnaires they were asked to submit on enrollment for the study.

During the study period, 383 women were diagnosed with kidney cancer. The study noted that women who consumed the highest amount of lycopene had a 45 percent lower risk of kidney cancer compared with those who ate the lowest amount.

"It is likely that the women received lycopene not just from tomatoes but also from tomato sauces and other fruits that contain lycopene," added Won Jin Ho.
These findings were presented recently at the annual meeting of the American Society for Clinical Oncology.

With inputs from IANS