Feasting on Holi Delicacies
IANS | Updated: March 16, 2016 11:27 IST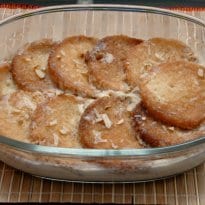 Gujiyas, malpuas, bhang and thandai. The festival of colours is never complete without an elaborate platter of mouth-watering sweets and intoxicants. So here are some popular Holi recipes as the festival comes around Thursday:

Gujiya
These half moon-shaped sweets are a runaway hit on the festival.

Ingredients:
A cup of maida
Grated coconut
Three tablespoons of ghee or oil
Sugar as per taste
Two cups of milk and khoya,
A tablespoon of poppy seeds
Chopped almonds, raisins and cardamom powder.

Method:
For the outer covering, mix maida and ghee in a bowl, add warm milk to ensure that the dough is smooth.

For the stuffing, mash the khoya and fry it in a pan, add coconut, sugar, milk, chopped almonds, raisins, cardamom powder and poppy seeds.

Let the mixture cool down. In the meantime, take the dough and make flat round pancakes. Add the stuffing in middle and close the corners. Deep fry in ghee until golden brown. Serve cool.

Bhang Pakore:
These mouth-watering fried snacks pack an intoxicating punch.

Ingredients:
Oil
Two cups of gram flour (besan)
A potato, onion, brinjal, half a cup of cauliflower and spinach
Half tablespoon of bhang
Seed powder, chilli powder, ajwain, a pinch of baking soda, carom seeds, mango powder (amchur)
Salt to taste
Bhang seed powder
Method:
In a bowl, add besan, baking soda, salt, chilli powder and some water to make a thick batter. Wash and peel all the vegetables. Dip them in the batter and deep fry till golden brown. Serve hot with sauce or chutney.

Badam Kulfi:
A traditional version of the ice cream, it is a perfect way to welcome the warmer days heralded by Holi.

Ingredients
Three litres of milk
Sugar to taste
Half a cup of roasted and sliced almonds
Cardamom powder

Method:
Boil the milk in a thick bottomed vessel till it is reduced to half. Add sugar, badam and cardamom powder and stir well. Pour the mixture into molds and freeze for around six hours. Cut the kulfi into small pieces and garnish with chopped almonds and pistachios.

Bhang Thandai:
An intoxicant laden drink, for many Holi means drinking glassfuls of it.

Ingredients:
A litre of full cream milk
A cup of almonds and pistachios
A tablespoon of black peppercorns, cardamoms, fennel seeds (saunf), soaked khus-khus
Sugar to taste
A pinch of salt
Half a cup of dried or fresh rose petals

Method: Soak sugar in half a litre of water. Grind the mixture except the saunf and spices with milk to make a very thick and fine paste. The spices could be roasted, then ground separately and mixed to the paste.

Boil the milk and then add the paste. Whip it for at least 5 minutes to get a creamy frothing texture. Using a muslin strainer, separate the solid particles from the beverage. For better taste, grind the particles again and add to the beverage.

Add sugar syrup to the drink and refrigerate it. Serve the drink chilled, garnished with chopped almonds.

Malpua:
This is an all-time favourite pancake like sweet, and many prefer it to gujiyas on Holi.

Ingredients:
A litre of milk
Half a cup maida and suji
Some ghee
water.

For the syrup, add a cup of sugar, a few strands of saffron, two tablespoons of milk, and a pinch of cardamom powder to boiling water to make the syrup.

Method:
Boil the milk till it reduces to half. Roast the suji till it turns brown and add to the milk along with maida. Make sure there are no lumps. Heat ghee in a pan. Pour the batter over the ghee in circular motions to make small pancakes. Turn over and make sure they remain soft and not crispy.

Soak the fried malpuas in the sugar syrup. Garnish with chopped dry fruits and fresh cream and serve.