When looking for French wine, it pays also to consider less heralded wine-growing regions. Photograph: Pedro Ugarte/EPAWhen choosing French wines, it's well worth considering less familiar appellations, for new sensations as much as for bargains.One of the things that most impressed me about my then boyfriend/now husband when we met in the late 1980s was his knowledge of obscure French appellations such as Quincy and Menetou-Salon (mind you, I've always loved a geek). They're still not household names, but they are an interesting alternative to the much better-known Sancerre and Pouilly-Fumé.
Back then, they were a bargain; now, though, they're not much cheaper than their more famous neighbours. Nor should one really expect them to be, given that the cost of tending a vineyard and making wine is much the same wherever you do it.
The area in which you find all four (along with other, even more obscure appellations) is known as the Centre-Loire and is surprisingly far down the river (or up, depending on which way you look at it), not that distant from the city of Bourges.
Sauvignon blanc is still king across the region except in Châteaumeillant, which produces only reds and rosés. In fact, Quincy (pronounced can-sea), which actually pre-dates Sancerre as an appellation, produces nothing else. If you like Sancerre, I reckon you'll love Domaine de la Commanderie's zippy, citrussy Quincy Tradition (12.5% abv). The 2013 currently on release is a year younger than most sauvignons on the market, which has given the wine time to round out and mellow. Majestic has it in selected branches (though not online) for £9.99, the General Wine Company for £11.39.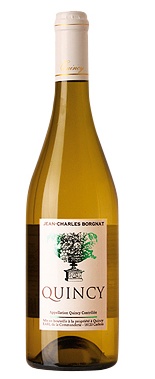 Menetou-Salon tends to be more fragrant and leafy, a little more like Pouilly-Fumé: try Domaine Jean Teiller's intensely flavoured Menetou-Salon Blanc2014 (13% abv), which is conveniently available in half-bottles at £8.25 from Yapp Brothers. The lesser-known Reuilly, on the other hand, always seems to me to have a slightly earthy note: Domaine Mabillot Reuilly La Ferté 2014 (13% abv) is a real bargain at £9.50 from the Wine Society.
Mabillot also produce a delicious gris (pinot gris) rosé, a grape that is permitted in Châteaumeillant and Reuilly, but not elsewhere in the Loire, and it's much lighter and drier than its counterparts in Alsace and New Zealand. It isn't imported into the UK, but would be well worth picking up if you're ever in the area.
Another appellation to look out for is Côteaux du Giennois, which is just north of Pouilly-sur-Loire and produces white, red and a little rosé. Domaine de Villargeau 2014 White (£7.95 Wine Society; Majestic has the 2013 for £8.99; 12.5% abv) is definitely a poor man's (or woman's) Sancerre.