French toast lovers raise your hands! Now that's practically everyone who likes bread, milk and eggs, right? Come to think of it, these three ingredients - bread, milk and eggs - possibly make for the three most popular breakfast staples around the world. You know you are sorted for morning once you spot the three in your kitchen pantry a day before. Hence, combining all three to come up with a loaded and milky toast only seems as the most natural progression devised by our ancestors to make breakfast fun. Yes, you could be partly right in deducing that. But, if you are crediting a certain Frenchman for the lovely toasts, you can't be further from the truth.
History of French Toasts
Remember the Kangana Ranaut starrer 'Queen'? There's a scene where Kangana makes some delicious breakfast for her friends in Amsterdam. When she is asked to introduce the dish, she proudly calls them, "French Toasts" , much to the surprise of her French room-mate who is quick to explain, "I am French, and this is not from our country". Well, we have neither Kangana or her roommate to blame for this massive confusion. A large part of the world has been confusing the bread-y delight as a French invention for centuries now.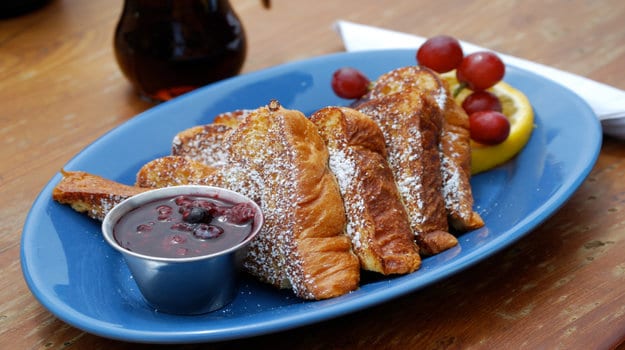 French toast is also known as Spanish toast and German Toast
Turns out that the French toast existed even before France did as a country! It was a popular delight enjoyed in the Roman empire of 5th century AD. According to Apicius, a collection of recipes from the early 5th century AD, the dish existed as an aliter dulcia (simply translated to "another sweet dish"). The Romans would dip their breads in the milk mixture, fry it in oil and butter and enjoy it as a warming sweet dish.
The addition of eggs came in much later. Using the toast as a savoury breakfast option also developed much later.
French toast was eaten across Europe during the medieval times. It was a means to use up stale bread and reduce wastage. The French toast is known by many names across the world such as, Spanish toast, German toast, nun's toast, eggy bread, torriga, poor knights of Windsor, Bombay toast and many others. In France itself, the dish is known as "pain perdu" or "lost bread". An interesting trail of events led to the dish earning this name. In 15th century A.D, pain perdu was a great rage. The dish was made by dipping hard or stale bread in a mixture of milk and eggs, and was then fried. In the process, you 'lost' the original bread and what you had was a sweet dish helped by eggs and milk to keep it together. Pain perdu is what the French call French toast till today. Before pain perdu became popular, the predecessors of the dish were called Pain Romaine, for its Roman ancestory.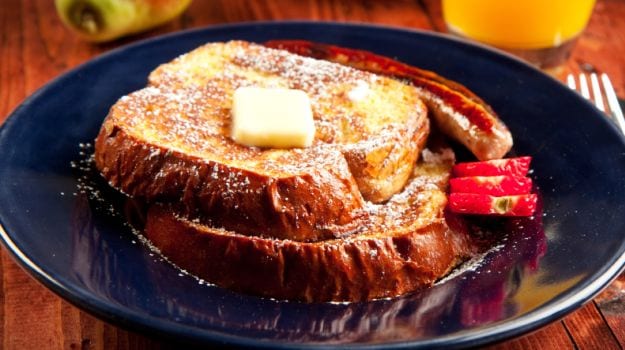 Slowly, the craze of Pain Purdu travelled to England and in late 16th and 17th the dish began to earn popularity as French toast. From England to America, the popularity of 'French Toast' grew leaps and bound with the colonists.
Another popular legend states that it was an Albany, New York that the dish was developed. An innkeeper named Joseph French created the first batch of golden brown treats in the year 1724, and called it the 'French Toast', instead of French's toast, after his own last name. A humble innkeeper with limited knowledge of grammar made the error of not using the required apostrophe, and the rest as they say, is history. However, there are several Food historians who are weary of this legend and say that the toast-based dish has been part of the European culinary demographic for centuries.
Traditionally the French toast is made by simply dipping slices of bread in egg or milk and then fried in butter. But over the years, the humble French toast has seen several gourmet makeovers. Chefs have experimented with a variety of ingredients like fruits, nuts, whipped cream, peanut butter and cheese as fillings or toppings.
Here's a delicious Apple and Cream Cheese Stuffed French Toast by Chef Vicky Ratnani you must try for your breakfast.
About Sushmita SenguptaSharing a strong penchant for food, Sushmita loves all things good, cheesy and greasy. Her other favourite pastime activities other than discussing food includes, reading, watching movies and binge-watching TV shows.