India will be celebrating Gauri Teej on 30th March this year. Major parts of Rajasthan have been busy preparing for the massive Gangaur festival which starts today. Teej is the third day of the lunar fortnight in a Hindu calendar and Gauri Teej is celebrated on the third day of the Shukla Paksha or the waxing phase of the moon in the Chaitra Month, marking the annunciation of the Gangaur festival. The day is dedicated to the worship of Goddess Gauri or Parvati (an avatar of Goddess Shakti). The divine couple of Lord Shiva and Goddess Parvati are worshiped by a number of devotees on this auspicious day. Gauri Teej rituals are observed to attain prosperity, peace and happiness in our lives. A number of young married and unmarried women observe the ritualistic fasts associated with the festival. The
fasts can be kept by both married women for the welfare and long life of their husbands and a happy marital life and also by unmarried women who wish to seek a compatible husband. Women bedeck themselves in beautiful bright
saris
and bangles and also apply
henna
on their hands.(Also read:
This Teej, Make Yourself 5 Delicious Indian Desserts
)According to Hindu scriptures, Goddess Gauri is the embodiment of austere penance and with her deep devotion she won Lord Shiva as her consort. She took birth on earth in the form of King Daksha's Daughter Sati. Bewitched with the charm of Lord Shiva as a maiden, she started meditating to beget Lord Shiva in the form of her husband. Immensely pleased by her penance, Lord Shiva appeared before her. According to some legends, Goddess Sati got married to Lord Shiva on the auspicious day of the Tritiya of Shukla Paksha. Even in her second birth as Parvati, she observed an even tougher penance, renouncing all material comforts that came to her as a princess and headed to the forest to meditate like a sage. She meditated for years, not consuming a single grain of food or water. She braved storms, rains, and droughts to finally attain Lord Shiva as her consort. Gauri Teej is celebrated widely across Rajasthan and some parts of Uttar Pradesh, Madhya Pradesh and Haryana. In Rajasthan particularly, the Gangaur festival is a huge affair.
Gana
is a synonym for Lord Shiva and
Gaur
stands for Gauri or Parvati. Together they are worshiped as 'Gangaur'. The festivities begin on the 3rd day of the Chaitra Month (Gauri Teej). Lavish fairs or Gangaur Melas are held throug a period of 18 days.
Several folklore associated with Gangaur are recited and narrated in the festival by elders. The traditional sweet of Rajasthan, Ghevar is prepared and distributed to friends and family.(Also read: Bite into Ghevar, the Sinful Honeycomb Indian Sweet)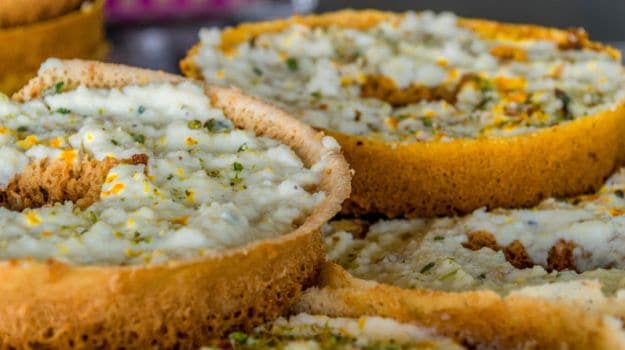 On the day of Gauri Teej, devotees perform a special pooja in the morning after taking a bath, clad in their bright coloured clothes. Then, they narrate the Gauri Katha (the legend of Goddess Gauri seeking Lord Shiva as her consort) followed by
pooja
and
sankalpa
. Married women observing the rituals offer Goddes Gauri, kumkum, sandal powder and flowers. Ganesh
pooja
precedes the
pooja
of God Shiva and Goddess Gauri. Lord Ganesha is worshiped with water,
roli,
vermillion, sacred thread,
rice
, betel leaves,
cloves
, supari, cardamom,
bel patra,
fruits
, and dry fruits. The idol of the goddess is bathed with
panchamrit
, and decorated with vermillion, sandalwood paste and henna. Women adorn and decorate the idol of Goddess Gauri as a newly wedded bride. This year, Tritiya Tithi begins at 02:46 a.m on 30th March 2017
Tritiya Tithi ends at 23:42 p.m on 30th March 2017Happy Gauri Teej everyone!
About Sushmita SenguptaSharing a strong penchant for food, Sushmita loves all things good, cheesy and greasy. Her other favourite pastime activities other than discussing food includes, reading, watching movies and binge-watching TV shows.