Actress Kareena Kapoor Khan would be ringing in her 38th birthday today. The actress was last seen in 'Veere Di Wedding', which was released earlier this year. Veere Di Wedding became one of the highest grossing films of the year. Made on a budget of ₹42 crore, Veere Di Wedding earned over ₹138 crore worldwide and emerged as one of the most successful films featuring an all-female cast. Kareena's portrayal of Kalindi Puri, was especially well-received by both critics and masses alike. Kareena is currently enjoying her free time and has been spending some quality time with her friends and family. She recently took a vacation to Maldives with husband Saif Ali Khan, little Taimur Ali Khan, sister-in-law Soha Ali Khan, and Kunal Kemmu. Before that, she also spent over a month in London with sister Karisma Kapoor, Sonam Kapoor and Rhea Kapoor.


Kareena is currently one of the biggest female superstars of the country and has been giving us fashion and fitness goals ever since she stepped foot in the industry. It took her only a span of few months to get back to shape after her pregnancy and resume shooting for Veere Di Wedding. She has often shared secrets of her diet and fitness in various press events. One of the most striking features of her diet is her strong love for all things desi.



The actress who was a part of a nutrition documentary film - Indian Food Wisdom and The Art of Eating Right by Celebrity Nutritionist Rujuta Diwekar, revealed at the press launch of the documentary, that she loves a hot plate of rice and dal made at home with a bit of desi ghee.



The actress is very fond of ghee. Ghee is fast becoming a favourite of nutritionists across the globe. There are plenty of reasons why you need not eliminate this source of healthy fat from your diet. Ghee is low on Glycaemic Index and makes sure your blood sugar levels are regulated. It helps keep you warm from within and is a good source of energy too. For Kareena too, ghee is "glamorous", she revealed at the press launch of the nutrition documentary film. Even during pregnancy, Kareena enjoyed her regular dal and parathas with a spoonful of ghee.



"My dadi ji is 85 and she has been having ghee since she was two years old. She has maintained her weight through her 20s and eighties, she is fit as a fiddle, she is walking around, her knees haven't given way," Kareena revealed in a press event with friend and nutritionist Rujuta Diwekar.


(Also Read: Kareena Kapoor Khan's Inspiring Weight Loss Journey Post Pregnancy)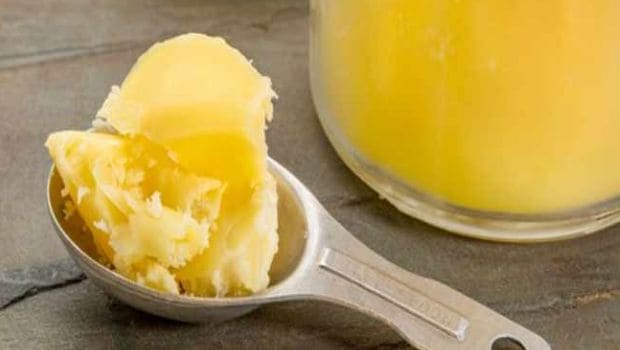 Here are 5 health benefits of ghee:

1. It insulates your body from within and helps keep you warm, according to Ayurveda.
2. According to the book, 'Healing Foods' by DK Publishing House, "Ghee is a good source of energy. It contains medium and short-chain fatty acids, of which, lauric acid is a potent antimicrobial and antifungal substance."
3. It is a source of good fats. Fats are an essential macronutrient and ruling them out of your diet could take a severe toll on your health. Ghee makes for a good source of good fats. Ghee is one of the most preferred vehicles for oleation: a process of ingesting oil over a period of time. This actually helps pull fat soluble toxins out of the cells and triggers fat metabolism, a process where the body kick-starts to burn its own fat for fuel.
4. Ghee is known to be good for heart. The book 'Healing Foods' notes that the fats present in ghee are not associated with heart diseases in the way that long-chain fatty acids are, as they are used directly as energy by the body and not stored as fats.
5. Ghee is good for intestines. It is packed with butyric acid, which makes it an ideal pick to support the health of the intestinal walls.

Here's wishing Kareena Kapoor Khan a very happy birthday!

Comments