Kareena Kapoor Khan's Inspiring Weight Loss Journey Post Pregnancy
Kareena Kapoor Khan, the new mother in Bollywood, is a motivation for a lot of women who are going through the post pregnancy phase.
NDTV Food | Updated: August 10, 2017 17:31 IST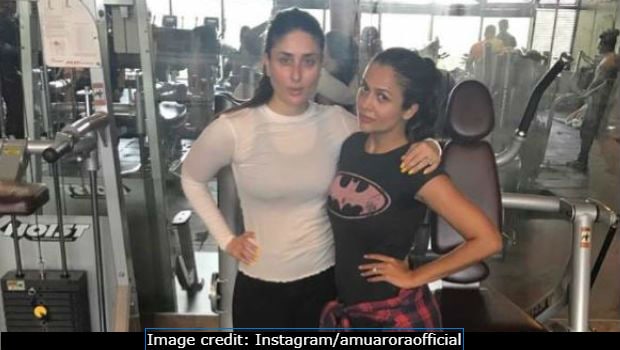 Kareena Kapoor Khan, the new mother in Bollywood, is a motivation for a lot of women who are going through this phase or are past it. Bebo managed to look flawless throughout her pregnancy and continues to glow post pregnancy. She was not afraid to flaunt her baby bump and the number of pounds she gained due to it. In fact, she walked the ramp gracefully with her head held high, being an inspiration to all the women watching her perform. She enjoyed each and every bit of her pregnancy phase with help from her dietician Rujuta Diwekar. The duo recently went live on Facebook giving us tips on how to deal with obesity and undernourishment. They also talked about the challenges during and after pregnancy and how the right kind of food, exercise and attitude can help fix it.

It has been about seven months since the birth of the new baby boy, Taimur Ali Khan and Bebo is already doing wonders to get back into her original form.


Kareena was never concerned about gaining weight or thinking about what to eat and what not to eat. Instead she ate everything in right quantities. She became as comfortable as possible during the time of her pregnancy. She added "I enjoyed my pregnancy and the world saw it. I had support from everyone and I was just flaunting it. I carried Taimur with a lot of joy, strength, and energy. I put on 18 kilos but I flaunted it till the day I walked into the hospital… I say it with a lot of pride that he's the most gorgeous child, not because he's mine but also because I ate a lot of ghee. All the ghee, all the paranthas, all the pizzas have gone into it. But it's fine."



As much as she was keen on eating everything healthy, she was even determined about shedding the extra pounds off. Rujuta Diwekar, her nutritionists, advised her to not rush and go steady. "Because we don't want to go one step forward and two steps back, which is what happens when you do a crash or extreme diet," Diwekar advised, who accompanied Bebo at the live video chat.

The aim is not to rush into things and freak out with the whole idea of losing weight but to calm down and enjoy the process of getting back into the shape comfortably and happily. Kareena said, "My aim is not just to lose the weight I had put on. I don't want to do it overnight. It may take long, but I want to feel light, happy and energetic throughout the process. And that is important."



A lot of times we forget how much pressure we are putting on our body to look good due to which things often do not work in our favour. According to Rujuta in the video, "Crash diets lead to a lot of lifestyle disorders such as post pregnancy thyroid. Because when you're on a crash diet, you reduce the calorie intake so much that your body is forced to slow down its metabolism. It's also important to not just lose weight but to rebuild your bone and muscle density. The more bone and muscle you carry, the more compact you look. And the less bone and muscle you carry, the flabbier you look."

Few Things to Keep in Mind Before Going on a Diet:

1. Do not miss out on rice: According to the dietician, rice is a must everyday. It brings back the bacteria needed by the body. She said,"The reason is that eating rice allows you to bring back a lot of the good bacteria that something as strenuous as a delivery may wash out."

2. Avoid junk: Strictly advised by both nutritionists and the actress to avoid junk food cravings as much as possible and follow the diet routine. Kareena said, "I always had odd junk food cravings and that's just disappeared. To me, food is no more junk. I always eat and at the right time so I'm full. I don't feel the need to eat something at 6 or 7pm. If anyone spots me at a food store, you won't find me in the diet and low-fat section. You'll find me in the diet section, maybe amongst the yogurt."

3. Get rid of dark circles: Due to pregnancy a lot of women get dark circles around the eyes. In order to get rid of it, intake of food rich in iron and B12 should be increased. Dairy products like dahi and chaach should be consumed regularly.

4. A bit of exercise everyday: Exercise will help you keep fit and burn off extra fat. Kareena Kapoor Khan stated, "Rujuta always says that walking is the best exercise in the world. Post pregnancy, when even getting on a treadmill can be tough, 20-30 minutes of walking can really help. It has helped me beautifully. I can already feel my core strength increasing."



Kareena Kapoor Khan breaking all the stereotypes flaunted the baby bump with pride and shone even more during her beautiful nine-month journey. Now that this phase ended she is focused on shedding some extra calories off in a comfortable way. We wish her the best!