Who doesn't love chewing off the roasted corns from its cob and wallowing all of them, especially in monsoon? Be it kids or adults, corn on the cob (bhutta) is relished by all. However, corn kernels can also be consumed in other ways by separating raw corns from the cob and then cooking them. Corn kernels are used popularly in Indian meals like corn palak and mixed vegetable curry. A great way to include corns in your diet is by boiling them and making salads with them. A salad is considered a healthy meal as it is a mixed bag of raw greens, fruits and vegetables, all at their maximum nutritional levels. Corns make for a stellar ingredient in a healthy salad for the various health benefits they provide.


Health benefits of corns:
Corns are super rich in fibres that make the digestive system smooth.
Due to their high antioxidant value, corns are helpful in fighting free radicals that cause infections and diseases.
Corns have a high amount of vitamin C and E, which helps keep skin and hair healthy and lustrous.
Here are some healthy salads you make with corns –
Corn And Avocado Salad –
Two powerful foods – corn and avocado – come together to create this healthful amalgamation. Both corn and avocado are great foods for digestion, making this salad an ideal food for your gut health.


(Also Read: Interesting Ways To Use Corns In Daily Diet)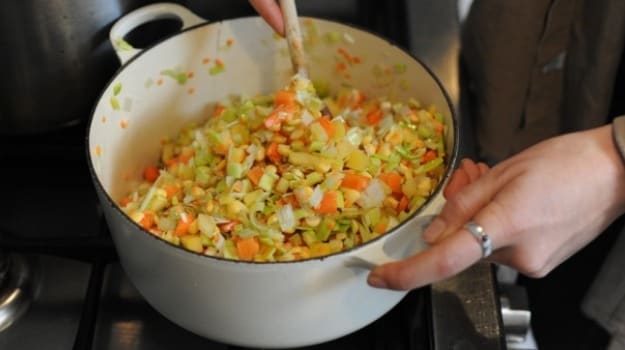 Corn And Raw Mango Salad
Mangoes are the perfect summer foods with a wealth of health benefits. The slightly sour taste of corns mixed with the sweetness of mangoes creates a dynamic flurry of flavours in this enticing salad.


Corns And Raw Mango Salad
Cold Salad
This unique salad combines paneer, corns and potatoes, enhanced with red wine and honey dressing. This refreshing, colourful salad will make for an interesting meal.


Grilled Corn And Tomato Salad
Grilled corn brings a distinct smoky flavour to the dish. Mixed with a string of vibrant foods like cherry tomatoes, olives and lettuce, this healthy bowl will amp up your fitness journey to a great extent.


(Also Read: 11 Best Salad Recipes)
These salads can form an integral part of your healthy diet and can also sit pretty in your party menu. Serve these corn salads to your guests and be ready to be at the receiving end of their admiration.
About Neha GroverLove for reading roused her writing instincts. Neha is guilty of having a deep-set fixation with anything caffeinated. When she is not pouring out her nest of thoughts onto the screen, you can see her reading while sipping on coffee.