Hitting the food trail in Lucknow is a pilgrimage!
IANS | Updated: September 23, 2013 14:30 IST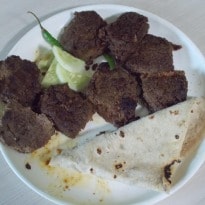 Hitting the food trail in Lucknow is a pilgrimage! In this land of indulgent nawabs and haute Awadhi cuisine, a lavish dastarkhwan - Persian for a well-laid-out spread of dishes - awaits worshippers of good food. All return blessed!

Be it the street food from the dingy lanes or dishes rolled out at the homes of former nobles from a repository of well-guarded recipes, Lucknow is quite up on the list of Indian cities with a highly evolved gastronomic quotient.

Never a deprived moment here, be it at breakfast or for a late-night bite. Only, one must shed inhibitions. Such as not having something heavy for breakfast, or getting repulsed by a sea of floating oil in curries.

Think of these as some extra miles of walking needed to burn the calories down.

This apart, some of the famous kababs - even kormas, curries and stews - of 'dum-pukht' or slow-cooked Awadhi cuisine, are eaten with an array of breads, some of which can be both sweet and savoury, like the glazed caramel sheermal.

Also, don't pair food here with your mind. Leave that part to your palate.

The best-known kabab of Lucknow is, of course, the galawati. This is a melt-in-the-mouth patty of finely-minced mutton or beef marinated with a host of spices and condiments, then shallow-fried on a large tawa or a cast-iron girdle fired by charcoal. It pairs well with a roomali roti.

There is this legendary restaurant Tunday Kababi in the old quarters of Aminabad whose original owners stake claim to having invented this culinary delight. As the legend goes, chef Haji Murad Ali, a man with just one arm hence the nom de plume Tunda, invented the galawati in 1905.
At that time he had a small eatery by the same name in the Chowk area, which was literally a hole-in-the-wall outlet and still exists. The galawati was first made for an ageing nobleman with no teeth who yearned for some kebabs.

Today galawatis are available at a host of places. Tunday themselves have many franchises, even outside Lucknow. Most of these eateries serve a mean galawati and more.

You have Alamgir, just a stone's throw from Tunday in Aminabad, who have no menu but their galawati, shami, kormas, nihari-kulcha, and mutton biryani are just awesome.

So is the fare in Dastarkhwan at the Uttar Pradesh Press Club. Non-members are served outside. The galawati and shammi are outstanding. But one must have their boti kabab as well - small pieces of boneless mutton in slow-cooked thick gravy that combines well with ulte tawe ka paratha: Again their and Lucknow's speciality.

Other kababs famous in Lucknow, some of which are made only with advance notice, include the burras (try them at Shekhawat), kakoris, kalmi, patili, ghutwa, and pasandas. Food experts say some 45 kababs are indigenous to Lucknow, which also has its own version of rogan josh.

This city has some good fare for vegetarians too. Not that mutton-gluttons can't dig into them. The vegetarian kababs include Dalcha and paneer, as also others made of kidney beans, raw jackfruit, Arbi or Colocasia and yam kebabs.

A piece of advice: Don't try the tandoori fare in Lucknow. That is best left for the chefs of Mughalai food. The rakabdars of Lucknow are famous for the "dum" style of cooking over slow fire.

Mornings are best reserved for the traditional poorie or khasta kachori with alu-kaddu sabzi. Top it with jalebi and milk that has simmered for hours, or a glass of lassi. If you have already gorged on nihari-kulcha the previous day, this is a welcome break.

The vegetarian fare comes alive early evenings when the famous chaats of Lucknow are in full bloom. The popular chaat joints include Jain, Radhey Lal, Shukla, Chhappan Bhog, Shree Ram and Jagdish.

You do have the gol gappas or paani-poories, which locals call batashas. Here, the casings are filled with a combination of curd and chutney. A different take from what you get in Delhi, Mumbai or Kolkata.

Also try the alu tikkis in Lucknow that are stuffed with some secret masalas and green peas, as also the crumbling-in-the-mouth khasta tikkis. Another speciality is the tokri chaat - which looks like a sprouted salad with white, red, green dressing served in a bird's nest.

Kulfis are also a must. Do save some space and time to relish it. Finally, a paan does wonders. Even though the city of Banaras is more famous, don't despair. Lucknow's paans are equally good and help keep the palate and the momentum going to tuck in more.

In Picture: Lucknow's famous galawati kabab. The legend goes that this melt-in-the-mouth patty was created in 1905 by an one-armed chef Haji Murad Ali "Tunda" for an ageing nawab with no teeth who yearned for a kabab. (Photo: Arvind Padmanabhan)