Felicity Cloake's perfect onion rings. Photograph: Felicity Cloake for the Guardian

Are onion rings fast food's most underrated dish? Do you like them big and battery or thin and crunchy – and does anyone actually like them squashed on top of a burger?
The least celebrated of the classic fast food side orders, an optional extra where chips are the mandatory pairing, onion rings rarely get the love they deserve. This may be because they are so often done badly, with greasy, flabby batter that releases its filling in one soggy chunk, or it may be because, in this country at least, 45 years since Listerine appeared on our shelves, we remain slightly suspicious of the onion and its alliaceous ilk.
For all our traditional diffidence for oral hygiene, we still don't have many dishes which make onion the star, rather than the seasoning, because, like garlic, its pungency puts it in the same (rather unfair) category as the kebab; what might be described by the modish as "dirty food" – the kind of thing that is "so bad it's good". Well, I'd like to stand up for the onion ring. A cousin of the much more respectable Indian bhaji, Japanese tempura and Italian fritto misto, it seems that the onion ring as we know it today first pops up in print in Fannie Farmer's 1906 Boston School Cook Book, and was popularised by fast food joints and diners, until, together with french fries, it became "American men's favourite vegetable".
The onions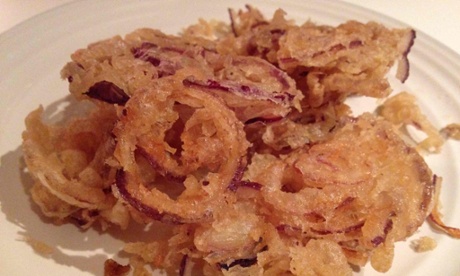 As befits our somewhat sceptical attitude to onions in this country, there isn't much choice in most supermarkets; there's the yellow sort, or the red sort. And that's it. Many American recipes, by contrast, specify not only the colour but the variety of onion, with Diners, Drive-Ins and Dives phenomenon Guy Fieri proclaiming the "sweeter the better" and Martha Stewart and food podcaster Brenda Anderson both opting for the super-sweet yellow vidalia, which hails from the city of the same name in Georgia (pub quiz fact: onions are Georgia's official state vegetable).
I'm unable to find any in this country, so I try substituting a red onion in Stewart's recipe. The results aren't bad, but the higher sugar content makes it more prone to burning, and I find it a little too sweet – I'd prefer my onion rings to be emphatically savoury.
Opinion about the best width varies from Saveur magazine's inch-thick (2.5cm) slices to blogger Ree Drummond's paper-thin slivers: "Notice that you can see the knife through the onion slice," she explains. "That means it's thin enough." Drummond's are deliciously crisp, but the onion gets slightly lost in the crunchy coating, while the monster versions are still a little too firm by the time the batter is done. About 0.5cm works for me, but you may wish to go up to 1cm if you prefer a more substantial onion ring.
To soak or not to soak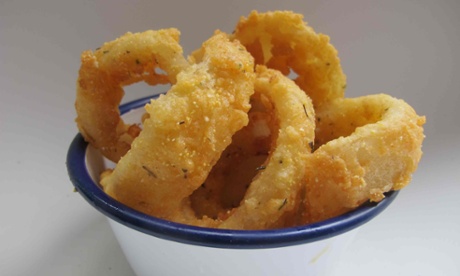 Unlike Anderson or BBC Good Food, Stewart, Fieri, Saveur and Drummond all soak their onions before cooking – Stewart, Saveur and Anderson in water for between 10 and 30 minutes, Fieri and Drummond in buttermilk for half an hour and an hour respectively. This, I imagine, is less to do with softening them than mellowing any harshness of flavour, which is a good insurance policy when you're cooking them so briefly.
I prefer the buttermilk, not only because it provides a stickier surface for the coating later on in the process, but because of its tangy flavour. The stuff widely available in this country is pretty thick, though, and can lead to claggy batter, so I'm going to thin it down with a little milk.
The coating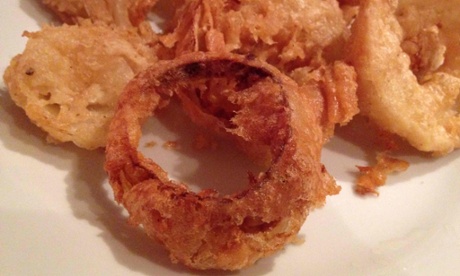 Onion rings fall into two broad groups – the battered variety, with a voluminous, brittle shell, and the less impressive, but crunchier, floured kind. There's also a breadcrumbed splinter group of this latter, of which more later.
Good Food, Stewart, Fieri, Anderson and Saveur all favour the first approach, adding air to their batter with baking powder, sparkling water, beer – Fieri's and Good Food's billow particularly satisfyingly. Anderson does a double-dip thing, almost as if she's coating a scotch egg, dipping the rings in seasoned flour, beaten egg and then, somewhat mysteriously, beer (whereupon a lot of the flour and egg falls off). They turn out a lot better than I'd anticipated, but the batter is too thick for my taste.
In fact, great as they all look, I prefer the texture of Drummond's version; the simple flour coating clings resolutely to the onion. In the batter varieties, the onion seems to have steamed within its shell, rather than fried in the oil, so it pulls away in one piece in the mouth with a kind of gummy softness, and the batter itself is so big and crunchy the filling almost seems besides the point. Drummond's shards of crisp onion may not look as fancy, but they suit me much better. (Should you be of a different mind, I'd recommend the Fieri or Saveur recipes as particularly good examples of battered onion rings.)
https://www.theguardian.com/lifeandstyle/wordofmouth/2010/may/20/how-to-fry-perfect-chips
Plain flour, then, is all that's strictly necessary, but though the cornflour used by Stewart and Saveur doesn't seem to change the texture significantly, I do like the cornmeal the latter adds as well, which gives the coating a slight grittiness that emphasises its crispness.
Breadcrumbs prove almost impossible to stick to slices of onion, especially using beaten egg white, as a second BBC Good Food recipe suggests – they cling on in isolated patches, which looks less than pretty. They're also quite dry, although that may be more to do with the cooking method.
Seasonings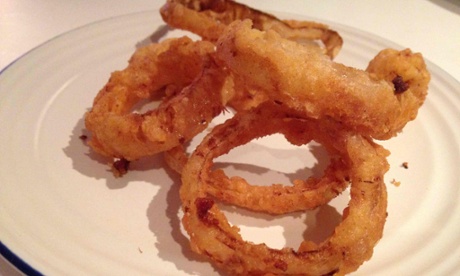 Fieri and Anderson season their flour with garlic powder, Drummond uses cayenne pepper, Saveur dried parsley and Good Food's second recipe cajun seasoning. Garlic powder just seems wrong on an onion ring (in fact, it seems wrong in most contexts, though I'm prepared to be proved wrong if anyone can think of a good use for it) and dried parsley and cajun seasoning don't really float my boat.
Cayenne pepper, however, adds a welcome touch of spice – not enough heat to blow your head off, but just enough to keep you going back for more. I used smoked paprika, which I like even better and works well with fried foods, but any chilli powder should work just fine.
The cooking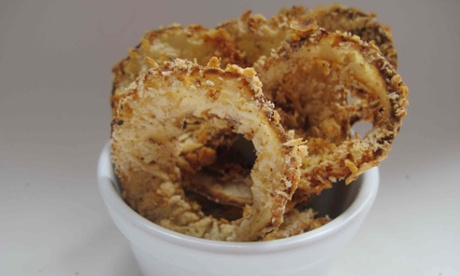 There is little argument about how to cook onion rings: they should be deep-fried in a neutral oil at about 180C/350F until golden brown. Baking them, as the second Good Food recipe suggests, is a false calorie economy; while not quite inedible, they are very dry – fine if you're going to dunk them in ketchup anyway, but hardly worth the bother otherwise.
Frankly, if you're watching your fat intake, onion rings probably aren't the treat for you. If not, trust me; these are a million times better than most British fast food versions. Consume in moderation, obviously.
The perfect onion rings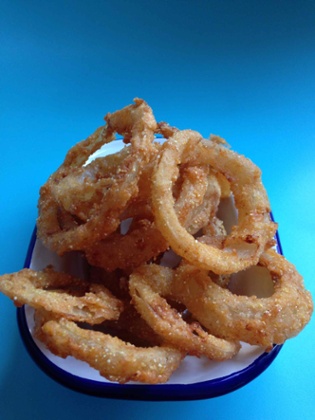 (Serves 4)
1 large onion
400ml buttermilk
100ml milk
Neutral oil, to cook
75g flour
25g cornmeal
½ tsp salt
½ tsp smoked paprika
Cut the onion into rings 0.5-1cm wide, depending on your preference, and put in a small bowl. Whisk together the buttermilk and milk and pour over the onion, then leave to soak for at least 30 minutes.
Put the oven on low. Fill a large saucepan a third full of oil and heat up to 180C/350F. Meanwhile, put the flour, cornmeal, salt and paprika in a shallow bowl. Pick the onion rings, a few at a time, out of the buttermilk, shaking off any excess, and toss in the flour to coat, shaking off any extra flour as you lift them out on to a plate. Repeat until they're all well coated. Line a large heatproof plate with kitchen paper.
Once the oil has come to temperature, add a handful of rings (don't overcrowd the pan or they won't crisp up properly) and fry for a couple of minutes, turning once, until a deep golden on both sides.
Lift them out with a slotted spoon and put on the paper-lined plate. Put this into the oven to keep warm while you repeat with the rest of the rings, allowing the oil to come back up to temperature between each batch. Eat immediately, while they're hot and crisp.
Onion rings: criminally underrated or a waste of good soup ingredients? Do you like them big and battery or thin and crunchy – and does anyone actually like them squashed on top of a burger?