A few days go by and a new "health food" arrives in the market. In plenty cases, the health claims are spurious and don't have any real studies to support them. The same appears to be the case with grapeseed
oil
, a leftover by-product of
wine
-making.
Grapeseed oil
is a polyunsaturated oil that is chemically extracted from the seeds of
grapes
after
wine
is made.
The 5 "Benefits" of Grapeseed Oil
Grapeseed oil
benefits
are based on the supposedly high amounts of nutrients, antioxidants and polyunsaturated fats of the seeds. But here's a newsflash… most of the nutrients and antioxidants (including the proanthocyanidins) from
grape
seeds are not present in the oil. Let's take a look at the supposed benefits of using grapeseed oil.
1. Grapeseed oil is a good source of Vitamin E
After the intense chemical extraction process, most of the good properties are actually filtered out. The only nutrient left in any significant amount is
Vitamin E
. One tablespoon of grapeseed oil contains 9 mg of Vitamin E, which is 19% of the Recommended Daily Allowance. In fact, grapeseed oil contains about twice as much
Vitamin
E as olive oil.
Vitamin E
is an antioxidant that helps prevent cell damage in your body and strengthens your immune system.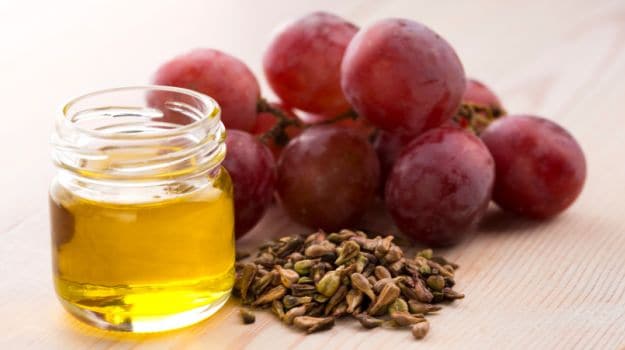 2. Grapeseed oil has no cholesterol and very little saturated fat
Yes, grapeseed oil is rich in
cholesterol
-lowering polyunsaturated fats. 1 tablespoon of grapeseed oil contains 14 grams fat, about 10 percent of which is saturated fat, 16 percent monounsaturated and 70 percent
polyunsaturated
.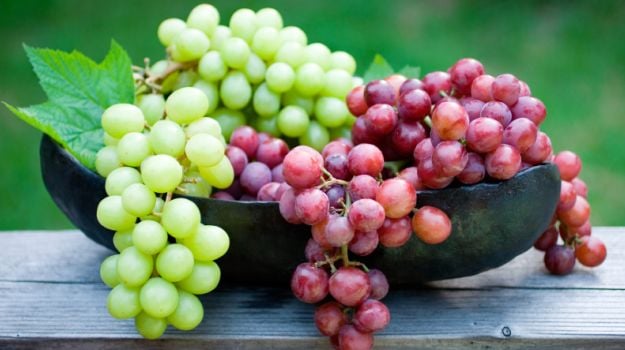 3. Grapeseed oil has a high smoke point
It's true. The Academy of Nutrition and Dietetics notes that grapeseed oil has a moderately high smoking point which makes it ideal for frying and sauteing. "Grapeseed oil has a mild nutty taste so the flavour of the food you are
cooking
with it shine through. For Indian food, you can make your dry vegetable preparations with grapeseed oil", says Delhi-based Nutritionist Anshul Jaibharat. It also has terrific emulsifying properties, which makes it an excellent oil for
salad dressings
.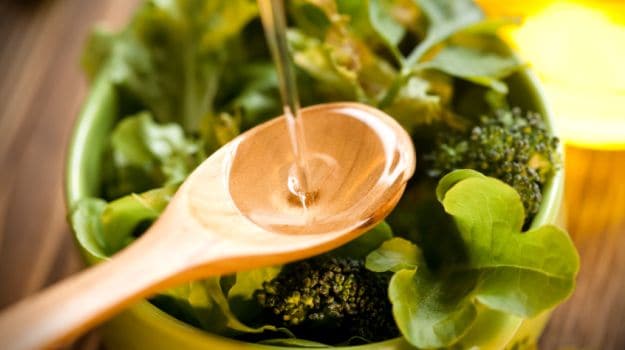 4. Grapeseed oil has the highest concentration of polyunsaturated fats, so it's good for your heart
Yes, grape seed oil is very high in polyunsaturated fats. However, there are two main kinds of polyunsaturated fats:
Omega-3s
and Omega-6s. To maintain optimal health, the balance of different kinds of polyunsaturated fats is important. And as it turns out, grapeseed oil contains mostly Omega-6 fatty acids. According to Dr. Rupali Datta, SmartCooky, "Indian diets do not need such a high amount of Omega-6". There is also not enough scientific backing to prove that grapeseed oil is
heart healthy
.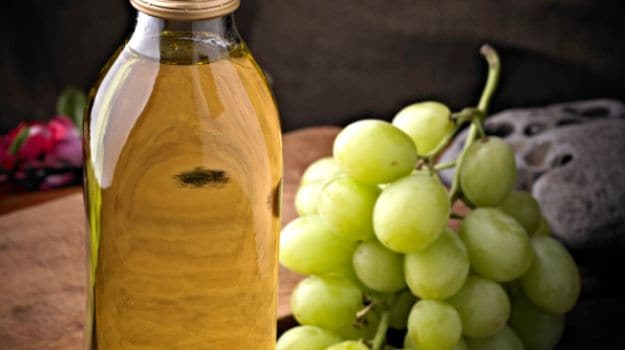 5. Grapeseed oil is beneficial for hair and skin
Grapeseed oil has been championed as a wonderful addition to any beauty regimen, and for good reason. Dr. Ashutosh Gautam, Clinical Operations and Coordination Manager at Baidyanath says, "Grapeseed oil helps remove tan, moisturise the skin, give you that
glow
you've always wanted and even lighten the effects on
age spots
. Many skincare creams contain grapeseed oil as well". It contains 73% of linoleic acid which may be beneficial in the treatment of
acne
, allergic reactions and dry and itchy skin. Grapeseed oil is free from synthetic ingredients and loaded with moisturising fatty acids, so there seems to be nothing wrong with applying it topically.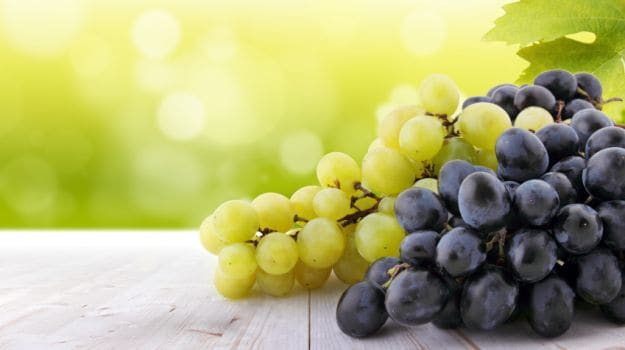 The Bottom Line?
Shilpa Arora says, "I'm not a fan of grapeseed oil. It may be good if used in moderation. But in larger quantities, it may inhibit the absorption of other nutrients". Grapeseed oil lacks in
vitamin K
,
vitamin C
, copper and potassium in comparison to actually eating
grapes
. Dr. Rupali Datta, Chief-Nutritionist, SmartCooky says, "There is very little scientific evidence that supports grapeseed oil being
healthy
. However, given its nutritional profile, it seems safe for consumption. You can use this oil in combination with other
cooking oils
". So it should not be the primary source of fat in your diet. Nutitionist Anshul agrees, "Since no one oil has everything, you can use a combination of two-three oils in a month. If you like the taste of grapeseed oil, aim to balance it out with other types of healthy fats from
coconut oil
and
olive oil
".