The humble tomato is a scientific marvel. What gives it its flavour? And why shouldn't you keep them in the fridge? All this, plus three easy, fresh tomato sauce recipes, below...
Heston Blumenthal didn't set out to become a molecular gastronomist; it happened by mistake. He originally opened the Fat Duck as a classic French bistro, occupying the site of a former pub in Bray, Berkshire. But Heston had a problem. The oven he had inherited from the pub was so feeble it couldn't get a pot of water boiling fast enough to cook French beans in the traditional fashion.
Not one to be easily defeated, Heston called the physicist Peter Barham, and asked whether it actually mattered if the water was at a rolling boil. Peter pointed out that theoretically you should be able to slow-cook beans at a lower temperature without boiling them at all - they would still be green and crispy. This made Heston wonder what other received wisdom might be false; what tricks might be possible if a more rigorous scientific technique were applied to cooking. The Fat Duck as we now know it was born.
Barham is now my fellow panellist on the Radio 4 cookery programme The Kitchen Cabinet. Every time we meet, he says something that completely changes the way I think about some aspect of cooking.
Most recently it was tomatoes. Tomatoes, he informed me, don't taste of anything until you eat them. At first this sounds like a brain-teaser from the philosophy of Bishop Berkeley, but in fact it is the plain scientific truth.
Tomatoes only create the molecules that gives them their savoury umami flavour when an enzyme in the juice inside their cavities reacts with the flesh of their exteriors - ie, when you chew them. You can prove this by syringing out the liquid and eating it and the flesh separately. They are both pretty flavourless.
And here's the bit you really need to know: the enzyme is destroyed at temperatures below 4C, so we must NEVER KEEP OUR TOMATOES IN THE FRIDGE.
With this one piece of advice, Peter has transformed my life, as he did Heston's. (Although my wife could do without me swivelling round from the fridge, tomato held aloft, demanding: "Who put this in the fridge?") And if you heed his wisdom - together with my collaborator Jane Baxter's recipes below - it may just change your life, too.
Fresh tomato 'no cook' sauce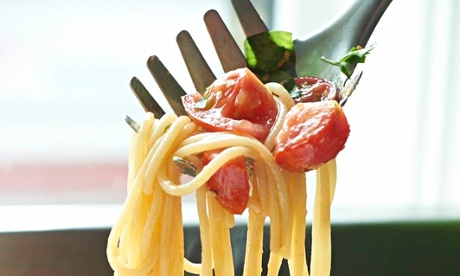 Prep time: 10 minutes
Cooking time: pasta cooking time as per the packet
Serves 6
800g tomatoes
150ml good-quality virgin olive oil
1 tbsp flat-leaf parsley, chopped
2 tbsp basil leaves, ripped
1 tsp fresh thyme, chopped
2 garlic cloves, crushed
A pinch of dried chilli flakes
Freshly ground pepper
400g dried pasta - penne, fusilli, or other type
1 Chop the tomatoes into 1-2cm pieces and place in a bowl large enough to hold all the sauce and cooked pasta. Add all of the other ingredients except the pasta. If using small or cherry tomatoes, halve or quarter them. Make sure all the juice from the tomatoes ends up in the bowl.
2 Stir well and leave for the flavours to develop for at least half an hour.
3 Cook the pasta as per the instructions on the packet until al dente. Drain well and tip into the bowl holding the tomato sauce. Stir to combine and season with salt and more freshly ground black pepper.
4 Serve. Optional toppings could include a sprinkling of freshly grated parmesan or ripped mozzarella, or try adding chopped black olives along with a few capers or smashed anchovies.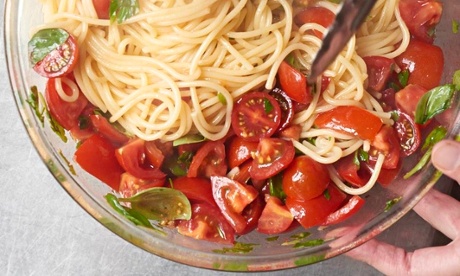 Quick-cook tomato sauce with rocket and ricotta
Quarter 1kg of cherry tomatoes and cook them in olive oil with 4 crushed garlic cloves for 5 minutes.
Cook a 300-400g packet of orecchiette pasta in a large pan of salted boiling water. Drain and then toss with the tomato sauce. Add about 200g chopped rocket leaves and allow to wilt through the sauce. Season well and finish with about 100g grated hard ricotta or crumbled feta.
Slow-cooked tomato sauce
Peel about 1kg of very ripe, tasty tomatoes by making a slash on each tomato and covering them with boiling water for about 10 seconds. Drain well, and the skins should come away easily. Remove the hard cores and chop the flesh.
Slice lots of garlic cloves finely and then cook them gently on a low heat in olive oil for a few minutes so that they soften but do not colour. Add the tomatoes along with a pinch of sugar and simmer gently for about an hour. Season well. The sauce can be used as it is or passed through a moulin à légumes for a smoother finish.
Recipes by Jane Baxter
Henry Dimbleby is co-founder of the natural fast-food restaurant chain Leon (@henry_leon)