Who doesn't love a complementary bunch of fresh coriander with green chillies in packets full of vegetables at the sabzi-mandi? Well, we all do. We love how coriander, or dhania, enhances the flavour of any delicacy; be it curries, rice or snacks. However, to keep these herbs fresh for longer is one tough task, which generally results in a rotten bunch that's tossed into the dustbin. But if you know the right way to preserve this flavourful and super-healthy herb, it may stay fresh for more than a week. If you are still looking for some ways to give coriander a longer shelf-life, then we have your back. We suggest some amazingly simple and doable ways to store fresh coriander for longer.(Also Read -
4 Ways to Use Coriander for Beautiful Skin)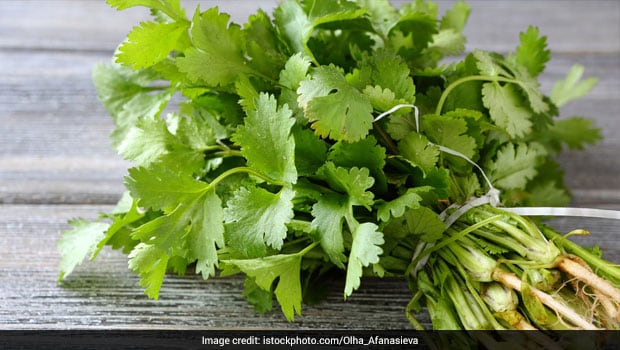 Coriander flavourful and super-healthy herb
Buy or get fresh coriander leaves and cut the muddy roots from the bunch.
Now, take a container, add water and a teaspoonful of turmeric powder to it.
Dip the coriander leaves in the turmeric water and keep them for about 30 minutes.Wash and allow them to dry properly. To ensure the leaves have dried properly, dab them with a paper towel.
Once the coriander leaves are dried, take another container and cover it with a paper towel and add the leaves into it. Make another layer of paper towel on the top and close the lid properly.
Make sure there is not even a single drop of moisture left in the leaves. Store the air-tight container in the refrigerator. The leaves will stay fresh till about two to three weeks.
Turmeric water method to keep coriander leaves fresh for long
Soak In The Water Method
Trim the ends of the coriander leaves and wash them thoroughly.
Dry the clean leaves using paper towel.
Now, fill a quarter of a sturdy glass jar with cool water. Arrange the coriander leaves inside the glass, making sure all the stem ends are submerged. Leaves should remain above the surface of water. See to it that if the leaves are touching water surface, you can discard some of it.
Take a zip-lock bag and place it on the top of the glass jar. Let the opening of the bag remain loose and keep the jar along with the cover in the refrigerator.
You will need to change the water after every few days.
Using this method, coriander can remain fresh up to two weeks.
Through water method coriander can remain fresh up to two weeks.
Store In The Zip-Lock Bag Method
Wash the coriander leaves properly and let them dry.
Divide the coriander leaves into smaller batches.
Now, take a piece of paper towel, add one batch of the coriander leaves and roll it once.
Take another batch and roll it from the other end once.
Repeat this process for the other batches. Once done, keep the rolled batches in a zip-lock bag.
Once you have added the batches into the bags; lock the bags properly and store them in the refrigerator.
This method can keep the coriander leaves fresh for more than two weeks.
Washing coriander to keep them fresh for long
These simple tips will help keep your bunch of coriander fresh and flavourful even after about two weeks. Do let us know if you have any other tip to prolong their shelf-life.