During the summer season, it is quite challenging to work in the kitchen. It's not easy for everyone to cook delicious food while standing in the kitchen for hours. So, we look for some easy options that are delicious and can be prepared within minutes. Aloo, Bhindi, and Paneer Bhurji are easy options for a hearty summer afternoon lunch. But we can't eat only these dishes every day. Everyone likes variety in food, and keeping this in mind, we have come up with a super healthy and tasty recipe called Soya Chana Dal Bhurji. Soya Chana Dal Bhurji is a high-protein recipe that can be prepared in just 20 minutes. This nutritious bhurji is perfect for an afternoon lunch. So before knowing the recipe, let's learn about its benefits.


Also Read: Has Your Curry Turned Too Sour? 5 Easy Way To Fix It
Benefits of Soya and Chana Dal:
Soya and Chana Dal are sources of plant-based protein. Soya may help in reducing your cholesterol levels and promoting good heart health. It also aids in weight loss. Chana Dal is very popular in Indian households, and we can use it in a number of dishes. It is rich in Vitamin B complex, folic acid, and antioxidants. So now you must have known that soya granules and chana dal together make a high-protein dish. Without any delay, let's learn about this recipe.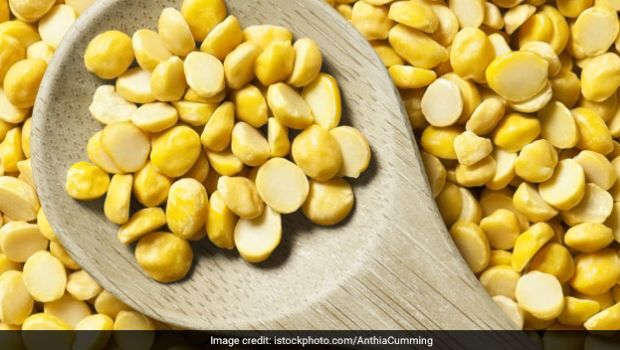 Also Read: This No-Oil Fish Curry Recipe in 20 Mins Will Be Ideal For Your Weight Loss Diet


How to Make Soya Chana Dal Bhurji:
Soya granules give a meaty texture to this dish, while the crunch comes from the chana dal. This bhurji will prove to be a great addition to your lunch. First of all, to make this dish, soak Chana dal for at least half an hour. (If you want, you can also cook the dal first with 3 whistles; it will take less time to cook while making Bhurji.) Now, heat the oil in a pan, first add dry red chillies and finely chopped onions, and fry till they become translucent. Add asafoetida and green chillies and fry the soya granules with oil and onions so that their rawness goes away. Add finely chopped tomato and saute it for some time. Take out the water from the gram dal, add it, and mix well.


Click here for the full recipe of Soya Chana Dal Bhurji.


If you want, you can also make gravy with this bhurji. Pair this delicious high-protein bhurji with roti or paratha.
About PayalFood in the mind, Bollywood in the heart - these two things often shimmer in Payal's writing. Besides penning thoughts, Payal enjoys a playful tango with new and delicious recipes. Roaming around is her jam; whether catching up on the latest flicks or grooving to the beat, Payal knows how to keep her empty moments brimming with flavour and rhythm.