If you're like me, you may have never had the opportunity to gradually discover a love for boiled eggs because your mom made sure to give you a hard-boiled egg every single day before you were off to school. (You may have tried to hide the egg rather unsuccessfully or throw it away on your way to the school bus stop, but these subtle strategies never seemed to get you out of eating eggs).The truth is that there is a very good reason for why the boiled egg is such a staple at most breakfast tables - it's quick, easy, portable and nutritious. When not for breakfast tables, we find ourselves boiling eggs for all kinds of other delicious reasons - cold creamed salads,
bhurjis
, curries,
nargiskofta
, garnish for meat curries or
biryanis
, and in savoury dips.Yet, this simple little dish is not so easy to nail if one is truly committed to perfection. Whether your idea of getting it right is hard boiling to have a well-set but not rubbery white that encases bright yellow and creamy yolk, or soft boiling it so that the white is just set with a gooey inside, consistent results are hard to master. Surely I'm not the only one who has faced situations where I set out to make boiled eggs with the perfectly set whites and sunny yolks but ended up with rubber casing around overcooked and mealy yolks that are ringed with grey. Don't you remember those times when you were visualising the perfect golden runny yolks that would ooze deliciousness but ended up staring at a jolly cooked yolk that rolled straight off your plate? No? Well, these things do happen to me. Sigh!
There are various tricks I've tried in order to get consistent, predictable results – from starting off the eggs in cold water to adding them straight to boiling water, switching the heat off on boiling and letting the eggs cook in the residual heat to letting the eggs cook in simmering water. It took many experimentations, a lot of eggs and many eggy meals before I finally felt that I had arrived at what I found to be a foolproof way to cook eggs the way I like them, every single time. No more confusion around what the temperature of the water should be, how much water to add, how old the eggs should be, when to add the eggs and what not. The answer to a failproof solution of perfectly boiled eggs every single time is a rather simple technique - STEAMING!According to Kenji Lopez, a trained chef, former editor at Cooks Illustrated and author of the James Beard Award nominated column The Food Lab, steaming works for three main reasons:• Placing eggs over a pot full of steaming water cooks them evenly and gently with less risk of cracking.• Chilling the eggs immediately after boiling ensures that they come out perfectly shaped with no air space indentation on their fat end.• Starting the eggs hot and peeling under running water makes for easy peeling almost every single time. (I wouldn't advice this for the soft boiled versions though).
How to steam the perfect boiled eggs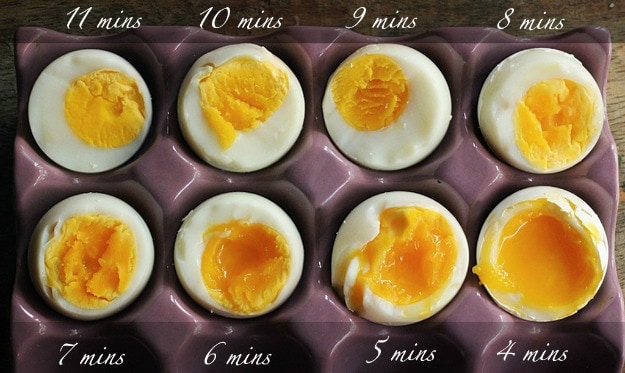 To steam eggs, all you need is a basic steamer (a stainless steel idli steamer will do perfectly well), a bowl which you will keep under running tap water and a bowl with iced water to plunge the steamed eggs into. Once your water has come to a boil, place your eggs in the steamer, cover and cook continuously over high heat. Depending on how long you steam the egg, the consistency develops from gooey to boiled. As soon as the eggs are cooked to the texture you prefer (ranging from 4 minutes for gooey yolks to 10 minutes for set ones), plunge them in cold water to make sure that they don't cook further and change texture.My favourite texture is the gooey yolk and set white at 4 minutes, which I can happily scoop out of the shell with a spoon. And that's one of the reasons why I love steaming eggs. In my experience, the combination of set whites but runny yolks is almost impossible with boiling eggs submerged in water. For hard boiled eggs, I like my white set but not rubbery and the yolks to be cooked but just a tad wet in the middle – perfect at 10 minutes.Work out which texture you prefer and you will soon be in the game for consistent results every single time.
Disclaimer
: The opinions expressed within this article are the personal opinions of the author. The facts and opinions appearing in the article do not reflect the views of NDTV and NDTV does not assume any responsibility or liability for the same.