Most Iranis I have met in India frown at the mention of Iranian or Persian restaurants in the country, emphasising on the fact that the dishes served are far from being authentic. Unlike Indian cuisine, Persian food is subtle, without the headiness of red chilli powder and other masala pastes, nevertheless not lacking in flavour. Yet when you sample Persian food in most restaurants, it's quite similar to Mughlai food and you start believing that is how it is ought to be. The reason why chillies, spices and oodles of oil seep into the food is perhaps the age-old Indian habit of tweaking global cuisines to suit our own taste buds rather than trying to appreciate a new cuisine for its authenticity. Take Chinese cuisine for instance, or even Italian with red chilli flakes on the side.
Irani chai is perhaps one such item that has managed to hold forth in the country, garnering a huge fan following for its original self. The larger cuisine too is not completely alien. Thanks to dishes like kabobs, haleem, faloodeh and halwa that evoke a sense of familiarity as they are also very much a part of today's Indian culinary repertoire, but of course with various alterations to the original recipes. With the ancient trade routes opening doors to people from various parts of the world centuries ago, influences of cuisine and culture were only inevitable.
Iranian food too is said to draw influences from neighbouring cultures such as Greeks, Romans, Turks, Russians, Indians, and even Southeast Asians, among others. Rice (called Polo), fresh herbs and a few spices that are so distinctive of Iranian cuisine were actually brought in from other regions. Rice was in fact considered a luxury, which was consumed mostly by the richer lot while the common people lived on breads. According to a popular theory, the most loved Indian dish 'biryani' is said to have originated from a Persian dish called 'beriyan' meaning 'to roast', which consisted of mildly spiced lamb mince, fire roasted and served in a naan. Yes, no rice!

Getting to Know Persian Food
At an ongoing Persian food pop-up in the city, hosted by famed singer Anaida Parvaneh at SodaBottleOpenerWala, Khan Market, New Delhi, I got to experience the more home-style version of Persian food, which I feel is the best way to learn about any cuisine. Anaida's love for food was evident as she enthusiastically spoke about her home cuisine, and went on to describe each dish in her curated menu, also adding in how they were prepared. "Iranians use different kinds of local ingredients to build flavours in their dishes. Unlike Indians, we stay far away from red chillies. Our curries and stews are usually flavoured with pomegranate molasses, Persian black lime, kashk (a fermented paste made from dried yoghurt), fresh herbs, nuts, etc. We use very less oil, and in fact let the dishes cook in the oil from the meat, which also makes them more flavourful," said Anaida.
The common ingredients that are used in preparing the various Persian delicacies include fruits (pomegranate, apricots, prunes), nuts (almonds, walnuts and pistachios), herbs (dill, parsley, coriander, mint), beans, saffron, cinnamon, cumin, lime, among others. Sure enough, the dishes that we tasted at the pop-up featured most of these ingredients, be it the cucumber raita (Mast-O-Khiyar), traditional wheat noodle and vegetable stew (Osh-e-Reshte), chicken stew (Fesenjan), dill and fava bean rice (Baghali Polo) or minced lamb rice (Lubiya Polo), among other lip-smacking delicacies.
Many years ago, I was introduced to Persian food by being served a portion of the famed Chelo Kebabs at a little eatery in Bengaluru on Church Street called Ayda Persian Kitchen. Being accustomed to indulging in spicy Indian kebabs slathered with green chutney, the Iranian variant had left me perplexed. There were skewers of meat on a bed of saffron rice along with a dollop of butter. That was it. No gravy, no dal or even slices of onion with some chutney on the side. Needless to say, I was disappointed, but I was yet to understand the charm of subtle flavours. Cut to present, and now I find myself relishing even the last few bits of the kebabs, soaking in the delicate flavours of the spices in the meticulously prepared minced meat dish. How times have changed! Even the Haleem served at Aniada's pop-up, so vastly different from the Hyderabadi variant, was polished off the plate in no minutes because it was light, flavourful and not spicy or oily.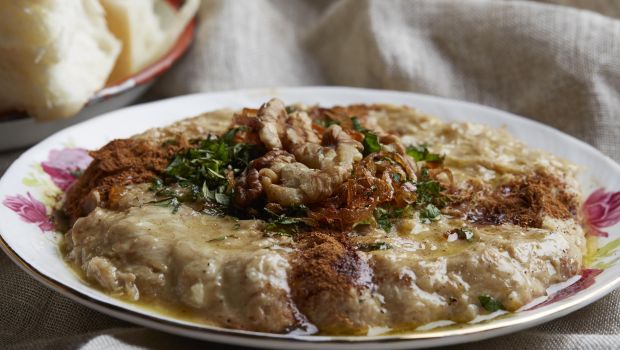 Anaida's Magic Soup needs a special mention for its soul-warming spell. The chicken coriander soup contained barley, another staple in Iran, along with mixed sprouts, turnip, mushroom, carrots and roasted vermicelli. "My friends call it the magic soup, and each time they fall sick, they come to me for this soup," added Anaida. A sip of it and we were certain that it could cure any illness; it had that umami thing going on.
Persian Dishes to Try
The best way to try authentic Persian food is to be invited to an Iranian's house for a meal. Here are some of the dishes that are sure to grace the table -
1. Lubiya Polo
This dish is similar to pulao, where minced lamb is cooked with mild spices like cinnamon in a tomato-based paste along with French beans, and then layered in Basmati rice. The crisp rice layer, from the bottom surface of the pan, is most relished for its smoky flavour. It is usually served with a cucumber raita called Mast-O-Khiyar.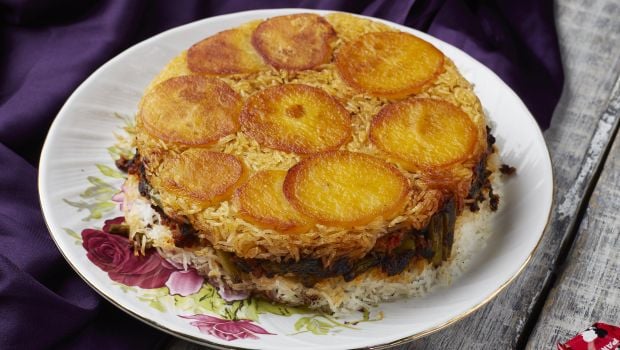 2. Baghali Polo
This is a vegetarian rice dish, wherein the two main flavour boosters are fresh dill leaves and fava beans. It is again a kind of pulao and it is topped with saffron flavoured butter.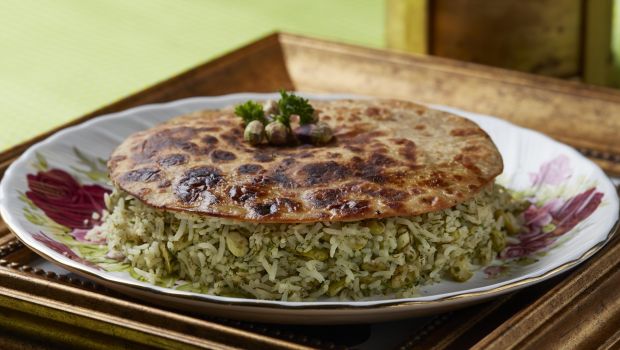 3. Fesenjan
A star dish in most Persian feasts, the slow cooked chicken curry is prepared using pomegranate molasses along with walnuts. The tarty and nutty flavours blend effortlessly, and the curry teams well with saffron rice.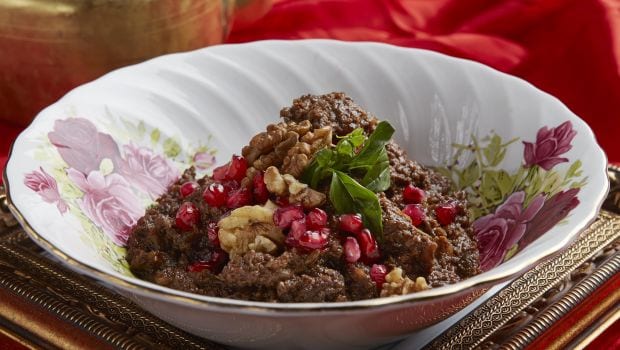 4. Khorak e Ghosht
The mutton curry is light and tangy, which is because of the use of black Persian limes. Other ingredients that are cooked with the lamb shank include chick peas, onions and a mix of spices.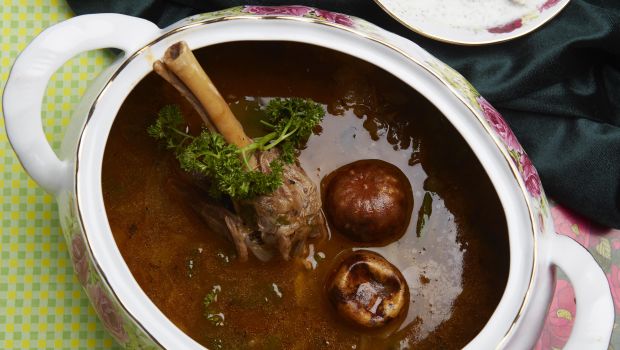 5. Osh-e-Reshte
This vegetarian soup is almost like a one-pot meal and is usually made in larger portions so that it can be distributed in the neighbourhood. The rich, creamy flavour comes from a fermented paste called kashk, and it is nourishing with the content of mixed seasonal veggies, chick peas, red beans and wheat noodles. According to folklore, young Iranian girls were encouraged to make a wish while helping out in stirring the soup.
Iranian cuisine dominantly features eat, so for vegetarians there are very limited options. Other than the above mentioned dishes, you should definitely try the haleem, beriyan, kebabs, faloodeh and halwa.Anaida's Persian food pop-up called Postcards from Persia is on till 30th April, 2017 at SodaBottleOpenerWala's Khan Market and Noida outlets. You can try the a' la carte menu or thali-style meal. Meal for two would be approx INR 1,200 plus taxes.