While the source for making jaggery and sugar is the same - sugarcane - the way each is processed is unique and that adds to the nutrient profile. Visually, sugar is white and crystalline while jaggery is golden-brown in colour. Due to sugar's white colour, it is added to various foods as it doesn't radically change the colour of most food products. However, jaggery has many more health benefits compared to sugar. Sugar's white colour is because it is processed using charcoal. Sugar is processed with chemicals such as Sulphur dioxide, phosphoric acid, calcium hydroxide, colour precipitants and many more.
Jaggery Or Sugar - Which Is Better Suited For Chocolate?
To convert chocolate into a healthier treat, some companies replace sugar with jaggery. Jaggery is recognized as a nutraceutical due to the presence of a variety of essential amino acids, antioxidants, phenolics and minerals like calcium, phosphorus, iron, zinc, and vitamins. Cacao used to make chocolate, is packed with antioxidants. Antioxidants help reduce inflammatory diseases like diabetes, heart diseases etc. Eating small amounts of cocoa is shown to increase neuroplasticity. So bringing cocoa and jaggery together to make jaggery-based chocolates makes complete sense.


(Also Read: How is Jaggery Helpful in Curing Breathing Disorders?)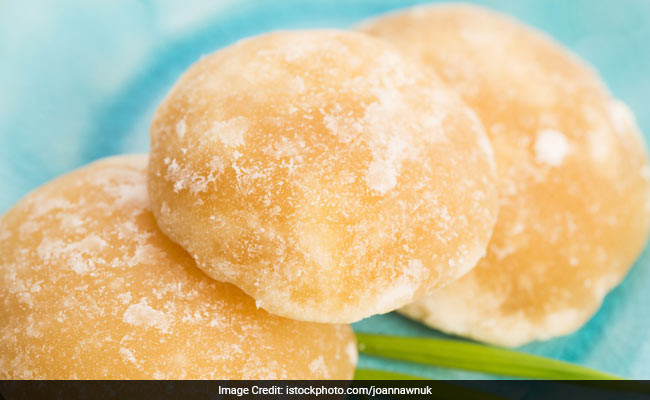 Health Benefits Of Jaggery: Why Experts Recommend It As A Sugar Substitute
The polyphenols present in jaggery contribute to its bioactivity. Jaggery is a rich source of calcium that is essential for bone health. Jaggery contains iron that helps in the prevention of anaemia and is used widely during pregnancy, especially in villages. Studies suggest that jaggery also has anti-allergy properties, which helps to reduce stress and manage asthma-related problems. Magnesium present in jaggery (approximately 70-90 mg per 100 g of jaggery) helps reinforce our nervous system, relax our muscles, relieve stress, and protect our blood vessels. The presence of potassium in jaggery helps in regulating blood pressure and heart functions. Calcium, phosphorous, and zinc are present in moderate amounts in jaggery that help to boost immunity and promote good health. It also helps to treat jaundice by purifying the blood and preventing rheumatic diseases. Jaggery also functions as an antioxidant because of the presence of selenium and it has the ability to detoxify free radicals from our bodies.


(Also Read: Cooking With Gur: How to Include Jaggery in Savoury Preparations?)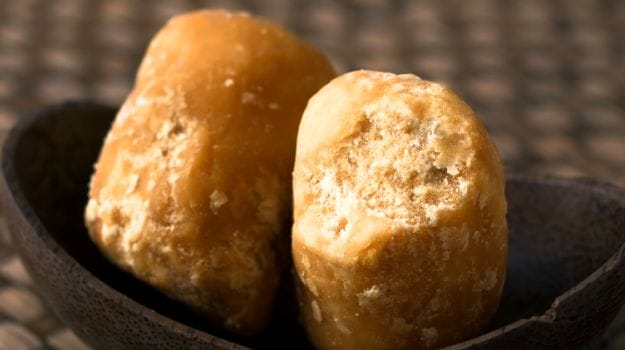 It is also well-known that consuming jaggery aids in digestion. It acts as a stimulant that improves appetite. The conversion of jaggery to acetic acid in the stomach improves the enzymatic activity of the abdomen, which increases digestion and appetite. Jaggery is also shown to reduce bloating after large meals.


The antioxidant properties of jaggery are something that sugar lacks. Jaggery effectively reduced red blood cell oxidation. Jaggery contains phenolics and other phytochemicals which have antioxidant properties. Jaggery is also shown to exhibit anti-inflammatory, immunity inducing and cell protective abilities. Zinc and selenium present in jaggery prevent early ageing because of their antioxidant properties. The Vitamin C content of jaggery helps to ease menstrual pain and contributes to a healthy immune system.


Jaggery and gut health also have a very intimate connection. Jaggery helps to relieve constipation. The anti-inflammatory, antioxidant and minerals present in jaggery helps to maintain healthy gut cells.


About Author: Dr. Sowmya Bharani is a Dietitian/Nutritionist in Sadashivanagar, Bangalore and has an experience of 10 years in this field. She practices as Lead Nutrition Expert at Lil' Goodness, Bangalore.


Disclaimer: The opinions expressed within this article are the personal opinions of the author. NDTV is not responsible for the accuracy, completeness, suitability, or validity of any information on this article. All information is provided on an as-is basis. The information, facts or opinions appearing in the article do not reflect the views of NDTV and NDTV does not assume any responsibility or liability for the same.