Think south Indian food and our mind immediately wanders to tangy and spicy sambar, avial, dosa, appe, paniyaram and a list of mouth-watering dishes. While these items are pre-dominantly vegetarian, it's no secret that the south Indian cuisine is brimming with tasty and irresistible non-vegetarian dishes too. But if we talk about Kerala cuisine, the region boasts some of the most popular non-vegetarian dishes. Rich and robust, the indulgent sea-food, chicken and mutton dishes from the state are surely gaining a massive fan following amongst non-veg lovers. The cuisine will leave you spellbound with its flavorful and unique dishes - and the best part is that you can easily enjoy them right from the comfort of your kitchen. Here are the 7 must-try non-veg dishes from the state of Kerala that are sure to get you hooked.
7 Lip-Smacking Non-Vegetarian Kerala Recipes
1. Kerala Egg Roast:
Starting the list with one of the most simple and quick non-veg recipes from Kerala, this flavourful and spicy south style egg roast is the perfect addition to your everyday menu. The aromatic masala is made with bay leaf, cinnamon, mustard seeds and curry leaves. Just boil the eggs and make small slits into its skin, add to the prepared masala and cook until the egg is well-coated with the masala on all sides. Here is the recipe for you.
Try this egg roast recipe
2. Kerala Fish Fry:
A spicy and crisp fish fry that will be ready in no time, the Kerala fish fry is the classic dish to accompany all our meals. The recipe is easy and doesn't require a lot of effort, with minimum ingredients like chopped ginger, coriander powder, chilli powder and some vinegar; all you need to do is marinate and fry until golden. Try it out today, here is the recipe for you.
(Also read: South Indian Recipes: How To Make Kerala Parotta For A Hearty South Indian Fare)
3. Kerala chicken roast:
The rich and flavourful chicken roast is a sure crowd-pleaser. This Kerala-style roast chicken is downright delicious with chicken and a host of spices roasted together. You can serve this as an appetizer or even as a side dish for a dinner party at home. An easy and quick recipe that can be made in about 30 minutes. Marinate chicken with the spicy paste inside and out, fry and add to the prepared mix of masala. Cook until the gravy is dry and the chicken is roasted to a golden colour. Click here for the recipe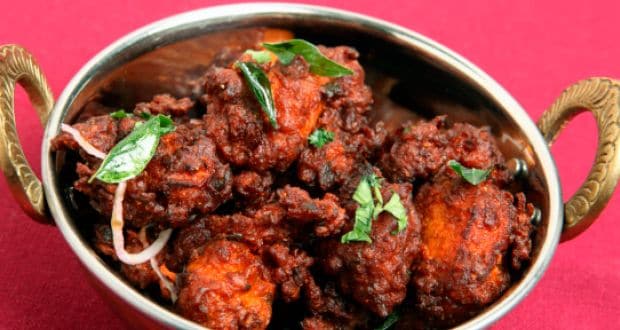 Kerala chicken roast is delicious and spicy
4. Kerala Fried prawns:
The South Indian cuisine has a good number of sea-food recipes with distinctive tastes and this Kerala-style prawn fry is one of them. Fresh prawns are fried crisp in pure coconut oil, with the aroma of mustard seeds, curry leaves, turmeric and chillies. It is easy to make and require just a few ingredients. Cook the prawns on boiled water first, then the masala and garnish with a tempering of chilies and onions. Serve hot and enjoy. Here is the recipe for you.


5. Pomfret Moilee:
A creamy and coconutty pomfret fish curry that can be enjoyed with a plate of hot and fluffy rice for lunch or dinner. You should especially try the dish if you're a fan of the fish. The whole fish is cooked in a masala made of mustard seeds, curry leaves, ginger-garlic, thick coconut milk, and tangy tomatoes. The flavours and juice of the curry penetrate deep into the fish making it soft and melt-in-the-mouth. Click here for the recipe.
Pomfret Moilee is juicy and flavourful
6. Kerala style chicken 65:
A fiery and spicy dish, the chicken 65 is definitely the star of any feast. These red fried chicken chunks are served with cooling mint chutney to balance off the flavours. The preparation requires double marination of the chicken, first in a simple masala of ginger garlic paste and yogurt, and second in a masala made of whole red chilies, black peppercorn, cinnamon, etc. Once marinated, deep fry and serve with a side of your choice. Try making these crunchy finger foods today, with this recipe here.


(Also read: Puttu And Kadala Curry: How To Make This Protein-Packed Breakfast Combo From Kerala)
7. Kerala Mutton Stew:
There is something about south Indian stew recipes that has always won our hearts, these comforting and flavourful dishes can fill you up and warm you with its soothing flavour in no time. The Kerala-style mutton stew has succulent chunks of mutton simmered in delicate southern flavors of coconut milk, curry leaves, and cinnamon. With boiled potatoes and carrots and a light hint of refreshing coconut flavors, it's a wholesome meal on its own. Here is the recipe for you.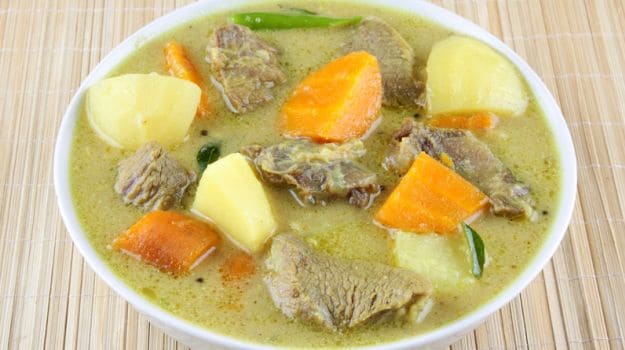 Mutton stew is easy to make and flavourful
There you have it, some easy and delicious Kerala-style non-veg recipes that you must try!