Photo Credit: Aditi Dhillon
Majnu ka Tila market will undoubtedly immerse you in authentic Tibetan flavours like no other place in the National Capital Region. A lot has been written about the shopping options here, but people often miss out on all the delightful eating choices this market has to offer. One such unusual dish is the Lhaphing - a traditional Northern Chinese street food which is served at several tiny stalls in the market.Lhaphing, literally means 'cold noodle', and is popular in many neighbouring countries including Nepal and Tibet as well. It's a cool and spicy dish, and is considered a refreshing summer food. Regulars at Majnu ka Tila have been enjoying this Tibetan delicacy for years.This cold noodle is made from extracting starch from the mung bean,
potatoes
, or wheat flour and is cooked and left overnight. Gluten extracted from the flour is also served along with the noodle dish which gives lhaphing its jelly-like and slippery texture. Spices such as salt,
soy sauce
, red chili paste, garlic extracts, vinegar, and sesame oil give lhaphing a peculiar yet balanced flavor, making it the perfect appetizer to be enjoyed along with momos or dumplings.(Also Read:
7 Must Visit Street Food Places in Mumbai
)According to Tenzing Sharma, one of the ladies managing a Lhaphing stall in this Tibetan Colony, Lhaphing is a traditional local food that is eaten mostly as an evening
snack
in Tibet. "There are two types of lhaphings, a white colored one and a yellow colored one. The yellow ones are more popular here. It takes us two days to make lhaphing – the
pancakes
are made by boiling and steaming the dough and the starchy extracts the next day. The resulting pancakes are then cut into long pieces at the time of serving that resemble noodles."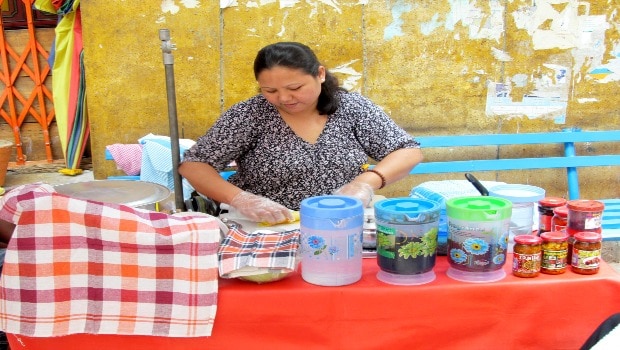 Photo Credit: Aditi DhillonTenzing has been selling this dish for almost two years now in the market. "Salt, garlic, corn flour, maida, vinegar and soya bean form the main ingredients here. Also, a type of Tibetan
masala
is put in the preparation that is brought especially from Tibet", says Tenzing. She also adds, "The dish is prepared in the same manner as it is prepared in Tibet and there is not much of a variation. A soupy variation is also served if the customer demands."Traditionally, Lhaphing is not made at home and people would buy this dish from street vendors and stalls. However, Tibetans living outside Tibet do make this dish at home as it is not available so easily. It is a light and spicy dish and is also easy to prepare. Though it's served cold, it is eaten in every season, including winters.The cocktail of spices used in making Lhaphing can take your taste buds by storm, especially if it's your first time eating this dish. Give it a try next time you are at Majnu ka Tila – you'll remember the flavours for a long time to come.
Disclaimer: The opinions expressed within this article are the personal opinions of the author. NDTV is not responsible for the accuracy, completeness, suitability, or validity of any information on this article. All information is provided on an as-is basis. The information, facts or opinions appearing in the article do not reflect the views of NDTV and NDTV does not assume any responsibility or liability for the same.