Linguine And Seafood: Perfecting A Classic Match
By Clifford A. Wright (Zester Daily) | Updated: March 15, 2016 12:59 IST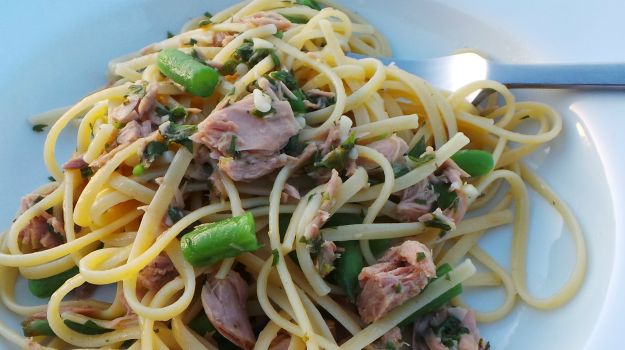 Linguine With Tuna and Green Beans. Credit: Copyright 2016 Clifford A. Wright

Italian-Americans will tell you flat out that linguine accompanies seafood. Well, at least Long Island Italian-Americans will tell you that. My grandfather, who was from a small village 85 kilometers east of Naples, immigrated to New York in the early 20th century and lived there the rest of his life. He took my mother fishing in Sheepshead Bay in Brooklyn and they brought home bluefish, porgies, flounder or fluke on the subway back to their Manhattan tenement. Many different preparations would be made, but if it were to be a pasta dish, the pasta was linguine.

The array of pastas you will encounter in a market aisle look innumerable. There are many more pastas, and perhaps you haven't thought what you could do with them. This is a wonderful time to start experimenting. The Italians are said to have invented about 700 pasta shapes. This includes specialty pastas made for certain occasions. I still have my box of Menucci brand 1776-1976 pasta made for the U.S. Bicentennial and am still trying to figure out if I should put it in a living room shadow box or the kitchen pantry.

One problem faced by the cook is what sauce for what pasta. Books have been written on this, but let's keep it simple here. In the 1960s when I first started working in restaurants, I began cooking. I was mostly influenced by the cooking of my Italian grandfather and by my mom who made Italian food at home. I was also greatly influenced by my travels to Italy, by the restaurants I worked in, which were staffed by Italians, and by the cookbooks of Ada Boni, a famous mid-20th century Italian author. The matching of pasta shapes with sauces is something of an art. There is usually some logic to it, but not always. Tubular pastas such as cut ziti or rigatoni are great in baked dishes and with thick ragouts that can get stuck in the tubes. Seashell pasta and chickpeas make sense because the shells capture the peas. Wide, flat pastas such as fettuccine and pappardelle are nice with sauces that cling to their wide surfaces. Linguine with salmon, basil, and mint. Credit: Copyright 2016 Clifford A. Wright

If there was one thing I learned from my grandfather it was that seafood always went with linguine, the flat filiform pasta about 2 millimeters wide. Here are three great linguine and seafood recipes that would have made my grandfather swoon:

Linguine alla Pescatore

Preparation and cooking time: 2 hours
Yield: 6 servings

Linguine alla pescatore means linguine in the style of the fishermen. I've always doubted these dishes are actual fishermen's dishes as implied by the name. The various "pescatore" dishes in Italy always struck me as trattoria dishes. In any case, this is a simple preparation with flavors that bely the simplicity. The secret, besides the freshest seafood, is the marinade the seafood sits in made with saffron, chile flakes, garlic and parsley. Once you're ready to serve, the cooking happens quickly.

Ingredients:

¾ pound swordfish, cut into ½-inch cubes
12 oysters, shucked, with their liquid
½ pound medium shrimp, shelled
4 salted anchovy fillets, rinsed
¼ cup chopped fresh parsley
3 large garlic cloves, finely chopped
Pinch of saffron, crumbled slightly
½ teaspoon red chilli flakes
Freshly ground black pepper to taste
6 tablespoons extra virgin olive oil, divided
Salt to taste
3/4 pound linguine

Directions:

1. In a bowl, toss the swordfish, oysters, shrimp, anchovy fillets, parsley, garlic, saffron, chile flakes, black pepper and 4 tablespoons of olive oil together. Leave to marinate for 2 hours.

2. Bring a large pot of water to a rapid boil, salt abundantly, then cook the pasta until al dente. Drain without rinsing.

3. In a large sauté pan, heat the remaining 2 tablespoons olive oil over high heat, then cook the seafood mixture, stirring frequently, seasoning with salt, until cooked through, about 5 minutes. Transfer the pasta to the pan and toss several times, letting the pasta cook and absorb some of the juices. Serve immediately.

Linguine With Salmon, Basil and Mint

Preparation and cooking time: 20 minutes
Yield: 4 servings

This is a subtle dish and since everyone loves salmon it is delightful with the fresh herbs.

Ingredients:

1/2 pound linguine
3 tablespoons extra virgin olive oil
1 pound salmon, cut into bite-size pieces
1 small onion, finely chopped
2 garlic cloves, finely chopped
1/4 cup finely chopped fresh basil
2 tablespoons finely chopped fresh mint
Salt and freshly ground black pepper to taste
Juice from 1/2 lemon

Directions:

1. Bring a large pot of water to a rapid boil, salt abundantly, then cook the pasta until al dente. Drain without rinsing.

2. Meanwhile, in a sauté pan, heat the olive oil over medium-high heat, then cook the salmon, onion, garlic, basil and mint until the salmon is cooked through, about 5 minutes. Season with salt and pepper and drizzle the lemon juice on the fish. Transfer the fish and pasta to a serving bowl, toss well and serve immediately without cheese.

Linguine With Tuna and Green Beans

Preparation and cooking time: 20 minutes
Yield: 4 to 6 servings

When my children and the children of my friends were little, before their palates became adventurous, we adults who cooked for both adults and young children faced a dilemma. The adults didn't want boring "kid food" and the children were finicky, all to a different degree. I refused to slave over two separate meals, so I relied on this quick preparation that fit the gustatory bill, pleasing all kinds of palates.

Ingredients:

1/4 cup extra virgin olive oil
1 garlic clove, finely chopped
12 ounces tuna, canned in water and drained
1/2 cup loosely-packed fresh oregano leaves, finely chopped
Salt and freshly ground black pepper to taste
1 pound linguine
1/2 pound green beans, trimmed and cut into 1/2-inch lengths

Directions:

1. In a flameproof casserole large enough to contain all the pasta, heat the olive oil over medium-high heat with the garlic, tuna, and oregano. Once it begins to sizzle, cook for 2 minutes then remove from the heat. Season with salt and pepper.

2. Meanwhile, bring a large pot of water to a rapid boil, salt abundantly, then cook the pasta until al dente. Drain without rinsing. Transfer the pasta and green beans to the casserole and toss with the tuna. Serve immediately.

Copyright 2016 Clifford A. Wright via Zester Daily and Reuters Media Express.

(This story has not been edited by NDTV staff and is auto-generated from a syndicated feed.)