Indian cuisine is overrun by different curries and these curries are enjoyed with a variety of breads. While roti, paratha and naan are omnipresent across the country, some ancient gems are still waiting for their day of fame. Khameeri roti is one such traditional Indian bread that impresses everyone with its unique taste and texture. It is India's answer to international sourdough bread. It derives its name from 'Khameer' - an Urdu word meaning yeast. Khameeri is a leavened baked flatbread, which is made from sour bread and turns out soft and spongy.


Also Read: Make Roomali Roti At Home In Minutes With These Easy Steps
What is the origin of Khamiri Roti?
Khameeri Roti is more than just a flatbread; it is a culinary masterpiece that embodies the richness of Indian culture and its cuisine. The origin of khameeri roti can be traced back to the Mughal era. It is believed to be a staple amongst the people of old Delhi, especially Muslims in olden times. Even now you can find many food shops in Old Delhi making the Mughlai roti on clay ovens and selling it with luscious curries. Khameeri roti is still made in many Muslim households and they pair it with mutton and chicken gravies and even dal.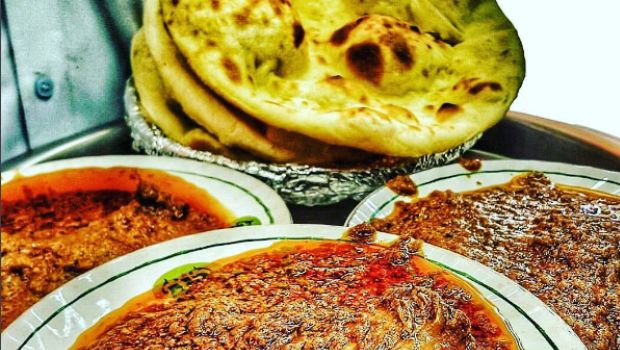 Khameeri roti goes well with non-vegetarian curries Photo Credit: Instagram/gaurav_avinash
What is khameeri roti made of?
Khameeri roti is made from a special dough kneaded by combining wheat flour, salt, sugar, yoghurt, and khameer. This natural fermenting agent of khameer is made by soaking wheat grains overnight and allowing them to sprout. The sprouted wheat is then ground into a fine paste, which not only ferments the dough but also gives it a subtle tangy flavour.


The roti made from the dough is traditionally cooked in tandoor or clay ovens, but some households also cook it in a pressure cooker or 'ulta tawa'. From the delicate balance of ingredients to the slow fermentation process and the scorching heat of the tandoor, every step contributes to the creation of a sensory delight.


Also Read: Breads Of Delhi: 5 Kinds Of Bread You Must Try In Delhi
How To Make Khameeri Roti At Home I Mughlai Khameeri Roti Recipe
We have a quick and easy recipe to prepare khameeri roti at home on a pan with readymade yeast powder that you can get from any store.


To make khameeri roti, first combine yeast with some flour, sugar, salt and water. Mix well and let it rest for 20 minutes. Combine the yeast mixture with flour and knead with milk and a dash of oil. Cover the dough with a muslin cloth and let it rest for around two hours. Make long rotis with the dough and top them with melon seeds, sesame seeds, kalonji seeds and coriander leaves. Cook on a pan and your khameeri roti is ready!


Watch the complete recipe video of khameeri roti by NDTV Food:


About Neha GroverLove for reading roused her writing instincts. Neha is guilty of having a deep-set fixation with anything caffeinated. When she is not pouring out her nest of thoughts onto the screen, you can see her reading while sipping on coffee.