If you are a fan of Indian cuisine, you must have tried Roomali Roti at some point. This thin, soft and delicious bread is often served with a variety of curries and is a staple in many Indian restaurants. Making Roomali Roti at home can be a challenging task as it requires the right technique. However, with the right tricks, you can easily make this popular Indian bread at home like a pro. In this article, we bring you a few important tips that you should know to make delicious Roomali Roti at home and impress your family and friends.
Also: Watch: How To Make Yummy Chilli Garlic Roomali Roti
What is Roomali Roti?
Roomali Roti is a popular Indian bread that is served in many restaurants. This bread is as thin as a handkerchief and can be folded. Roomali Rotis are very soft and are often paired with tandoori dishes, chicken curry or any other veg dish.
How to Make Roomali Roti at Home?
Although Roomali Roti is made with a combination of refined flour and wheat flour, some people prefer to make it only with refined flour. Here are the steps to make Roomali Roti at home:


Step 1: Make the Dough
In a big bowl, take 1 cup refined flour and half a cup wheat flour, add salt to taste, and oil in it. Mix all the ingredients well. Now, using milk to knead the dough, you can use water also but milk gives a nice texture to the dough, and the roti becomes soft.


Step 2: Stretching the Dough
Once the flour combines well, knead the dough for 10 to 15 minutes. If you feel the dough is sticky, sprinkle some flour on it, and use the palm of your hand to knead it while stretching. It is important for a crack-free roti.
Also Read: Make Oil-Free Chole Masala For Weight Loss Diet: 3 Easy Tips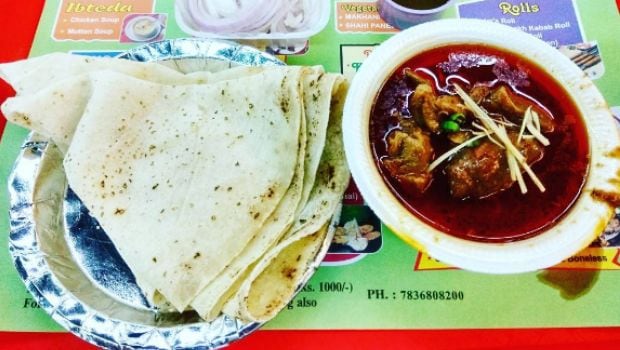 Step 3: Rest the Dough
It is necessary to let the dough rest for 1 to 2 hours. This helps the dough to set well and prevents it from shrinking while rolling the roti. Additionally, it will be easier to roll the dough.
Step 4: Heat the Kadhai
To cook Roomali Roti, you need to use an inverted kadhai. Heat the kadhai properly, and sprinkle salt water on it so that the roti does not stick. By sprinkling salt water, the kadhai becomes non-stick, and the roti does not stick to the kadhai while cooking.


Step 5: Roll the Roti
When the dough is set after resting, make balls from it. Take a ball and coat it with dry flour and roll it as thin as possible. There may be a problem in lifting the roti because it tears out to be thin. For this, you can wrap the roti on the rolling pin and put it on the kadhai easily. Place the rolling pin on one edge of the roti and wrap the roti on the rolling pin. Then, spread the roti on the hot kadhai while opening it slowly. Roast the roti from both sides.


In conclusion, with the above tips, you can easily make delicious Roomali Roti at home. It may take some practice, but the result is worth it. So, enjoy making Roomali Roti and impress your family and friends with your cooking skills.
About PayalFood in the mind, Bollywood in the heart - these two things often shimmer in Payal's writing. Besides penning thoughts, Payal enjoys a playful tango with new and delicious recipes. Roaming around is her jam; whether catching up on the latest flicks or grooving to the beat, Payal knows how to keep her empty moments brimming with flavour and rhythm.