Momos are as much a part of Indian street food scene as samosa, aloo tikki, bhel puri and others. You'll find a food stall or van in every nook and corner of the city serving this Tibetan/Chinese delicacy. Momos are so popular and so common in our country now that we can safely call it our own. The flour dumpling stuffed with meat or vegetables, served with a tangy and spicy sauce, makes for a satiating and unbelievably delicious small meal. And the best part is that you can get momos in a vartiey of flavours, with different types of filling.

Apart from having a slew of veg and non-veg filings to choose from, nowadays, you get to easily make your pick from the different ways your momos can be cooked. Traditionally, momos are streamed and it is still the most popular way of cooking them, but people are experimenting with baked, sauteed, roasted and fried momos also. Tandoori momos are the new-favourite type of momos with Indians for obvious reasons. We have always loved the deep, earthy smoky aroma and flavour in our snacks like chicken tikka, paneer tikka, butter chicken, tandoori chicken and so on. It is but natural that we would have liked it on our another favourite snack of momos too.

Almost every food stall, cafe and restaurant serving momos has started offering the tandoori variety as well to please our desi palate.


(Also Read: 5 Types Of Momos You Can Easily Make At Home)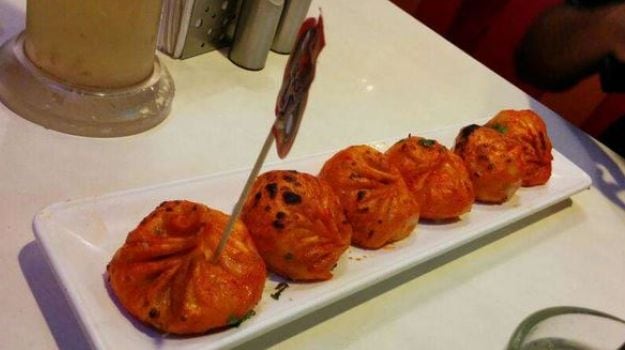 How To Make Tandoori Momos | Tandoori Momos Recipe
You can use modern ovens or a traditional tandoor to make tandoori momos. Since these are tandoori momos, they have to be smeared with a host of Indian spices for that extra kick of spice and flavours. Marinate the dumplings in the spice mix for some time before roasting them.

Veg Tandoori Momos Recipe:

Here is a recipe of veg tandoor momos stuffed with a veggie combination of onions, cabbage and carrot.

Click here to view the complete recipe of tandoori momos.

To make this, first knead dough for momos wraps with all-purpose flour, salt and some oil. Make the stuffing by sauteing garlic, clove, onions, carrots and cabbage, along with black pepper powder. Steam the momos the usual way with the filling.

Then proceed to make tandoori momos. Marinate the steamed momos in a mixture of curd filled with various spices like ginger, garlic, coriander powder, chaat masala etc. Then cook the marinated momos in oven or tandoor until nicely charred.