Navratri is a nine-day long festival. It is celebrated all across India with great zeal, dedication and enthusiasm. These nine days are considered to be very auspicious and it's also the time when good is said to have overcome evil. Families wake up early in the morning to perform the rituals. People start the day by performing a
puja
, right after taking a shower. Those who perform the
puja
are required to fast and eat only one meal a day. The
puja
is performed with an idol or a photograph of Goddess Durga, who is worshiped as a symbol of strength and courage.The basic requirements for the puja include red thread,
kumkum
, red flowers which are associated with goddess Durga, and sweets made up of pure milk.
Kalash
or a pot filled with water is kept in front of the Goddess. It is decorated with red kumkum. Each morning and evening, the puja is carried out and
bhajans
are sung. With this red flower devotees chant shlokas like
Om sarva mangala mangle, shive sarvardha sadhike, sharanya trambakey gauri, narayani namasthuthey
. At the end of each mantra, flowers are offered to the Goddess.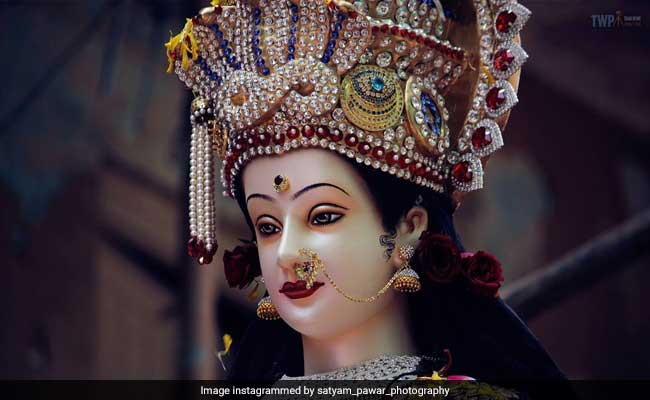 Navratri Vrat Katha
Every
puja
during Navratri is followed by a Katha. Here, stories are narrated revolving the Goddess. The story goes like this that there was a Brahmin named Sunantha. He was a great devotee of Goddess Durga and used to worship her each day of his life. He had a beautiful daughter who was obsessed with her own beauty and would not pay attention during the
puja
, which made her parents angry. So much so that to teach her a lesson, they got her married to a leprosy patient.The girl had faith on Goddess Durga, believing that she will always protect her. She went into the jungle on the night of her marriage, when the Goddess appeared before her. She told the girl that if she succeeds to fast for nine nights without any water, the Goddess would cure her husband, make him rich and handsome, and also bless her with a healthy son who will become very popular with age. The girl dedicated carried out the fast, and lived the rest of her life with contentment. As such, the love for the Goddess grew in the hearts of all her devotees, and they started following the fasting ritual for the nine nights with devotion.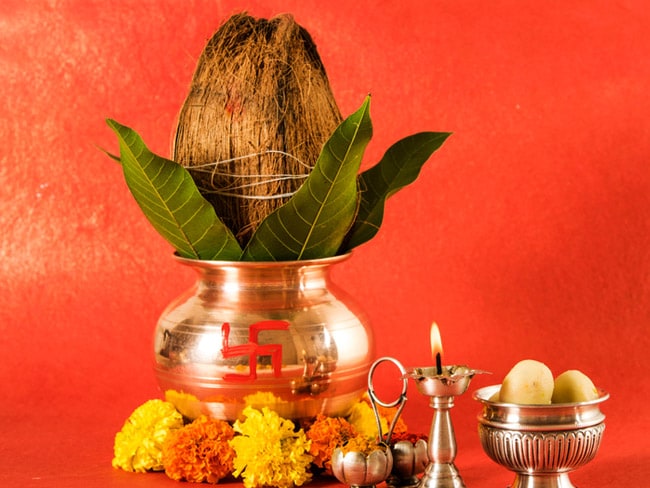 Puja Vidhi
During the Navratri aarti, a religious song is sung by an individual or a group. They are sung with devotion and spiritual consciousness. In these songs, devotees express their adoration, devotion, gratitude, respect and reverence and seek the Goddesses' divinity and blessings.This year Chaitra Navratri, a nine-day long Hindu festival will be observed between the dates 28th March and 5th April. Goddess Shailputri is worshipped on the first day of Navratri. Ghatasthapana Muhurta is the most important ritual, which is to be followed dedicatedly as it marks the beginning of Chaitra Navaratri festival. It is an invocation of Goddess Shakti and must be done only in
shubh muhurat
time. Ghatasthapana is also known as Kalash Sthapana or Kalashsthapana. This year the auspicious time is 08:26 am to 10:24 am, a duration of 1 Hour 57 Minutes.