Notice to Civic Bodies on Ban on Selling Food in the Open
IANS | Updated: July 19, 2014 17:00 IST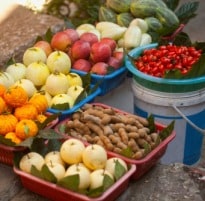 The Delhi High Court has issued a notice to the city's civic agencies that are seeking help in trying to quash notifications prohibiting vendors from selling food and drinks that are exposed to dust in order to curb contagious diseases in the summer. The notice was issued on 16th July, 2014.

A division bench of Justice B.D. Ahmed and Justice Sidharth Mridul have asked the civic agencies to respond by 5th August, and also refused to stay the notifications that were issued on 20th and 24th March.

The bench explained their stance and said "We have issued a notice issued to civic agencies but we are not putting a stay on the notifications as the petitioner has come after four months since when the stay first came into place."

The public interest litigation (PIL) was filed by the National Association of Street Vendors of India (NASVI) through advocate Prashant Bhushan, asking the court to restrain public notifications of the Municipal Corporation of Delhi (MCD) that restrained open sale and preparation of cut-fruits and sugarcane juice.

Threatened by an outbreak of any dangerous disease, the MCD prohibited the sale and preparation of any food article exposed to dust and flies.

Appearing for street vendors, advocate Ramesh Mishra told the court that the notifications were issued merely on the whims and fancies of the commissioners. He also stated that Delhi usually experiences an outbreak of cholera and in this case there hasn't been one. He added, "The notifications prohibiting sale of any food and drink article exposed to dust and flies were vague and arbitrary." "It gives unbridled power in the hands of municipal authorities to harass the street vendors. The notifications do not lay down any guideline for hygienic sale and preparation of food articles by street vendors, violation of which can be made punishable under the impugned orders" said Ramesh Mishra.

The plea states that since street vendors usually operate in open spaces, all street vendors selling or preparing any food or drink article have become vulnerable to punishment and harassment at the hands of municipal authorities. There is no relevant material to suggest that food and drink articles specified in the public notices are causing cholera.

Before imposing any such restriction, the sample of the food articles ought to be sent for research and checked thoroughly to prove that the particular food article contains bacteria responsible for the outbreak of cholera. The petition further noted that there was no mention of reports of any survey or research conducted by the municipal bodies in the impugned public notices.