Now, Chocolate That Won't Make You Pile on Pounds
Press Trust Of India , London | Updated: June 24, 2013 11:19 IST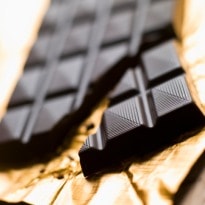 In some good news for chocoholics, an Indian-origin chocolatier claims to have created low-fat chocolates that contain as little as 20 calories a bar. London-based Aneesh Popat's recipe ditches high-calorie ingredients such as butter, cream and eggs.

Instead, 25-year-old Popat, a maths graduate, combines flavour-infused water with cocoa to create The Chocolatier, which contain as little as 20 calories a bar, 'The Daily Express' reported.

Popat claims his chocolate is as tasty as sugar-packed rivals and comes in flavours from fizzy cola and strawberry mint to chai tea and apple pie.

"If everything in the world was made of chocolate I'd have eaten it by now. My love of chocolate led me to devote and apply my mathematical and scientific backgrounds to create the most unique flavour combinations with utmost precision and creativity," he said.

"Chocolate is good for you if made in the right way," he said.

Popat's low-fat chocolates are already taking the culinary world by storm. After support from thousands of visitors to his stall at the BBC Good Food Show in Birmingham, he is hoping his chocolate will hit the open market.

It is already supplied to Michelin star restaurant Apicius in Cranbrook, Kent, and five star hotel Le Meridien in London. "As these chocolates boast such a low calorie level and high water content it can be advantageous to people seeking a less naughty treat. But we mustn't forget that chocolate is an occasional treat," nutritional expert Dr Sarah Schenker, of the British Dietetic Association, said.
The chocolates cost 11.95 pounds for six truffles and 7.95 pounds for a bar.