Good for heart, cholesterol and digestive purposes, olive oil is slowly making inroads into the culinary circuit as one of the most loved oils. Apart from its umpteen health benefits, this Mediterranean wonder oil is also linked with cutting down depression and improving brain health for the decent amount of omega-3 and omega-6 fatty acids that it contains. Despite being deemed as one of the healthiest oils, it has raised many eyeballs for its use in cooking.
Many believe that olive oil is unsuitable for cooking because of unsaturated fats. When exposed to high heat, the intrinsic properties of fats and oils may get altered. This is probably the reason why you may have heard many being weary of using olive oil for cooking. Turns out, you can indeed use olive oil for mild cooking, and cooking in olive oil may also provide many health benefits. However, it is best to take some caution. It is important to understand the grades of olive oil, and only then proceed to use this oil for cooking. The highest grade of olive oil is the extra virgin olive oil, followed by virgin oil, and finally refined oil. These grades are defined by their ways of extraction and further use of chemical solvents and processing.(Also Read: Olive Oil: Amazing Benefits of Olive Oil for Health, Hair, Skin & Its Wonderful Uses)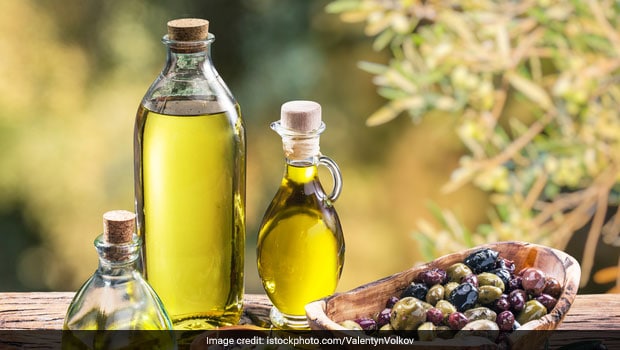 Olive oil is profuse with Mono-saturated fatty acids which is good for heart health
Extra virgin and the standard virgin olive oil are extracted directly from the olive fruit by grinding the olives, which preserves the natural taste, flavor, pungency and maximum amount of benefits. This method of extracting the oil directly from the fruit is called 'cold-pressing'. This helps the oil retain its flavor which it may lose when the oil is exposed to high temperatures. The oils that are further processed and undergo blending of chemical solvents, lose the original high grade quality of the extra virgin oil, and are clubbed in the 'refined' variants of olive oil.
Extra virgin olive oil tends to have a subtle golden-green hue with a light peppery flavour. Because it is taken straight out of the fruit and is not refined it has a beautiful crude and pungent smell too. Macrobiotic Nutritionist Shilpa Arora ND says, "Always use a good quality extra virgin oil to get all its benefits. It does not have a very high heat point, therefore it is not quite recommended for frying and heavy cooking."
Dr. Rupali Datta, advises, "It is better to use extra virgin olive oil only for raw or cold cooking. Indian cooking needs are not suited to substitute this oil for our regular vegetable oil. You can use it in salads, as dressings, for making breads and dips. Light sauteing can also be done using extra virgin olive oil."
There is another variant of olive oil available in the market called the olive pomace oil. Once the typical, cold-pressed extraction of olive oil from the olive fruit is done with, about 5 to 8 percent of the oil still remains in the leftover olive pulp or the "pomace." This oil is called the pomace oil, and the extraction process used to extract this oil is called olive pomace oil extraction. It has a slightly better heating point than olive oil, hence used more for cooking related purposes. However, the olive oil that is most often used for cooking is pure olive oil. Pure olive oil may have the tag of 'pure' but it is often a blend of standard virgin oil and refined oil, which is used widely for cooking for its slightly higher burning point.
Therefore, for its low heating point olive oil is definitely not recommended for deep frying, roasting, or stir- frying in a wok. However, here some tips to keep in mind when handling olive oil.
1. For salads and pastasOlive oil balances the acidity in high-acid foods, such as tomatoes, vinegar, and lemon juice, and adds excellent depth to your salads. Drizzle it over salad or mix it into salad dressing and spruce up your greens and cooked pasta with oodles of health benefits.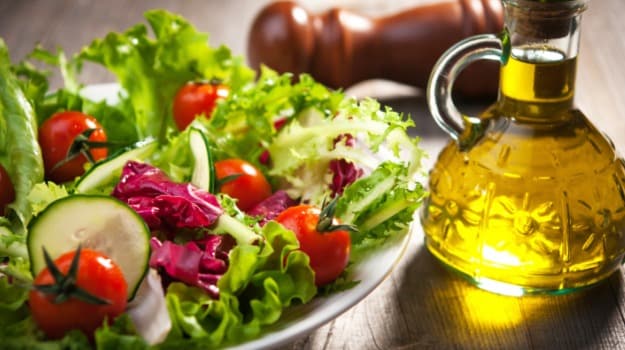 2. For Marinades
You can also use it in marinades or sauces for meat, fish, poultry, and vegetables.
3. Post cooking depth and flavour
You can drizzle some olive oil after you finish cooking for a burst of flavor.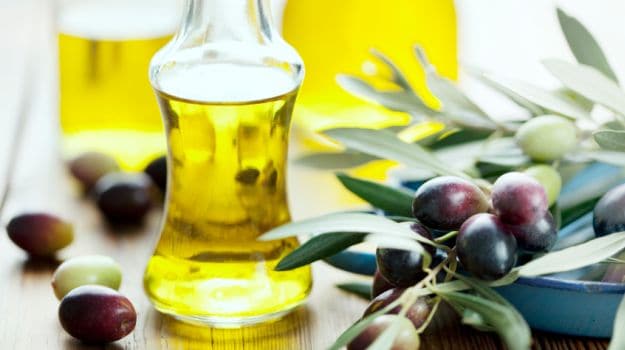 Olive oil can be used for adding depth to the dish after it is cooked
4. For your sides and appetizersMix some boiled beans, garlic, and olive oil in a food processor; top it with fresh herbs for a yummy and healthy dip. You can also toast your bread or baguette and rub them lightly with a half cut garlic clove, drizzle some olive oil on top and enjoy.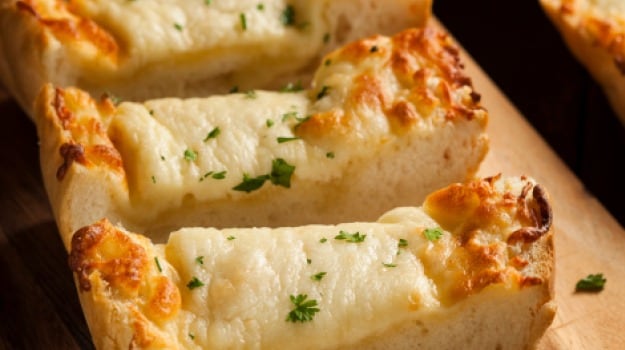 Sprinkle your toasted bread with some olive oil and witness a burst of flavours
5. For saucesGet a healthy blend of sauces with a dash of olive oil. It is flavourful and healthy, if the ingredients don't blend well, whisk thoroughly. Olive oil will help emulsify, or blend, the watery ingredients with the oil in the sauce.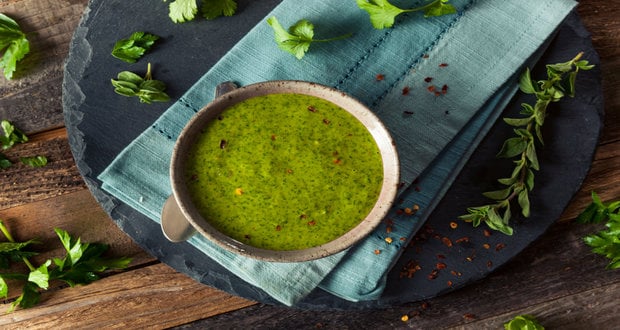 Olive oil can add healthy flavours to sauces
Olive oil is packed with several health benefits. Bangalore-based Nutritionist Dr. Anju Sood says "It is good for your heart, hair, skin and veins." Macrobiotic Nutritionist and Health Practitioner Shilpa Arora ND adds to it, "Olive oil is loaded with heart-protective polephenols that lower cholesterol. It is also packed with anti-inflammatory properties. The mono-saturated fatty acids boost metabolism and aid weight loss." Therefore, there is no reason why you should refrain from the health benefits of the wonder oil.
About Sushmita SenguptaSharing a strong penchant for food, Sushmita loves all things good, cheesy and greasy. Her other favourite pastime activities other than discussing food includes, reading, watching movies and binge-watching TV shows.