Sloppy joe's the winner this week, from HollieinClare, via GuardianWitness. Photograph: Jill Mead for the GuardianEver tried a sloppy joe? Now's the time, as our readers' serve up a tasty helping of edible Americana just in time for Independence Day...Take part in Recipe Swap! Next theme is ground almonds... Simply send us your suggestions to recipes@theguardian.com or upload your recipes and images to theguardian.com/witness by noon on Wednesday 8 July. Winning recipes will appear on 18 July.
There's a wonderful, heart-warming nostalgia when it comes to making American recipes. Being the child of a North American myself, cooking my way through these dishes reminded me of my own childhood, from camping on the shores of the Great Lakes to being snowed in, and not minding one bit as long as there were cookies. My own memories made me realise that, although American food is well-established in the UK, there are still so many great recipes that somehow aren't yet quite as common across the pond ...
Clairetweet brings us funnel cakes – deep-fried, squiggly pancakes that can be found at US fun fairs. They are much like British mini-doughnuts, and every bit as moreish when fresh out the fryer. ColonialCraving's buttermilk biscuits were similarly addictive; a crisp crust, soft crumb and salty-sweet edge, topped liberally with butter. And of course, there had to be a cookie recipe in here. The Minnesota munchers from Jackie Pieterick have a caramel depth courtesy of a smattering of melted Daim bars. And, if it's an authentic 4 July-style cookout you're after, look no further than Thom O'Dwyer's classic macaroni salad.
I've relished the eating and cooking of every recipe this week, but, in the end, I feel that if you've never eaten a sloppy joe, then... well, you're missing out. Yes, it's beef mince, in a burger bun, but for some reason, it's one of the most fun things you'll ever eat. This classic recipe is slightly sweet with smoky notes from barbecue sauce and could not be simpler to make. This is the kind of feed-a-crowd food that will never fail to please. What's more American than that?
The winning recipe: sloppy joes
What could be more American than a sloppy joe? Tangy, sweet, a little spicy and a lot messy.
HollieinClare, via GuardianWitness
Serves 6-8
1kg minced beef
1 large green pepper, diced
1 large onion, diced
180ml ketchup
180ml bottled barbecue sauce
2 tbsp Worcestershire sauce
4 garlic cloves, minced
2 tbsp brown sugar
2 tsp chilli powder
1 tsp dry mustard
Tabasco sauce, to taste
Salt and black pepper
6-8 burger buns, to serve
Salted crisps, to serve
Dill pickles, to serve
1 In a large frying pan, brown the mince, then drain off any excess fat. Add all of the other ingredients up to and including the mustard, then cover and simmer over a low heat for 20-30 minutes to allow the flavours to develop.
2 Add Tabasco sauce, salt and pepper to taste, then spoon on to the buns. Serve with salted crisps and a dill pickle. Enjoy!
Funnel cakes
To me these are such an American thing; I've never even seen them in the UK. They are nothing more than pancake batter, cooked in 3-5cm of oil instead of a frying pan. Rather than using a funnel to drizzle the batter into the pan, I used a squeezy sauce bottle, but you could just as easily use a piping bag, or zip-lock bag with ½ cm cut off the end.
Clairetweet, via GuardianWitness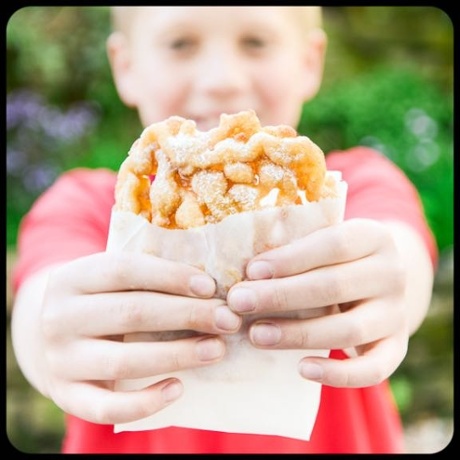 Makes 6-8
90ml milk
1 tsp vanilla extract
1 large egg
Grated zest of half an orange
90g plain flour
1 tsp baking powder
1 tbsp caster sugar
A pinch of salt
Icing sugar, for dusting
1 Mix the milk, vanilla, egg and orange zest together. Put the rest of the ingredients, except the icing sugar, in a medium-size bowl, then tip in the wet ingredients and whisk together. You should have a thick, custardy batter.
2 In a small pan, heat 5cm of flavourless oil until it sizzles when you sprinkle in a pinch of flour. Squirt the batter into the hot oil in a spiral, starting from the centre. Cook for 2 minutes or so, until the edges start to brown, then flip it over for 2 minutes more. Remove and cool on kitchen paper, then dust with icing sugar.
Mother O'Dwyer's famous macaroni salad
In 1950s America, the cookout of the year was American Independence Day, 4 July. This dish had unique place on the table of my youth in Alexandria, Virginia.
Thom O'Dwyer, London
Serves 10-12
450g macaroni
Salt and black pepper
½ large green pepper, diced
½ large red pepper, diced
1 small onion, finely chopped
3-4 stalks celery, chopped
450g mayonnaise
400g cooked king prawns
9 hardboiled eggs: 8 chopped, 1 cut into wedges, to serve
½ bunch parsley, chopped
1 Cook the macaroni according to the instructions on the packet, then rinse well and cool. Season well.
2 Add the green and red peppers, onion and celery. Toss to mix, then add the mayonnaise and mix again.
3 Stir in the prawns, then finally add the chopped eggs and mix again. Garnish with chopped parsley and more hardboiled egg wedges if desired.
Buttermilk biscuits with blueberry and black pepper compote
A recent road-trip adventure took us in a southerly direction to Tennessee, during which I ate a lot of biscuits (the US sort ,not the UK sort), but hands-down, the most delicious ones were at a restaurant in Knoxville. The secret ingredient? Cream.
ColonialCravings, via GuardianWitness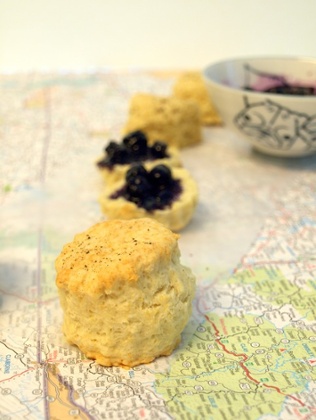 Makes 16-20 small or 8 large biscuits
300g plain flour
4 tsp baking powder
½ tsp bicarbonate of soda
1 tbsp sugar
½ tsp salt
60g very cold butter, plus extra melted
100ml cream
150ml buttermilk
Black pepper
For the compote
125g blueberries
Juice of half a lemon
1 small tbsp sugar
Black pepper, to taste
1 Preheat your oven to 220C/425F/gas mark 7 and brush a deep cake tin with a little melted butter. Baking these in something with quite deep sides will really help to support the biscuits as they rise.
2 Sift together the flour and raising agents into a large mixing bowl, then mix through the salt and sugar. Cut the butter into small pieces and lightly rub it through the flour mix. It doesn't have to be too uniform.
3 Add the cream and buttermilk – a bit at a time, as you may not need all of it – and bring it all together with a fork to form a soft dough. Don't overmix the dough or you'll get tough biscuits. I use a fork to mix it so that my hands don't warm up the mixture either.
4 Turn the dough out on to a lightly floured surface and pat it out to about 1cm thick. Fold it in half, then pat it out again. Fold it one more time and pat it out again so that it's 1 cm thick. Stamp out 5cm discs using a pastry cutter It's very important that you don't twist the cutter though. Place the biscuits in the buttered cake tin. Brush the tops with a little extra melted butter, sprinkle with black pepper and bake for 15-20 minutes.
5 For the compote, use a small saucepan to combine all of the ingredients. Gently simmer them until the juices begin to thicken and become syrupy. Try not to stir the compote too much – you don't want to mush up the fruit. Leave the compote to cool completely before serving it with the still-warm biscuits.
Minnesota munchers
This recipe is adapted from a 1970s Lutheran Church Ladies cookbook and replaces toffee bits with crushed Daim bars, which suits Minnesota's Swedish roots.
Jackie Pieterick, Wolverhampton
Makes 24
240g butter, softened
270g brown sugar
2 medium eggs
2 tsp vanilla extract
300g plain flour
1 tsp baking powder
200g milk chocolate chips
200g dark chocolate chips
100g white chocolate chips
5 x 28g Daim bars, crushed into bits
1 Preheat the oven to 180C/350F/gas mark 4. Grease 3 nonstick baking trays. Beat the butter and sugar together until creamy. Beat in the eggs, one at a time, then stir in the vanilla.
2 Combine the flour, baking powder, and salt; stir into the creamed mixture. Stir in the chocolate chips and Daim bar bits. Drop tablespoonfuls of the mix on to the prepared baking trays, then bake in batches for 10-12 minutes, until golden. Allow the cookies to cool on the baking sheet before transferring to wire racks to cool completely.