A dash of mellow maple syrup lifts your sweet and savoury dishes to new heights of flavour, from scones to meat marinades
It might be my Canadian roots talking, but this week's theme has fully confirmed my long-held belief that everything tastes better with a dash of maple syrup. The mellow sweetness gives an extra depth of flavour to sweet bakes, adds a caramel-like richness to savoury dishes and balances out bold acidity in dressings - and we all know it's pretty darn good drizzled over pancakes, too.
The maple and walnut scones from The James Kitchen were amazing fresh from the oven, with generous amounts of butter and maple syrup to serve - you'll be grateful for the large quantity, and I imagine they freeze well. And TwinnyDip's maple miso butterscotch sounded unusual, but it hit the sweet/savoury notes perfectly; a great way of pepping up vanilla ice-cream. Miz Pepperpot's coffee and maple glazed pork belly was so simple, but utterly delicious and a great cheap eat. Maple mustard salmon from Suzanne Anderegg was similarly easy to put together and satisfying, with the piquancy of mustard and heat of ginger pulled together by the sweet syrup. Both would be an easy way to impress with your cooking.
However, this week Julia Austin provided the winning recipe: maple-marinated aubergines. I'm sure you could try it with honey, or agave nectar - in fact, if you're not a maple syrup fan, I'm sure a lot of the recipes would work as well with an alternative - but it's the warming maple flavour that makes this dish stand out. Having made it a couple of times now, I'd suggest trying them on top of some slices of crusty bread, with a spoon of ricotta.
Maple-marinated aubergines
This sweet-and-sour dish not only melts in the mouth but is simple to make and versatile to boot - great in a sandwich, as an accompaniment to grilled meat or fish, or as antipasto. What's more, it'll keep happily in the fridge for several days.
Julia Austin, London
Serves 2-4
2 aubergines, cut lengthways into 1cm-thick slices
Extra virgin olive oil
Salt, to taste
3 garlic cloves, finely chopped
2 tbsp maple syrup
2 tbsp balsamic vinegar
A pinch of dried chilli flakes
1 tbsp fresh mint, finely chopped
1 Preheat the oven to 180C/350F/gas mark 4. Heat your grill and line a baking tray with foil. Lay the aubergine slices on the tray then grill for 8 minutes, turning once, until they have started to soften but not taken on any colour.
2 Brush the slices lightly on both sides with olive oil, return to the baking tray and sprinkle with a pinch of salt. Bake in the oven for 10-15 minutes until the aubergines have completely softened (again, they should not take on much colour or harden).
3 Meanwhile heat 1 tbsp of olive oil in a small pan and soften the garlic over a very low heat until it just begins to colour. Pour the garlic and flavoured oil into a mixing bowl and add the maple syrup, vinegar, chilli flakes and another tbsp of olive oil. Stir together then pour the mixture over the aubergine. Leave to marinate for a couple of hours, turning the slices over once or twice. Garnish with the mint when ready to serve.
Maple-walnut buttermilk scones
These delicious American hybrids are simply gorgeous with a dab of salted or maple butter melting on the freshly cut scone. Just mildly sweet, I think they can go either way: for a sweeter tooth drizzle the scones after baking with a maple glaze; otherwise try with a stronger blue cheese or ripe cheddar. The recipe is adapted from Matt Lewis and Renato Poliafito's Baked: New Frontiers in Baking.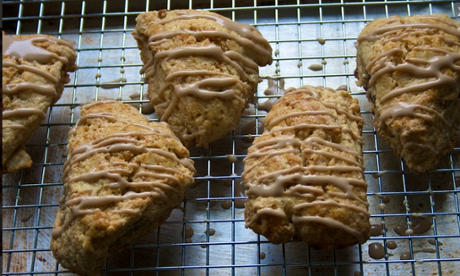 The James Kitchen, via GuardianWitness
Makes 16
640g plain flour
1 tbsp baking powder
1/2 tsp bicarbonate of soda
1/2 tsp salt
90g light brown sugar
345g cold butter, diced
180ml buttermilk, plus extra for brushing
1 egg
2-3 tbsp maple syrup
1/2 tsp vanilla extract
110g walnuts, very coarsely chopped
1-2 tsp raw cane sugar or demerara sugar to sprinkle a pinch on each scone
For the maple icing (optional)
50g icing sugar
1-2 tbsp maple syrup
1 Preheat the oven to 180C/350F/gas mark 4. Mix the flour with the baking powder, bicarbonate of soda, salt and sugar then rub in the cold butter. Whisk the buttermilk, egg, maple syrup and vanilla extract then knead the mix briefly into the dry ingredients. Add the walnuts and push it all together into a rough dough. Do not overknead - it's fine if there are still a few butter patches visible.
2 Divide the dough into two portions and roll into two discs, around 2 1/2 cm thick, on a lightly floured board or directly on a sheet of baking paper. Cut each disc into 8 wedges and arrange on baking sheets covered with baking paper. Brush each portion with a little buttermilk and sprinkle a pinch of raw cane sugar or maple sugar on top. If you are using icing, mix the icing sugar and maple syrup together into a smooth paste.
3 Bake for 15 minutes, turn the oven trays back to front and bake for another 15 minutes until the scones are light golden brown. Serve warm with salted butter and a drizzle of maple syrup, or leave to cool and drizzle with the maple icing.
Maple and mustard salmon parcels
As a Canadian, this week's theme hits home - maple syrup has a special place in my heart (and a permanent residence in my fridge).
Suzanne Anderegg, Milton Keynes
Serves 6
2 tbsp maple syrup
2 tbsp dijon mustard
2 tsp cider vinegar
1 tsp Worcestershire sauce
1 garlic clove, crushed
1 tbsp ginger, freshly grated
6 salmon fillets, skin on
1 To make the glaze, simply put all the ingredients except the salmon in a small bowl and mix well.
2 Line a baking tray or dish with foil and on this, grease an area about the size of your salmon fillets with a little olive oil. Place the salmon, skin-side down, on the greased foil and cover with the glaze. Leave the salmon to soak up the glaze for 30 minutes.
3 Preheat the oven to 200C/400F/gas mark 6. Use a spoon to pour any of the glaze that has dribbled off on top of the salmon. Use another piece of foil to make a tent over the salmon by sealing the foil edges together, taking care to not let it touch the top of the salmon.
4 Bake the salmon until it is slightly 15-20 minutes. Serve at once.
Maple miso butterscotch
Maple syrup has a delicate and mellow sweetness, which complements the umami flavour of miso. This is a very versatile recipe - spread the butterscotch on toast, use it as a sauce over vanilla ice-cream, or for more substantial meals, cook salmon and pork in it.
Makes 1 small jar
175ml double cream
85g butter
65g white miso paste
65ml maple syrup
65g light brown sugar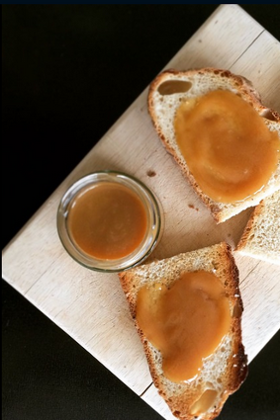 1 Heat the double cream and butter in a saucepan over low to medium heat, stirring frequently.
2 Once the butter is melted and the ingredients well combined, mix in the miso, maple syrup and brown sugar. Stir frequently. Cook for about 10-15 minutes until it becomes thick, shiny, and acquires a lightly golden brown colour,and with a consistency similar to that of a bechamel sauce. This sauce will keep in a sterilised jar for a week.
Maple and coffee-glazed belly pork
Be it in a dessert or a savoury dish, maple syrup and coffee compliment each other perfectly. This is a simple dish, with a very short list of ingredients, and it's yum!
MizPepperpot, via GuardianWitness
Serves 2-4
480g pork belly, cut into 2cm thick strips
1 shot of brewed espresso
2 tbsp maple syrup
1 tbsp dark brown sugar
1 pinch dried red chilli flakes
1 Preheat the oven to 190C/375F/gas mark 5. Cover a tray with baking paper and lay the pork belly on top.
2 Mix the glaze ingredients together. You now have a choice: the glaze is quite thin, so you can reduce it by about one-third in a small saucepan, then glaze and turn the meat a couple of times during cooking. Alternatively, you can leave the glaze as it is and baste the meat every 5 minutes. Cook for approximately 45-50 minutes, until the meat becomes golden brown and sticky.
'It's the warming maple flavour that makes this dish stand out'. Photograph: Jill Mead/Guardian