Magyar cuisine, from Hungary, is one the least known and most flavourful and rich cuisines of the world. Traditional Hungarian food is very wholesome and rustic in nature and consists of several courses - mouth-watering spicy dishes, rich stews and
sauces
,
hearty soups
, yummy desserts. From the nomads of the middle ages who survived on foraged mushrooms, wild shrubs and roasted wild boars, to the conquering Ottomans and Turks. A large number of influences have in some way contributed to Magyar cuisine. Around 500 AD, the Magyar tribes migrated and settled down near the River Don. They got into contact with Turks and Bulgarians and learned much about cooking from them. Hungarian food represents the climatic conditions and regions of the country. Since it doesn't have a coastline, the use of meats is more prominent than fish. With colder climatic conditions, a lot of their food is hearty and warming.
Here are a few things to know about the large variety of food that is Hungarian cuisine:
1. A Hungarian meal always begins with leves (soup). This is usually something relatively light such as gombaleves (mushroom soup) or something with goose liver dumplings. For other dishes, they always use fresh ingredients. They usually serve soups with a small round-shaped pasta called tarhonya.
2. One of the most important ingredients of Hungarian food is Paprika. This smoky fiery spice is used extensively to perk up stews and grills. It was the Turks who introduced Hungary to paprika which is now almost the culinary symbol of the country. Other culinary advantages of the Turkish rule were strudel, rice pilafs, and stuffed vegetables. Besides paprika, the Turks brought into Hungary several other plants such as tomato, corn, tobacco, cherry, and sour cherry plants.
3, Roasting and stewing are the most popular and widely used cooking techniques. The most delicious dishes were always made in a single pot. This pot was usually the bogracs, a cast iron kettle, hung on an iron stick over the fire. Bogracs is a very popular cooking utensil today, I love to use it for outdoor cooking.
5. The Hungarians are known throughout the world for their elegant pastries and cakes. The flaky pastry dough called filo or phyllo was brought to Hungary by the Turks in the seventeenth century. Instead of the honey and nuts used in Turkish pastry, the Hungarians filled phyllo dough with their own ingredients to make a dessert known as strudel. Strudel fillings include apples, cherries, and poppy seeds.
Recipes
1. Authentic Hungarian Goulash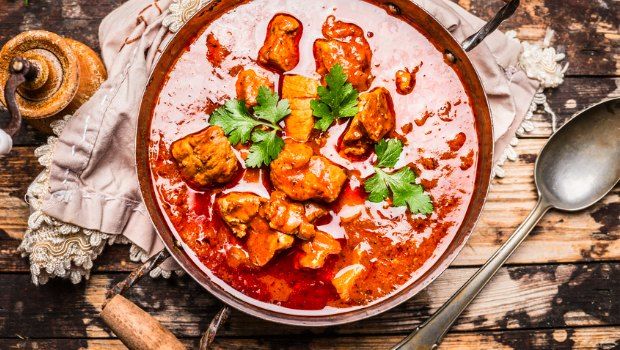 Ingredients
- 600 g meat shin or shoulder, or any tender part cut into 2 x 2 cm cubes - though this can be done with chicken or mutton too, beef is the original choice for this recipe
- 2 tbsp oil or lard
- 2 medium onions, chopped
- 2 cloves of garlic
- 1-2 carrots, diced
- 1 parsnip, diced
- 1-2 celery leaves
- 2 medium tomatoes, peeled and chopped, or 1 tbsp tomato paste
- 2 fresh green peppers
- 2-3 medium potatoes, sliced
- 1 tbsp Hungarian paprika powder (sweet)
- 1 tsp ground caraway seed
- 1 bay leaf
- Ground black pepper and salt according to taste
- Water
Instructions
1. Heat up the oil or lard in a pot and braise the chopped onions in it until they get a nice golden brown colour.
2. Add the meat cubes and sauté them till they turn white and then get a bit of brownish colour as well.
3. Sprinkle the braised onions and meat with paprika powder while stirring them to avoid getting the red spice burnt.
4. The meat will probably let out its own juice, let the cubes simmer in it while adding the grated or crushed and chopped garlic (grated garlic has stronger flavour), the ground caraway seeds, some salt and ground black pepper and the bay leaf.
5.Pour enough water to cover the content of the pan and let it simmer on low heat for a while.
6.When the meat is half-cooked (approximately 1.5 hours, but it can take longer depending on the type and quality of the cut) add the diced carrots, parsnip, potatoes, the celery leaf and some more salt if necessary (vegetables tend to call for more salt). You'll probably have to add some more (2-3 cups) water too.
7. When the vegetables and the meat are almost done, add the fresh tomato cubes or paste and the sliced green peppers. Let it cook on low heat for another few minutes. You can remove the lid of the pan if you want the soup to thicken.
8. Serve hot.
2. Paprika Chicken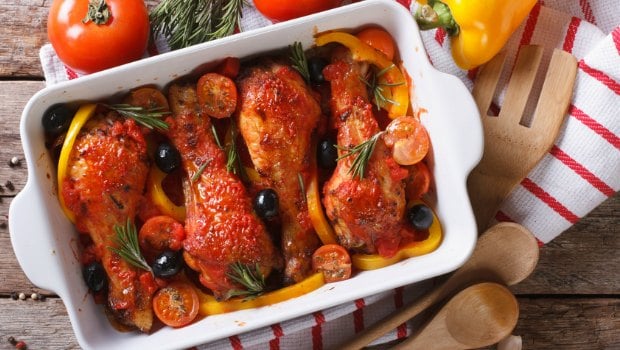 Ingredients
- 1 large onion, sliced in rings
- 4 tbsp butter
1, 1/2 tbsp Hungarian paprika
1, 1/2 pound chicken, washed, cut up and salted
- 1 green pepper, sliced
- 1 tomato, sliced
- 1/4 pound mushrooms (optional)
- 1/2 cup sour cream (optional)
Instructions:
1. Sauté onion rings in butter in a medium pot or a Dutch oven until translucent.
2. Remove from heat and add paprika, chicken, half of the green pepper and half of the tomato.
3. Cover tightly with a lid and simmer slowly for 1, 1/2 hours.
4. Occasionally turn pieces over so they will cook evenly.
5. If necessary, add small amounts of water.
6. If mushrooms are used, add during the last 15 minutes of cooking time.
7. When meat is tender, transfer to a baking dish.
8. Make pan gravy, scraping onion from the pan and adding a little water while on heat.
9. Pour over the chicken.
10. Garnish with the remaining green pepper and tomatoes.
11. Cover with foil and keep warm in the oven at a low temperature until ready to serve.
12. Sour cream can be added to the gravy, if you want.
3. Stuffed Green Peppers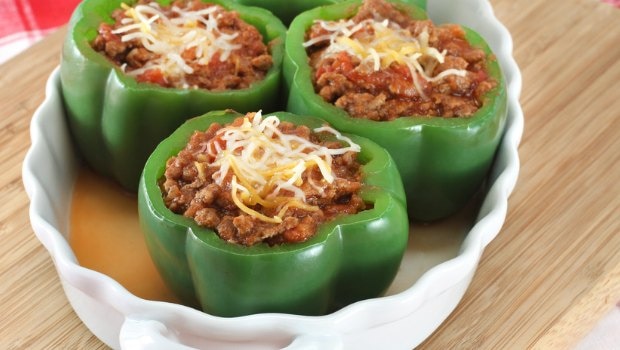 Ingredients
- 3 tbsp rice
- 6 green peppers
- 1 medium-sized onion, finely-chopped
- 2 tbsp butter, melted
- 1 pound ground meat
- 1 egg
- Salt and pepper, to taste
- 2, 1/2 cups tomato sauce
Instructions:
1. Simmer rice in 5 tbsp water for 10 minutes.
2. Cut off the top of the peppers at the stem and scoop out the seeds.
3. Sauté onion in butter until transparent.
4. Remove from pan and mix with meat, rice, egg, salt, and pepper.
5. Fill green peppers with the meat mixture.
6. Bring tomato sauce to a boil, add peppers and simmer well covered for 1 hour or until peppers are tender.Disclaimer:The opinions expressed within this article are the personal opinions of the author. NDTV is not responsible for the accuracy, completeness, suitability, or validity of any information on this article. All information is provided on an as-is basis. The information, facts or opinions appearing in the article do not reflect the views of NDTV and NDTV does not assume any responsibility or liability for the same.