When your belly is begging for a late-night bite to eat, your recipes for noodle omelettes, chips and gravy, chorizo melts and sweet apple sticks hit the mark...I'm more of an early bird than a night owl, so I confess: I didn't eat every one of these dishes after dark. But, if you're planning an all-nighter on the longest day of the year, the recipes that follow make fabulous fourth meals and are guaranteed to satisfy both sweet and savoury cravings as the clock strikes midnight.
If it's your sweet tooth keeping you awake, try MarmadukeScarlet's toasted apples, served with or without smoked cheese. Caramelise over a candle for something special.
A dish that also straddles sweet and savoury is Charlene F's bacon, banana and peanut butter pancakes – best made with an accomplice. The poutine from MizPepperpot is just the ticket if you're the type to pop down the pub for a quick drink before dinner, and end up back home after closing time. Meanwhile, Fadime Tiskaya's midnight chorizo melt is a one-frying-pan wonder.
I'd happily stay awake for the chance to tuck in to any of these again, but I was won over by Bobby Ananta's Indonesian noodle omelette. Lots of cheese and herbs mixed with noodles and eggs, then fried as a thick omelette. It calls for ready-made crispy onions or shallots – I defy you not to eat them by the fistful while you wait for the omelette to cook.
The winning recipe: Martabak mie
If you want to add a spicy kick to this noodle omelette, combine tomato sauce and chilli sauce, or stir a finely chopped bird's eye chilli into the egg mix.
Bobby Ananta, Leicester
Serves 1-2
60g noodles (any type of noodles from your cupboard – even instant)
3 eggs
3 spring onions: 2 finely chopped for the mix, 1 roughly chopped to serve
1 small bunch of parsley, finely chopped
1 small bunch of basil leaves, finely chopped
½ tbsp crunchy fried shallots
30g cheddar cheese, grated
30g parmesan cheese, grated
½ tsp ground white pepper
½ tsp ground black pepper
A pinch of salt
1 tbsp vegetable oil
Tomato sauce, chilli sauce or creme fraiche, to serve
1 In a small pan of boiling water, cook the noodles following the packet instructions, but then leave to cook for a couple of minutes longer, so the noodles have softened a bit more. Drain, then leave to cool a little, or rinse under cold water.
2 Gently beat the eggs in a mixing bowl, then add the finely chopped spring onions, half the parsley and basil and half the cheeses. Add the peppers and salt, then stir in the soft noodles and crunchy fried shallots.
3 Heat the oil in the a frying pan. Fry the mixture until golden brown – about 3-4 minutes. If it feels firm enough to flip, try that, but if not, flash it under a hot grill until the top of the omelette is golden-brown. Serve with the rest of the spring onions, basil leaves, parsley and cheeses, and a dollop of tomato or chilli sauce or creme fraiche on the side, to taste.
Apple and cheese sticks
My late father, Henry, was a magical man. He seemed to make it his life's mission to bring glee to the lives of all the children he met. This was his midnight feast: caramelised apples on toothpicks devoured with a sliced log of smoked Austrian cheese.
MarmadukeScarlet, via GuardianWitness
Serves 1-2
2 tbsp sugar
½ tsp cinnamon
1 apple or pear
100ml orange juice
50g smoked Austrian cheese, sliced
1 Combine the cinnamon and sugar, put the mix in a small bowl, then pour a small amount of orange juice into another bowl.
2 Chop the apple into 8 pieces and thread each piece on to a skewer, then dip them into the orange juice and roll them in the sugar mixture.
3 Light a candle and hold the apple over the flame, turning continuously. When it becomes golden-brown remove from the heat. Allow them to cool slightly, then eat with the cheese.
Poutine with beef gravy and stilton
A melting morass of loveliness – or chips, cheese 'n' gravy. I was lucky enough to try the real thing in Quebec: crispy french fries smothered in cheese curds and a steaming, thick, gravy-like sauce.
MizPepperpot, via GuardianWitness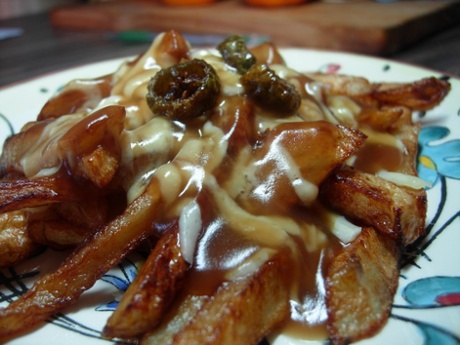 Serves 2
300g frozen oven chips
80g stilton, crumbled
For the gravy
350ml good chicken stock
2 tbsp unsalted butter
3 tbsp plain flour
Salt and black pepper
1 Preheat the oven to 200C/400F/gas mark 6, then put the oven chips on a tray and cook until crisp (around 15 minutes).
2 While the chips are cooking, heat the stock till simmering, then, in another pan, heat the butter with the flour and stir together to make a roux. Add the stock to the roux, whisking as you go. Simmer to the required consistency – usually 10 minutes; the gravy must be thick for poutine.
3 When the chips are done, divide between two bowls, pour gravy over the top, then scatter with stilton.
Midnight chorizo melt
Melted cheese is one of the most comforting foods you can think of, especially when it is late and you feel really hungry. If it's mozzarella we're talking about, the best thing that can accompany it will be tomatoes, but by simply adding the spicy chorizo it completes the feast.
Fadime Tiskaya, via GuardianWitness
Serves 2
100g chorizo
10-14 cherry tomatoes
120g mozzarella cheese
Ω tsp chilli flakes
Salt and black pepper
Ciabatta bread or 4 slices of sourdough
1 Slice the chorizo in to 5mm-thick slices. Fry them for a few minutes on each side until crisp.
2 Add the tomatoes to the pan, then fry for another couple of minutes, moving them around every now and then.
3 Put the cheese on top of the tomatoes, then fry each side for 1-2 minutes. Finally, place the bread slices over the food to warm it through at the last minute and serve.
Elvis Presley pancakes
Peanut butter, banana and bacon: I can see why Elvis was so fond of this combination – quick, rich and moreish, it makes for a perfect midnight raid.
Charlene F, via GuardianWitness
Makes 2 (massive) pancakes
200g self-raising flour
1 tsp granulated sugar
300ml milk
4 tbsp peanut butter
2 eggs
2 bananas, sliced
2 tbsp vegetable oil
4 rashers of bacon
Maple syrup, for drizzling
1 Combine the flour and sugar in a large mixing bowl. Make a well in the centre. In a mixing jug, whisk the milk, peanut butter and eggs together, then pour the liquid into the well. Mix to a smooth batter.
2 Heat 1 tbsp oil in a nonstick frying pan, then pour enough batter into the pan to make a large pancake. When bubbles begin to form, your pancake is ready to be turned over. Repeat to make the second pancake. Meanwhile, put the bacon under a hot grill and cook until crisp.
3 Keep the pancakes warm while you griddle or fry the bananas. Add 1 tbsp oil to agriddle or frying pan, then add the sliced bananas and fry until golden.
4 To serve, top the pancakes with the bacon and caramelised banana and generous spoonfuls of peanut butter and maple syrup.The winning recipe this week is Bobby Ananta's noodley omelette, AKA martabak mie. Photograph: Jill Mead for the Guardian