Are you the one who loves to hoard all new types of chips and nachos you spot in the market? You never know when you are hungry and a packet comes to your rescue. Did you know that you can use these chips packets for making a variety of recipes, crush them and add them to your omelette and instant noodles. You can also marinate your chicken in a flour batter and some crushed chips, before you are frying or baking them and enjoy home-made crispy chicken. And if you are not so sure of your cooking skills, we have a recipe that is just the right fit. This tomato salsa is so easy to make that you would be making this rather frequently.


(Also Read: 11 Most Cooked Mexican Recipes | Popular Mexican Recipes)


Tomatoes are an intrinsic part of Indian cooking, we use them to make soups, curries, stews and what not. But you would be surprised to know that tomato is as treasured in a variety of other cuisines too. Salsa is a popular Mexican dip that has found fans across the globe. The fresh and zingy accompaniment often has tomatoes in its base and is often spruced up with onions, cilantro and other fresh herbs. You can make your salsa the way you want, there is no end to the variations of recipes nowadays.
(Also Read: Want A Fuss-Free, Quick Snack?Try This Masala Papad Recipe By DHABA Restaurant)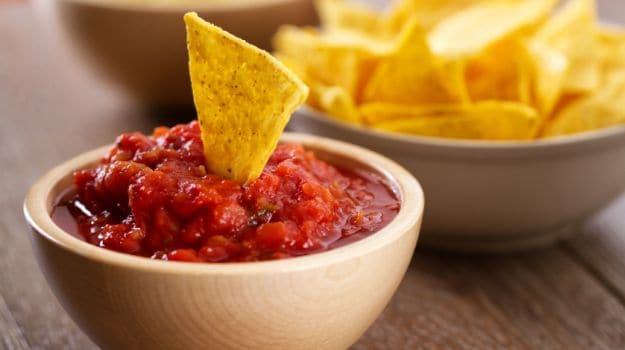 This tomato salsa recipe that we have here is very close to the traditional recipe and packs the goodness of fresh tomatoes and smoky onions. Some other power ingredients used here are coriander, green chillies, black pepper, lemon and salt.



To char the onions on direct heat, place the onions or garlic on a very hot griddle and turn them around till all the skin is blistered and black. Now, set these onions aside and let it cool down a bit, if you want you can put it in a plastic bag, once it is cool- peel the onions.


Here is the step-by-step recipe of the tomato salsa.


Try making the salsa at home today and simply dunk your chips in this fresh homemade dip and enjoy. Do tell us how you liked it in the comments section below, and stay tuned for more of such easy-peasy and yummy recipes. We would love to her about all the delicious foods that you have been cooking lately.
About Sushmita SenguptaSharing a strong penchant for food, Sushmita loves all things good, cheesy and greasy. Her other favourite pastime activities other than discussing food includes, reading, watching movies and binge-watching TV shows.