Mexican Recipes- Feisty, vibrant and mysterious - these words define the land of Mexico. A mix of ethnic varieties and a vibrant history gives it a unique culinary culture. Mexico's cuisine has been blessed with numerous influences, ranging from the early civilization of the Aztecs and Mayas to modern European.


Mexico embarked on its food journey with simple native elements like peanuts, vanilla, beans, coconuts, tomatoes and chilli peppers. With time, Europeans added meats such as beef, pork, chicken, and goat, and cheese to the basket. Mexican food has been dreaded by some as being overly spicy because of the flamboyant use of chillies. It is true no one celebrates their chillies like Mexico does. Each of them varies in taste, shape, and flavour. Some of the most commonly used chillies are Serrano, Ancho, and Jalapeno. Chipotle pepper, which is the key ingredient of Tabasco sauce, is a dried version of juicy Jalapenos.


Herbs and spices are the real stars of the show. Often it is the sauce and condiments that define a dish, such as the 'Mole Poblano', which gets its name from the glossy dark sauce to be savoured with turkey or chicken.
Despite alternatives like rice and wheat, corn finds a special place among Mexican staples. Most popular Mexican dishes involve the use of crusts or breads. 'Masa', the corn flour dough is used to create Tortillas, Quesadillas, Enchiladas, Burritos and Tamales. Kidney beans appear significantly in the traditional recipes like Chilli Con Carne or refried beans.


Keeping up with the geographical diversity of Mexico, culinary tastes vary across the length and breadth of the country. Northern Mexico is famous for the dominance of meat on the menu, while the dishes from South feature veggies and chicken with prominent Caribbean influences. Flanked by the sea on both sides, Mexico is interspersed with rivers, which leads to the easy availability of freshwater fish to be used in delicious Mexican preparations. The Red Snapper Veracruz is one of the most versatile dishes, which has kept its fans fascinated globally. The freshness of herbs and the rustic flavour of the spices, adds depth to the taste.


Mexican cuisine also flaunts a variety of desserts, the simplest being the Flan. Flan is a buttery custard with a layer of caramel on top. Another Mexican treat is the Empanada. These are folded pieces of dough, stuffed with cream, pumpkin or fruits, which are baked or fried till crisp. Dulce is another example of a simple yet brilliant dessert, which refers to a bread pudding with fresh fruits.


Here we bring you 15 most celebrated Mexican dishes which will leave you wanting for more, every time.
Gorge on delicious tortilla wraps stuffed with spiced minced meat. They are wholesome and ideal for a meal on-the-go.The word 'burrito' actually means 'little donkey' in Spanish.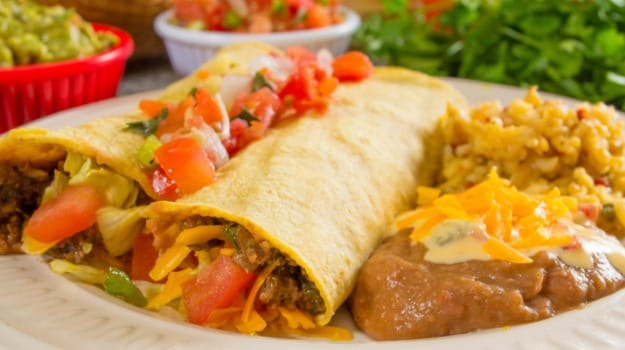 Stuffed with chicken, these burritos are a treat for your taste buds.
These half-moon wraps are perfect as a snack or a mini meal. The best part is that there is enough room for creativity when it comes to fillings.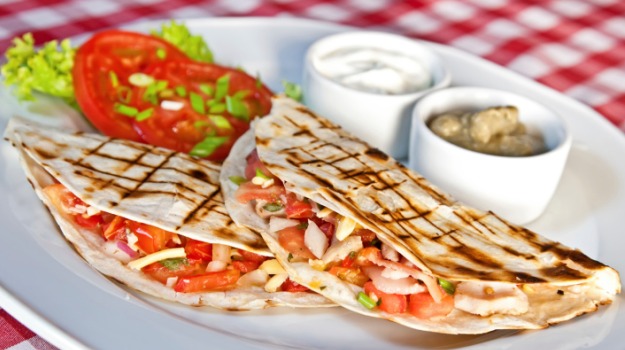 Quesadillas are tortillas that originated in Mexico.
Load your taco shells with some kidney beans, scraped cheddar and hot jalapenos for a sumptuous bite. Add a touch of cumin for the rustic flavour. (Recipe video)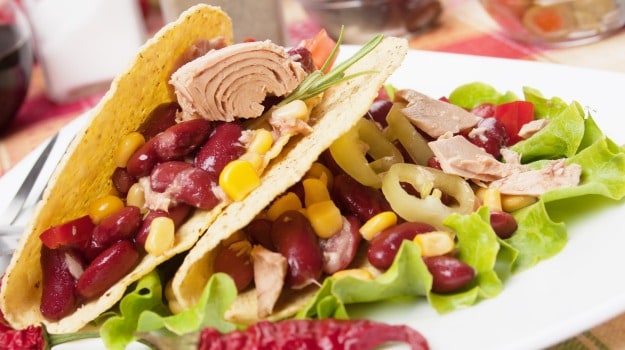 A quick and easy Tacos recipe.
Spice up your Mexican menu with a generous serving of the traditional Mexican dip. It is made with avocados which is an amazing source of protein, especially for vegetarians.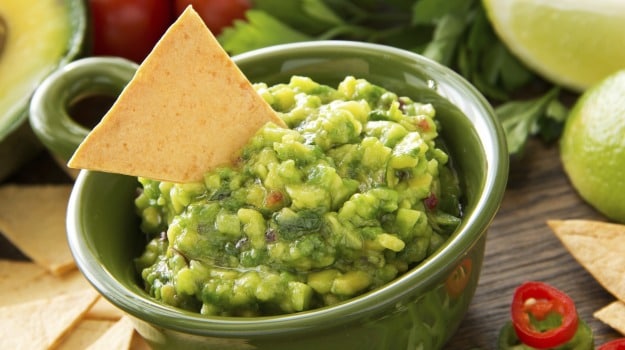 Mexico's all time favorite creamy avocado dip.
Indulge in a steamy bowl of this spicy Mexican stew, rich with the goodness of beans and meat. Serve with some freshly baked focaccia.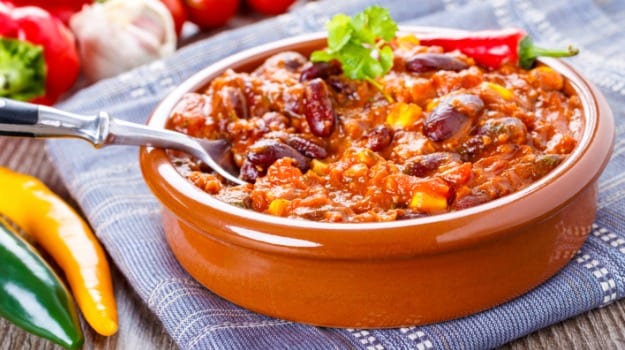 Serve this dish with steamed rice.
This tangy salsa dip offers a perfect balance of freshness and earthy flavours. Serve it with crisp, crusty bites and watch it disappear in no time.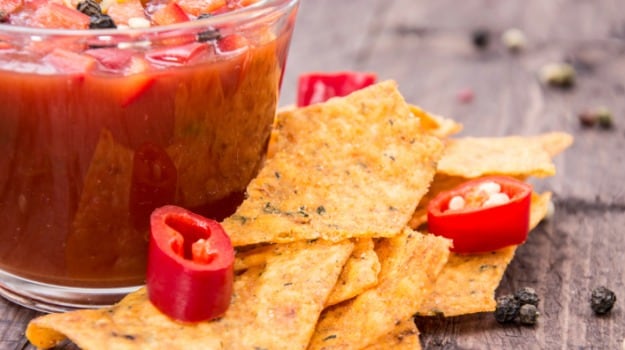 Classic salsa recipe with juicy tomatoes and a smoky onion flavour.
Enchilada is a soft corn toritalla which is stuffed with a filling, draped in sauce and baked perfect. Lose yourself in every bite, with oodles of cheese and chicken.


Freshly made tomato sauce smeared over tortillas which are stuffed with juicy chicken chunks, finished with cheese and baked golden.
A lip-smacking blend of kidney beans, chillies, cheese, tomatoes and chicken to go with baked bread or nachos.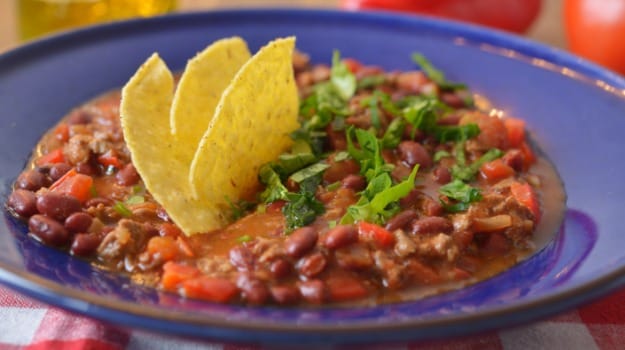 This fiery recipe goes perfect with multigrain bread or tortilla chips.
Dig into soft flaky fillets of baked Red Snapper, a Mexican favourite. Coat the fillets with a spicy tomato sauce - a riot of flavours for your palate.(Recipe video)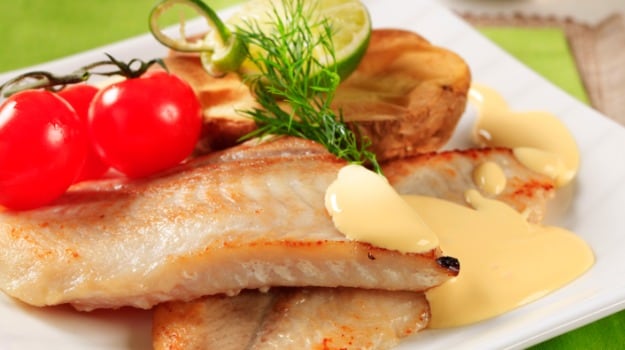 A delicious fish recipe from Mexico.
Fresh lettuce cups topped with juicy chicken chunks. A quick and healthy snack everyone will love you for.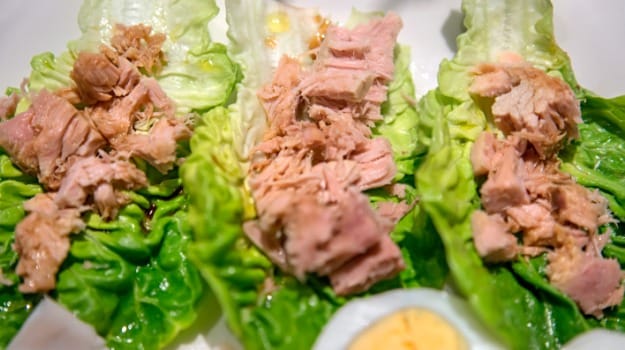 Scrumptious chicken served in a lettuce cup/on tortilla chips with salsa dip.
Made with jalapenos, tabasco, capsicums and creamy yogurt. This Mexican dip goes with a range of finger foods.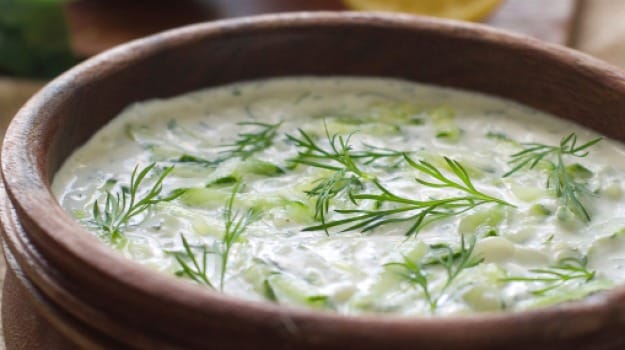 A mouth-watering melange of spices, sauces, crunchy veggies and brown rice stuffed together in a wheat burrito, perfect to curb those hunger pangs.
Mexican quesadillas overloaded with exotic vegetables, layered with a spicy sauce and lots of cheese.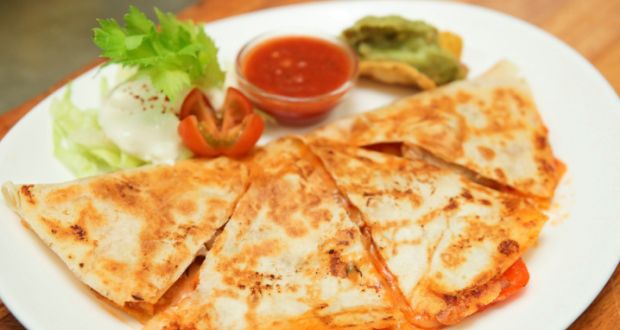 Mexican chicken rice is a one pot meal and is easy to cook. Garnish it with some extra cheese to relish this dish.


Chicken fajita, is a fun recipe to do with kids as they get to make their own wrap, serve the tortillas with guacamole, sour cream and cheese.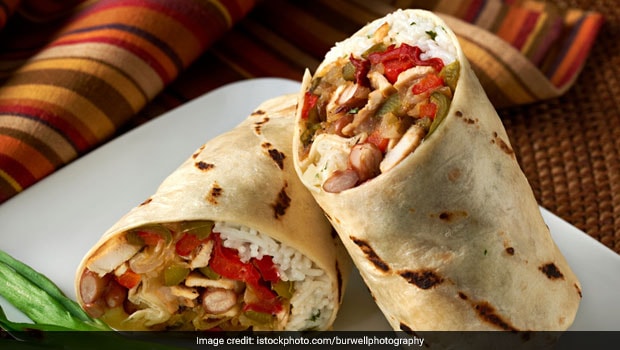 Now that you know how to make these Mexican dishes, treat yourself to delicious food on special occasions.