Story Progress
Back to home
Tomato Salsa Recipe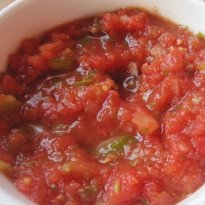 How to make Tomato Salsa
Classic salsa recipe with juicy tomatoes and a smoky onion flavour. It is definitely a must try recipe.

Ingredients of Tomato Salsa
4 moderately ripe tomatoes, chopped
6 -8 sprigs of coriander, finely chopped
1/2 onion, charred and chopped
2 green chillies, finely chopped
Juice of 1/2 a lemon
Salt
Ground black pepper
1.
Char the onions on a gasflame. After the skin blisters, let it rest for 15 minutes and then peel.
2.
Mix all the ingredients and let them sit for 10 minutes before serving.
Tip for Charring with Direct Heat:
1.
Place the onions or garlic on a very hot griddle and turn them around till all the skin is blistered and black. Then leave them to cool (some prefer to keep them in a plastic bag) and then peel. It gives a lovely smoky flavour and a juicy texture to the onions.