Savour Sweet Replicas of World Cup Trophy in Kolkata
IANS | Updated: May 31, 2014 15:33 IST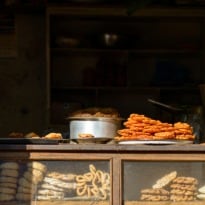 This eastern metropolis, famous for its love affair with food and football, is all set to blend the two for the 2014 FIFA World Cup in Brazil.

A legendary sweet shop here has come out with the trophy's replica carved entirely out of kheer (rice pudding).

The 128-year-old shop, Balaram Mullick and Radharaman Mullick, in south Kolkata has put on display king-size desserts resembling the World Cup trophy in orange colours.
Weighing three to four kg, the dessert option has been a hit with the locals.

"The one we have introduced is meant for family events. But we are also churning out customised sweets, smaller-sized versions for individuals. We will also make a variety of sweets for the World Cup during the event," a shop manager told IANS.