Sel Roti: The Nepali Doughnut That Is Infinitely Yummy
NDTV Food | Updated: December 09, 2017 11:30 IST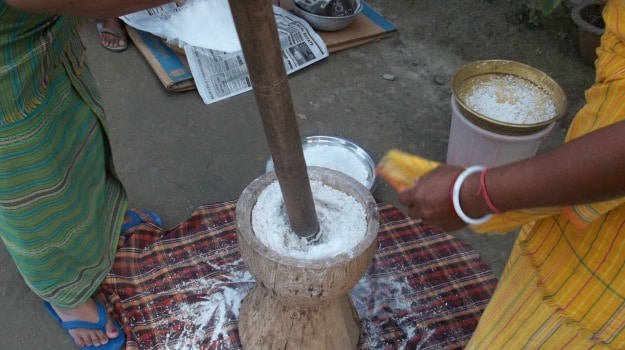 Rice is one ingredient that has made a place for itself in most cuisines of the world. From Chinese fried rice to a classic Italianrisotto, from India's flavourful biryani to Mexican rice, nearly every culture in the world boasts of a signature rice-based dish that is immensely popular. Then there are a myriad ways of cooking rice - you can steam, fry, parboil or dum-cook and enjoy it any way you like it. In India, not only do we enjoy it in multiple ways, rice is an important part of many marriage and religious ceremonies too. It wouldn't be wrong to say that a whole emanates from the cultivation and consumption of rice. While we are fairly familiar with dishes like biryani, kheer and appams, a lesser known rice based preparation is Sel Roti - a Nepali dish that looks like a cross between a doughnut and a bagel. However, Sel Rotis are thinner as compared to a doughnut. This brown-crispy hooped rice dish is sure to take-over your breakfast menu once you try them.

When and Where is it made?Sel Roti is enjoyed most during festivals like Tihar (Deepawali) and Dasai and occasions like weddings and birthdays. It is offered as a prasad among friends and family. It is also prepared as an offering to gods during the pujas and ritualistic occasions. In India, it is mostly made regions like Sikkim, Kalimpong, Darjeeling, and Siliguri.




What are its Ingredients?

1) 1 ripe banana

2) 3 cups of rice

3) 3/4 cup butter or clarified butter (gheu) peeled and mashed

4) 1 cup sugar

5) 1/2 cup rice flour as needed

6) 4/5 cups of vegetable oil

How is it made?

1. Soak the rice at least 4-5 hours or overnight

2. Drain the soaked rice and prepare a semi-liquid paste using banana, sugar, butter, and water along with it

3. Put it in a mixing bowl and beat the mixture to make it fluffy. You need to do this for about 20-30 minutes.

4. Mix it again until the ingredients are fully mixed. Add 2-3 spoons of rice flour if the paste is too fluid. And the same amount of water if it's too thick.

5. Heat the oil in a skillet and test whether the temperature is ready or not by pouring a small amount of the paste.

6. Once the oil is hot enough, pour the paste into the skillet making circles similar to doughnuts or into ring like shapes.

7. Fry until golden brown. Let the oil drain and serve hot.




Sel rotis are mouth-watering and can be enjoyed by themselves as a decadent snack. You could also enjoy them along with yogurt, hot beverages and fried vegetables. It is said to be best when eaten fresh, and becomes chewy and tougher the longer it is kept. It is a long-going bread that can be eaten over a week. Sel Rotis are among the most popular Nepali dishes in the world due to it crispy and sweet taste of rice which is unique in its own way.

(Except for the headline, this story has not been edited by NDTV staff and is published from a syndicated feed.)