The intense burst of sunset has coloured the mountain tops a deep, rippling orange-gold as I walk down to Darjeeling's boisterous market place. The stalls are overflowing with
fresh produce
even though it is winter - small, tangy oranges and sugar-sweet pineapples from Siliguri are everywhere. The weather is sublime: the air puffs into little clouds every time I speak. My hands are snug inside their glittens. It is the perfect weather for
momos
and
thukpas
and inside the town's tangled alleyways, I find scores of gritty shops selling them.My driver tells me the
best momos
are to be found at
Kunga's
and I dutifully follow his advice. A bowl of hot, savoury
thukpa
is brought bubbling and raging, to my table. In its wake follow the
momos
, lightly steamed, their near-translucent stomachs stretched tight with their fillings of minced chicken,
pork
or vegetables; the whole thing is ineffably delicious. In the days that follow, I eat many
momos
, almost every day, but none as moreish as the ones I had at Kunga's.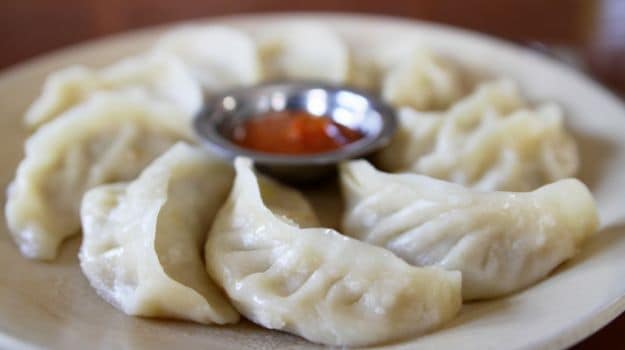 There is also Dekevas, right next door. Dekevas is where you go for homely Tibetan food. Tibet, a land of rugged, unceasing harshness, is not fertile enough for growing vegetables - the Tibetan diet is mostly meat and dairy and its austere cuisine has spilled over into neighbouring India. In Darjeeling, you may find the food tempered somewhat to Indian tastes.
Dekevas serves momos and thukpa but also tsampa, the Tibetan staple of ground barley flour. The tsampa on its own tastes somewhat anodyne but is transformed by the addition of hot buttered tea and yak butter that is kneaded into the flour; warming, salty, fatty food for cold mountain evenings. Luckily, at Dekevas, you don't need to do any kneading but if the tsampa doesn't float your boat, you can order a plethora of noodle dishes (both Tibetan and Chinese) and shabalay. Shabalay is a miniature meat pie, reminiscent of perhaps, a Cornish pasty or a calzone. Nestled within each meticulously-braided parcel of dough is a mound of minced beef or chicken; the whole thing is then deep fried to a crisp golden-brown and then eaten with tea.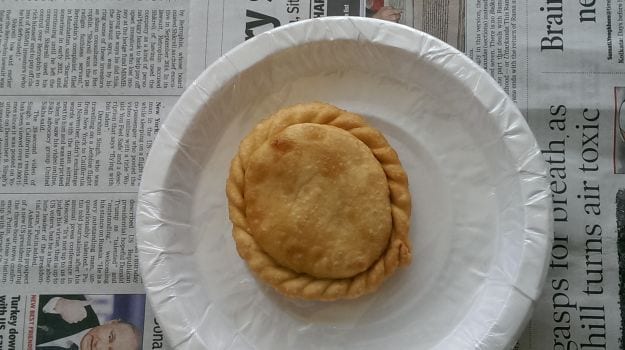 Shabalay: Image credit: Meher Mirza
The churn of history has not left Darjeeling unaffected. Ceded to Nepal by the kingdom of Sikkim in 1780, Darjeeling remained somewhat peaceful for 35 years until the British wrested control of it in the Nepalese English War and restored it to the kingdom of Sikkim. Nepali culture has since been entrenched in the fabric of the town and although its influence has dwindled, Darjeeling is still in the throes of a lingering fascination with its cuisine. I wander through the shops in the market and buy bottles of Nepalese food stuff I have never heard of, 'cherry boom' (my tongue identifies it as a pickle made from fierce round chillies - the spice hits me like a local train); 'dallay paste' which is a spicy chilli paste made of chillies and mustard oil and is the piquant paste that accompanies momos; and 'Goreto cluster', which look like the scarlet chillies that made the cherry boom pickle.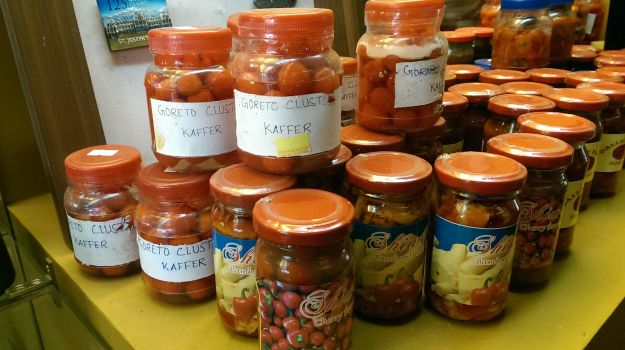 Image credit: Meher Mirza
Nepali thalis, available at Revolver which is a Beatles-themed hotel and Penang (among others) serve ubiquitous dal, bhat, tarkari, pickle and sometimes titora, a dried fruit snack (if you ask nicely) that singes the tongue with its sweet, spicy, and sour flavours.
But what I am looking for is Sael Roti, rice-flour and sugar kneaded into a doughnut shape, then deep-fried until pale golden. The touristy Chowrasta though, is having none of it; everybody knows about it but nobody actually sells it. In desperation, I turn to my hotel staff and the next morning, at breakfast, a large plateful is brought to my table. I sink my teeth into one - its crisp carapace succumbs instantly into pillowy soft sweetness.
Then there are the Darjeeling institutions, remnants of an era when the British reigned over India - Keventer's and Glenary's. First, Keventer's. The earliest travel memory I have is of me, aged four, throwing up for days after forcing down some strawberry milk at Keventer's. Decades later, I return somewhat warily but I needn't worry - my stomach is oak-sturdy now and there is no strawberry milk in sight. The food at Keventer's is middling but the views of Kanchenjunga pretty good and scads of families sit on the open terrace, sipping clear, golden pools of Darjeeling tea and watching the clouds scudding past the mountain. Keventer's also stocks chhurpi, little cubes of Nepali cheese traditionally made from yak milk. The delicate chhurpi crumbles in my hand and tastes sharp, dense and salty on my tongue. There is also a harder, smokier, chewier version but I come away without.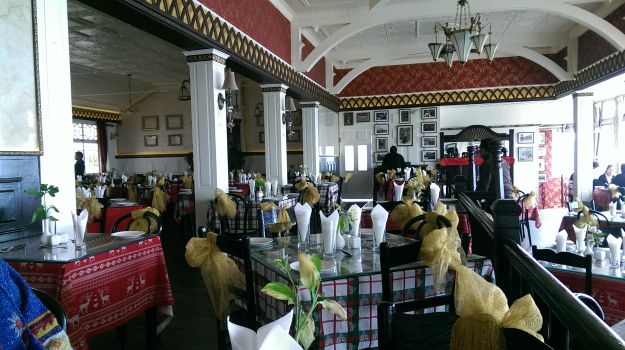 The interiors of Glenary's; Image credit: Meher Mirza
Next, Glenary's. Glenary's has three levels and serves Chinese, Continental, Indian and bakery items. There is a cracking fire even in the afternoons while glorious sunshine streams in through the windows and speckles the chequered tablecloths with molten light. I eat my fill, then nothing daunted, further insinuate into my stomach a bowl of ice cream with hot chocolate syrup. It is all rather perfect.
This story will be incomplete without any mention of the charming Windamere Hotel, also a leftover from colonial days. Windamere's meals, specifically its afternoon teas are a paean to the English culinary legacy. Every day, with nourishing cups of Darjeeling tea, a feast of sugary dainties is displayed on the sideboard: brittle domes of puff pastry with hearts of cream; cloudlike scones with puffs of proper clotted cream, so thick it wouldn't pour out from the gravy boat; pale crunchy Shrewbury biscuits and all manner of pastries cut into ornamental shapes, shared in front of a roaring fire with travellers from all over the world. The only downside is that you have to be a hotel resident.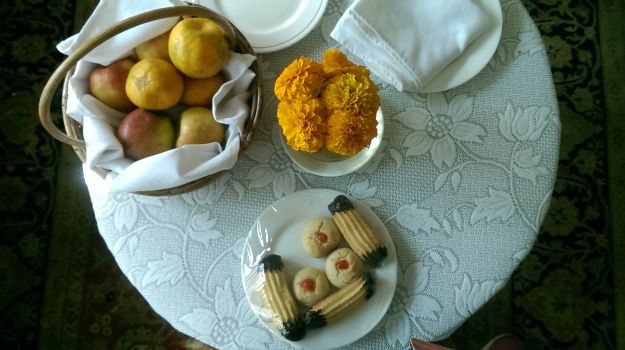 Teatime treats at Windamere Hotel; Image credit: Meher Mirza
Sadly, my trip ends soon and I roll my fatsome way down to Siliguri. Travel has expanded not only the mind but also the stomach.
Disclaimer:
The opinions expressed within this article are the personal opinions of the author. NDTV is not responsible for the accuracy, completeness, suitability, or validity of any information on this article. All information is provided on an as-is basis. The information, facts or opinions appearing in the article do not reflect the views of NDTV and NDTV does not assume any responsibility or liability for the same.