The grand festive season in India is all set to begin with the festival of Navratri, starting on September 26, 2022 and ending on October 5, 2022. The nine-day festival is dedicated to worshipping the nine incarnations of Goddess Durga. Navratri is a Sanskrit word which translates to 'nine nights'. A total of four Navratris are celebrated in a year, and two of them witness large-scale celebrations. Chaitra Navaratri falls during the spring season and Sharad Navratri follows the advent of the autumn season in India. Sharad (or Sharadiya) Navratri follows the same religious customs as Chaitra Navratri.
Sharad Navratri 2022: Date And Puja Timings:
Pratipada Tithi Begins - 03:23 AM on Sep 26, 2022
Pratipada Tithi Ends - 03:08 AM on Sep 27, 2022
(Source: drikpanchang.com)


(Also Read: Navratri Snacking: Myth And Reality)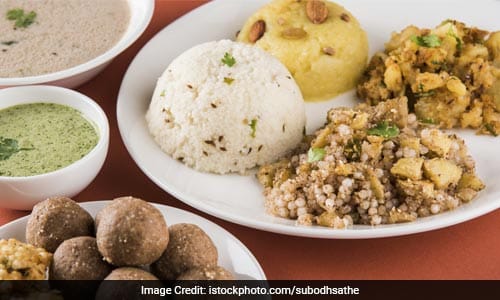 Sharad Navratri 2022: Significance And Fasting Rituals
Goddess Durga is worshipped every day for prosperity and success. Some people invoke the idol of the Goddess into a kalash and offer a bhog of milk, fruits and dry fruits every day. On the tenth day, Vijayadashami is celebrated by immersing the into a water body. Traditional customs require devotees to skip consuming non-vegetarian foods and alcohol during the period. A light, sattvik diet should be followed during the festival. Some devotees also fast for all the nine days. If you are confused about the fasting rituals that should be followed during the festival, we have listed some important ones for you.


Also read:15 Incredible Rock Salt (Sendha Namak) Benefits for Skin, Hair and Overall Health
Navratri Fasting Rituals And Recipes:
1. Skip Flours, Cereals And Grains


Instead of regular flour like kuttu ka atta (buckwheat flour) or singhare ka atta (water chestnut flour) and rajgira ka atta (amaranth flour). Instead of regular rice, samak ke chawal can be had. Also, foods like sabudana and makhanas are allowed during the fasting period.


Click here for kuttu-special recipes.
Click here for singhara-special recipes.
Click here for makhana-special recipes.
Click here for sabudana-special recipes.



2. Have Rock Salt
Rock salt (sendha namak) is less processed as compared to regular table salt. Sendha namak is a highly crystalline salt which does not contain high amounts of sodium chloride. So one can replace table salt with rock salt in their vrat-special meals.


3. Use Specific Cooking Oils
Seed-based oils and refined oil are avoided. Desi ghee and peanut oil can be used for cooking.


4. Have Milk Products
Milk, cheese, curd and other milk-based products can be had during Navratri.


5 Other Foods To Avoid
Other than flour, cereals and grains, one is supposed to avoid onions, garlic and dal.
Here are some of the best Navratri-meals to try this festival.


Happy Sharad Navratri 2022!

About Neha GroverLove for reading roused her writing instincts. Neha is guilty of having a deep-set fixation with anything caffeinated. When she is not pouring out her nest of thoughts onto the screen, you can see her reading while sipping on coffee.