Maharashtrians around the world marked the beginning of their New Year yesterday. The spring-time festival was celebrated with much fanfare, across the state and our Bollywood stars didn't miss out on the celebrations either. Binge queen
Shilpa Shetty
, who is known among her Instagram followers for her super-tempting Sunday binge videos, celebrated
Gudi Padwa
by indulging herself, as usual. Shilpa cooked up a storm of healthy and delicious desserts for her Sunday binge video and you just cannot miss it!
Among the range of desserts that Shilpa Shetty binged on, on Gudi Padwa, were sweet chikki made from macadamia nuts, hazelnuts, black sesame seeds and pistachios, sweet seviya or vermicelli, some warm and juicy gulab jamuns and chana dal payasam. Drooling, aren't you? Watch how these delicacies made Shilpa slip into a food coma!
Chikki is made from jaggery and a variety of nuts, but the most popular version of the sweet is the peanut chikki. Although chikki is not traditionally prepared on Gudi Padwa, it is enjoyed across the country as a snack that gives you a boost of energy. Shilpa's binge video also had a teachable moment- how to slip in essential nutrients in your desserts! All the ingredients in Shilpa Shetty's homemade jaggery chikki were nuts and seeds rich in vitamins and minerals important for the body.Also Read: Shilpa Shetty Kundra's High-Power Salad Is Giving Us Major Healthy Food Inspiration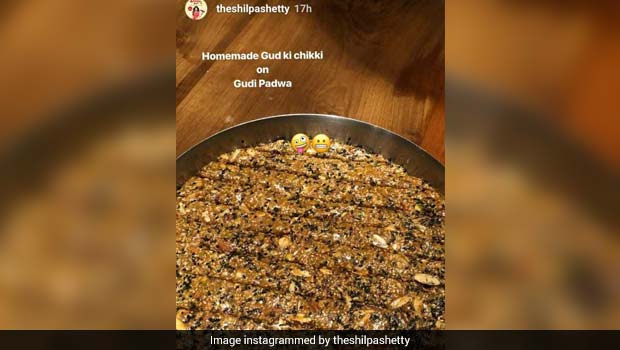 Black sesame seeds can promote better digestion and stronger bones. Meanwhile, hazelnuts can give a boost to your immunity and they also promote heart health. Macadamia nuts are native to Australia and are very rich in monosaturated fats or good fats that are very beneficial for your heart and overall health. Lastly, pistachios or pistas are again great for the heart and may even help you manage your weight better. Pistachios are also vital for maintaining gut health. The jaggery in the chikki gives you a sweet kick, without harming your health like processed sugar does.
Chana dal payasam is again a healthier version of the very popular rice and milk pudding or chawal ki kheer. Made from coconut milk, chana dal, jaggery or gur and cardamom, the chana dal payasam is also packed with a lot of nutrients. It's a great festive alternative for milk payasam that is a regular feature in dessert menus on many Indian festivals.
So the next time you end up craving for desserts, make sure you slip in something extra to take care of your health too, just like Shilpa Shetty did!