Bollywood actor
Shilpa Shetty Kundra
is famous for her food posts on her social media pages. The actor, who's currently seen as a judge on Super Dancer, has been very busy and has frequently shared pictures of breakfast-on-the-run. We can't help but be in awe of the fact that Shilpa always manages to eat healthy, no matter how busy she is. Not only that, she also has a YouTube channel where she shares the secrets to her fit and fab figure, through the healthy recipes that she cooks. Shilpa Shetty's food hardly ever contains fattening ingredients or even dairy and gluten, except when she's doing one of her Sunday binges.
Case in point is when yesterday she shared the picture of her healthy salad on her Instagram stories. Shetty also revealed the ingredients of the chicken salad that were all low in calories, but high in energy and essential nutrients. Have a look! (Also Read: We Spoke to Shilpa Shetty Kundra & Here Are 8 Secrets She Wants You To Know)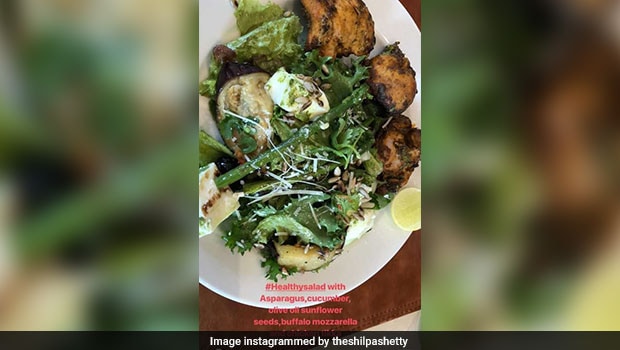 The salad contains asparagus and cucumber tossed in olive oil and topped with sunflower seeds, buffalo mozzarella and chicken tikka pieces. Asparagus is a low-calorie vegetable that is a rich source of fibre, folate, vitamins A, C, E and K, as well as chromium, a trace mineral which helps control levels of blood sugar. Cucumbers are again rich in fibre that is responsible for increasing the satiety factor of the meal, as well as water to keep you hydrated. Cucumbers are also rich sources of B vitamins that have been known to combat stress and anxiety.
Olive oil is rich in healthy fats and antioxidants and is ideal for people who need to watch their weight. Sunflower seeds are also a great addition to salads and smoothies as they provide essential vitamins and minerals to the body. Sunflower seeds are important for thyroid health and a positive mood. The chicken tikka and buffalo cheese are sources of healthy protein. Well we guess, it takes a little bit of innovation and loads of Shilpa Shetty-level of creativity to make healthy food delicious. Also, we know what we're having for lunch tomorrow!