Steve Jobs, founder of Apple; Idi Amin, the Ugandan military dictator; Mohandas Karamchand Gandhi, an Indian political and spiritual leader; and Ben Klassen, founder of the Creativity Movement, all have one thing in common. All of them followed a fruitarian diet at some point in their lives. While a lot of people are experimenting with the fruitarian diet (where a person eats nothing but fruits, nuts and seeds), health experts and nutritionists do not recommend it.
What is a fruitarian diet?
In a fruitarian diet, people only consume fruits and nuts and seeds and no animal products. More than 75 per cent of your diet consists of raw fruits. A variety of fruits are included in the diet to get maximum nutrients and you must have at least three servings of fruits daily. Fruits contain many important antioxidants along with
Vitamin C
, beta-carotene and other nutrients. The fruitarian diet may help you lose weight but it comes with a host of side effects and you may not be able to sustain the
weight loss.
(Also read:
When is the Best Time to Eat Fruits?)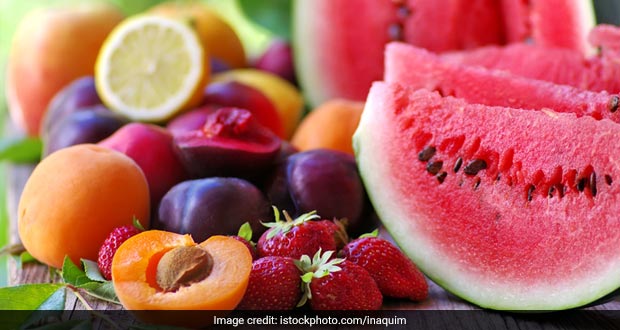 Fruits contain many important antioxidants.
Is it safe to follow a fruitarian diet?
We had a word with Dr. Sheela Krishnaswamy, a Bengaluru-based nutritionist, who told us, "In the field of diet and nutrition, we do not have anything called a fruitarian diet. I won't recommend anyone to try a diet that is based just on fruits and ignores the other
essential food groups
. It is a fad created by some and followed by a few."She further explained that fruits are healthy and contain many essential vitamins and nutrients but cannot provide all the necessary nutrients that our body requires for survival. Dr. Sheela Krishnaswamy suggests that people shouldn't follow something which doesn't have a scientific background.There is an array of fruits to choose from but they may still lack key nutrients like
proteins
and healthy fats that your body need to function at its optimum level. A well balanced diet constituting of all the essential nutrients required by our body on a day to day basis like carbohydrates, fats, vitamins and minerals should be followed. One should not restrict oneself to only fruits because you can end up loading on way too much natural sugar that your body needs which can adversely affect your blood glucose levels. This can put an extra burden on your kidneys and pancreas and even increase the
risk of diabetes.
(Also read:
7 Fruits That Can Help You Lose Weight
)
One should not restrict oneself to only fruits.
It is one of the most restrictive diets and there is a high risk of malnutrition. A fruitarian diet lacks nutrients like vitamin B12,
calcium
, vitamin D, iodine and omega-3 fatty acids which can lead to deficiencies and fatigue. All this may end up slowing your metabolism which will make it harder to lose weight and stay fit.Going by the facts, actor Ashton Kutcher, while preparing for his role as Steve Jobs in his biopic, tried a fruit-based diet and ended up in the hospital due to extreme fatigue with medical reports showing abnormal pancreatic levels.The point is that nature provides us with so many kinds of edible products, each having something that the others don't. We may choose alternatives like instead of following non-vegetarianism, we follow a vegetarian lifestyle. But, in no way can we depend on a single category of food items like fruits, vegetables or meat. The key to a healthy and long life is to maintain a balance.
Disclaimer:
The opinions expressed within this article are the personal opinions of the author. NDTV is not responsible for the accuracy, completeness, suitability, or validity of any information on this article. All information is provided on an as-is basis. The information, facts or opinions appearing in the article do not reflect the views of NDTV and NDTV does not assume any responsibility or liability for the same.