Smoky, Juicy Mussels and Clams Pop on the Grill
Melissa Clark, The New York Times | Updated: July 18, 2017 12:54 IST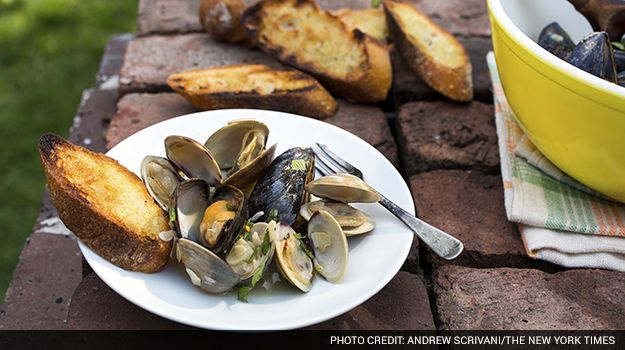 By this late in the season, all the usual suspects have probably done time on your grill: the requisite burgers and hot dogs; steaks, chops and loins; vegetables of many colors. Maybe even a slab of tofu or fillet of fish.

But when was the last time you grilled mussels and clams?

If the answer is never, and you love the brininess of shellfish, read on. Although they don't take on a char in the way of a burger, mollusks absorb smoky flavor when grilled over a fire, their naturally sweet juices condensing and intensifying in the heat.

There are two main methods for grilling them. The easiest is to throw the closed mussels and clams (and oysters if you like) directly onto the grill grate, then pull them off as they pop open. This is about as simple as cooking gets, though it comes at a cost: Most of those saline juices will spill onto the coals.

This recipe requires slightly more effort, but with a big payoff. First, you'll need a disposable roasting pan, the kind you may roast a turkey in at Thanksgiving. You'll also need some heavy-duty foil and some patience. That's perhaps the hardest part: waiting for your dinner.
Start with the clams; with their thick shells, they take longer to cook than the mussels. Add garlic, some chile, a drizzle of oil, a splash of wine. After awhile, add your mussels to the pan, then start to pull the shellfish off the grill as they open. Don't worry if a few specimens take a little longer. As long as they open, they are safe to eat. (And, of course, discard any that refuse to budge.) The recipe up until this point is a lot like what you'd do in a pot on the stove. But you wouldn't get the smokiness.
Hardwood charcoal is your best bet in terms of the smoke factor, but even a gas grill will work. And if you're comfortable with using wood chips, that's fine. After cooking all your shellfish, you'll be left with a pan of garlicky, salty juices. Pour this over the mussels and clams. You could serve this as is, but I like to add a sort of deconstructed gremolata with mint for freshness, lemon zest for verve, almonds for crunch, plus a little more garlic just because.

Even if you skip the garnish, make sure to have a chilled bottle of rosé and a crusty loaf of bread nearby. Forks are entirely optional. Your fingers, an empty mussel shell and a chunk of bread for sopping up the juices are all you really need.

Grilled Clams and Mussels with Garlic, Almonds and Mint
Time: 40 minutes
Yield: 4 servings

Ingredients:
2 pounds mussels
2 dozen littleneck clams
1/2 cup dry white wine
1/4 cup extra-virgin olive oil, more for drizzling
5 garlic cloves (4 thinly sliced, 1 finely chopped)
1/4 teaspoon red chili flakes, more to taste
3/4 cup chopped mint leaves
3 tablespoons sliced almonds
Finely grated zest of 1 lemon
Grilled bread slices, for serving

Preparation:
1. Build a very hot charcoal fire, mounding coals in the center of the grill, or heat a gas grill.
2. Scrub mussels and clams under running water to remove any clinging grit.
3. Put clams, wine, oil, sliced garlic and chili in a large disposable aluminum roasting pan and stir. Cover pan tightly with heavy-duty foil. Place pan on the grill and cover. Let cook undisturbed for 10 minutes, then use mitts to open foil and stir in mussels. Replace foil and continue cooking, with grill covered, 10 minutes more. By this time, most or all of the shellfish should be open. Use tongs to transfer opened shellfish to a serving bowl and return any unopened in the pan to continue cooking, covered, for another few minutes. Any that remain unopened should be discarded. Combine all shellfish and pan juices in the bowl.
4. Toss shellfish with mint, almonds, chopped garlic and lemon zest. Drizzle with additional oil. Brush grilled bread slices with oil and serve alongside for soaking up juices.

And to Drink ...
With these grilled clams and mussels, you want cold white wine, of course, and plenty of it. The choices are many, as long as the wines are crisp, with lively acidity, and not weighed down by the flavors of oak. Chablis is a wonderful place to start, but it's only the beginning. Sancerre from the eastern part of the Loire Valley's wine-production area will do nicely, but good Muscadet from the western end may be even better. Smoky, saline Manzanilla sherry is a natural, as are a profusion of Italian whites, whether Ligurian vermentino, Campanian fiano or Etna bianco from Sicily. You may even consider moving beyond wine. Belgian-style wheat beers go beautifully with simply prepared shellfish, as would gose, a rare Germany wheat beer flavored with salt and coriander.



© 2015 New York Times News Service