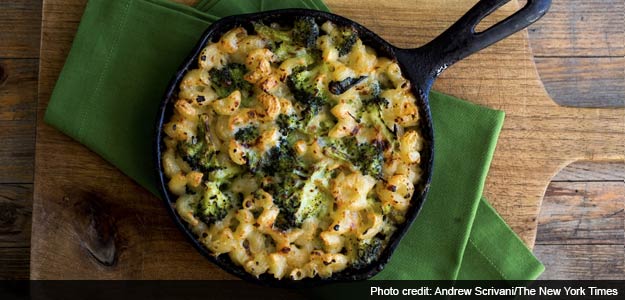 This casserole has the richness and crusty gratineed edges of any great baked casserole, and is not gloppy like many homemade mac and cheese recipes.
During Christmas vacation, there are always extra mouths to feed at my house, and lots of dinner parties and potlucks for which I need to prepare. So I'm always thinking casseroles, those utterly practical and satisfying dishes that can be made ahead and reheated.
This macaroni and cheese fits the bill perfectly, and it's one that you can feel good about eating. It's as comforting as any macaroni and cheese, but it's not made in a saucepan with ingredients from a box, nor is it gloppy, as other versions of homemade mac and cheese can be. It's got the richness and crusty gratinéed edges of any great baked casserole, with just enough cheese.
I also threw some broccoli into the mix, which is welcome. I didn't just add broccoli to make it healthy, either. I love the way the florets catch the béchamel - which is an olive oil-based béchamel - and add texture to the dish.
You can assemble this ahead and bake it when you need it, or bake it ahead and reheat. Just remember not to overcook the pasta; it should be more al dente than usual, so it won't fall apart when you bake it in the final casserole.
Whole Grain Macaroni and Cheese
Time: 1 hour
2 tablespoons plus 2 teaspoons extra-virgin olive oil, plus more for oiling dish
1/2 pound whole grain macaroni shells, elbows, penne or fusilli
1 large broccoli crown, broken into small florets (about 3/4 pound)
2 tablespoons finely chopped shallot
2 tablespoons flour, sifted
3 cups milk (1 percent, 2 percent or whole, to taste)
Salt and white or black pepper
Pinch of nutmeg
4 ounces Gruyere, grated (1 cup tightly packed)
1 ounce freshly grated Parmesan (1/4 cup tightly packed)
1. Heat oven to 350 degrees. Oil a 2-quart baking dish.
2. Bring a large pot of water to a boil and salt generously. Add macaroni and cook al dente, a minute short of however long you typically cook pasta if you were serving it right away. Use a skimmer or strainer to lift macaroni from cooking water and transfer it to a large bowl. Toss with 2 teaspoons olive oil and set aside.
3. Add broccoli to boiling water and boil 3 minutes. Transfer to a bowl of cold water, drain, and then drain again on paper towels or a kitchen towel.
4. To make béchamel, heat remaining 2 tablespoons oil over medium heat in a medium-size heavy saucepan. Add shallot and cook, stirring, until softened, 2 to 3 minutes. Stir in flour and cook, stirring, for about 3 minutes, until smooth and bubbling, but not browned. It should have the texture of wet sand. Whisk in milk all at once and bring to a simmer, whisking constantly until mixture begins to thicken. Turn heat to very low and simmer, whisking often and scraping the bottom and edges of the pan with a rubber spatula, for 15 minutes, until sauce has thickened and lost its raw flour taste. Season with salt, pepper and a pinch of nutmeg. Remove from heat.
5. Strain béchamel while hot into the bowl with the pasta. Add cheeses and broccoli and stir together until pasta is nicely coated with sauce. Scrape into prepared baking dish. 6. Bake 30 to 40 minutes, until bubbly and the top is lightly browned. Remove from oven and allow to sit for 5 to 10 minutes before serving.
Note: You can make a béchamel up to a day ahead and keep in the refrigerator. If you lay a sheet of plastic or wax paper directly on the top, there is less chance that a skin will form. Reheat the béchamel before using, whisking vigorously. The casserole can be assembled one or two days ahead, and the baked casserole will keep for a couple of days in the refrigerator and can be reheated in a medium oven.
Yield: 6 servings
© 2014 New York Times News Service