Winter season is almost here! The time around late October and early November spells indulgence for many - anything warm and decadent catches our fancy instantly. The joy of having a bowlful of cheesy decadent snack while tucked inside a blanket is above all. Hot chocolate drink, fries and dips, and clear chicken soup are a few winter comfort foods that are sure to be on your go-list. But what if we tell you that there is a macaroni-based dish that can make you salivate in just no time!? No, we aren't talking about classic Mac and Cheese. This time, we bring to you a tomato macaroni recipe that is as delightful as Mac and Cheese. Not only is it uber comforting, but the addition of cream and cheese topping make it all the more enticing, both for the palate and the eyes. Oh, and this comfort food recipe is so easy-to-make that you'd want to make it several times in a week.


(Also Read: Watch: Give Your Favourite Mac And Cheese An Interesting Makeover)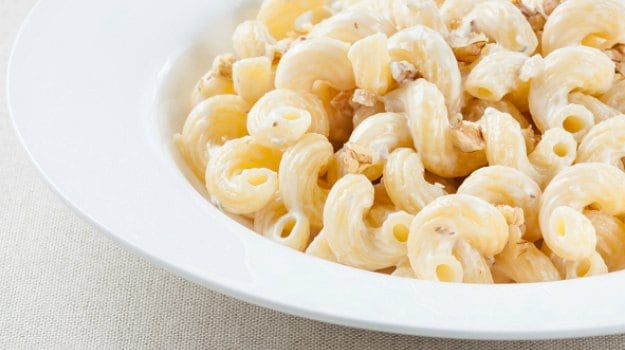 This comfort food recipe is extremely easy-to-make.
Here's How To Make Tomato Macaroni With A Cheesy Layer On Top:
Ingredients:
Macaroni - 2 cups (boiled)
Tomato - 2 medium sized
Tomato Ketchup - 2 tablespoons
Black Pepper - 1 pinch
Garlic - 2 cloves
Fresh Cream - 2 tablespoons
Salt - as per taste
Cheese Cubes - 4
Butter - 1 tablespoon


Method:
To begin with, take a heavy bottomed pan and bring it over medium flame. Add butter to the pan and allow it to melt.
Now, grate or mince the garlic cloves and add to the pan. Cook till the raw flavour of garlic disappears and wait for it to turn slightly golden in hue.
Meanwhile, cut the tomatoes in two halves and extract their puree using a hand grater. Discard the top layer of tomato and add the puree to the pan along with ketchup. Allow the tomato mixture to cook till it leaves the sides of the pan.
Add black pepper, salt and fresh cream, and give it a nice mix.
Add the boiled macaroni to the pan and mix till it gets evenly coated with the mixture.
Grate all the four cubes of cheese over the macaroni and cover the lid of the pan. Cook it over low flame so that the cheese melts and gets incorporated well.
Voila! Your cheese loaded tomato macaroni is ready to be savoured. This oh-so-yummy tomato cheese-loaded recipe is sure to be loved by kids and adults, alike.
About Deeksha SarinAn eccentric foodie and a die-hard falooda lover, Deeksha loves riding scooty in search of good street food! A piping hot cup of adrak wali chai can make her day bright and shiny!